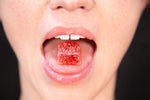 Just in time for the holidays - lost range.® are excited to announce our newest product: premium, high-potency CBD Gummies! A delicious way to help make wellness an easier choice, every day.
Whether you're using them to unwind after work, kill anxiety for a big meeting or trying to stop counting sheep at night, our plant-based little jellies of joy are free of the unhealthy junk and artificial flavors and colors found in standard CBD gummies. Instead we've packed our gummies with 1,000mg of premium, full-spectrum CBD per bag for an instant chill. That's 33mg per gummy! PLUS they're vegan-friendly as Pectin is used instead of animal gelatine in the preparation. 
Our full spectrum CBD gummies come in packs of 30, so you can share with your friends or keep them all for yourself (we won't tell anyone). Our gummies are rigorously third-party tested for the safety and potency promise for all users. 
About lost range.® CBD Gummies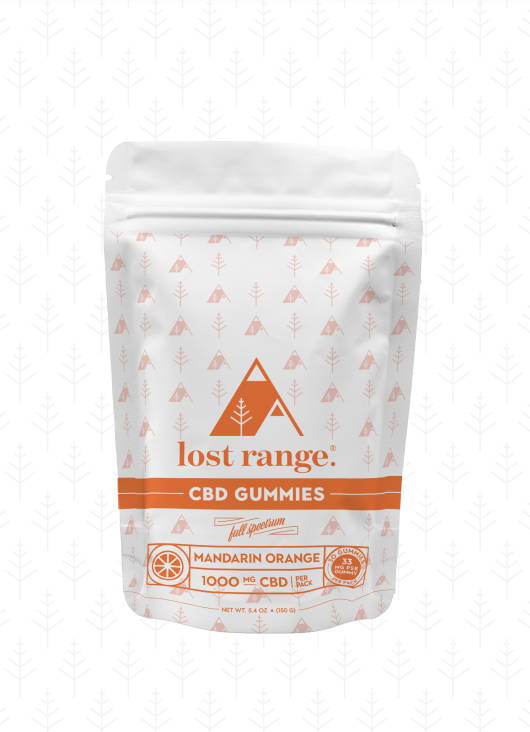 We've been working hard to bring you the best product possible, and we're excited to share it with you. These are the best CBD gummies on the market as they are sourced from organic farms, made by hand in small-batches to ensure the highest quality of standard is delivered to you in every bite.
Each 33mg gummy contains cannabinoids beyond CBD; including naturally occurring terpenes, essential vitamins, fatty acids, and proteins. 
So what does all this mean for you? Well, Full-Spectrum gummies may have a more synergistic effect than pure CBD isolate (which is often referred to as the "entourage effect"). We recommend starting with 1 gummy daily and working your way up to 1-2 gummies as part of a daily regimen to promote relaxation. At night, try 1-2 gummies one hour before bedtime. For best results, incorporate lost range.® CBD Gummies into your daily regimen for 30-45 days.
Like all of our products, these Full Spectrum Gummies are handmade in Steamboat Springs, Colorado in small batches, and are available in two delicious flavors: Cherry and Mandarin Orange (with more to come). Lastly and most importantly: This product contains less than 0.3% THC! 
The Science Bit
If you're struggling to maintain physical and mental well being, there's some encouraging research out there:
Circadian rhythm disorders occur when a person's internal clock—the thing that tells you when to fall asleep and wake up—is misaligned with the environment around them. This can happen when there are sudden changes in sleep habits, often due to travel or work, or as a byproduct of a medical condition, aging or genetics.
CBD may improve both the quality and quantity of sleep by ensuring the body progresses through the normal stages of sleep and REM sleep without undue interruption. 
Dig in!
We couldn't be more excited for you to try our CBD Gummies. As always, it's important to keep in mind that CBD affects everyone differently, especially if you're new to CBD products. Our delicious CBD gummies are shipped to 50 states all across the US and free shipping is provided on the purchase of $25 or more!
So what are you waiting for? Give them a try here today.
For more information on all of our other products, click here.
Make sure to keep up with us and our new product launches by subscribing to our newsletter! Contact us here today where our staff is always at your service for any questions.
Disclaimer: These products are not for use by or sale to persons under the age of 18.
These statements have not been evaluated by the Food and Drug Administration. These products are not intended to diagnose, treat, cure, or prevent any disease. The efficacy of these products has not been confirmed by FDA-approved research. The information presented here is not meant as a substitute for or alternative to information from healthcare practitioners. Please consult your healthcare professional about potential interactions or other possible complications before using any products.
lost range.® assumes no responsibility for the improper use of these products. We recommend consulting with a qualified medical doctor or physician when preparing a treatment plan for any and all diseases or ailments. lost range.® does not make any health claims about our products and recommends consulting with a qualified medical doctor or physician prior to consuming our products or preparing a treatment plan. It is especially important for those who are pregnant, nursing, chronically ill, elderly or under the age of 18 to discuss the use of these products with a physician prior to consuming. You must be 18 years or older to visit this website and/or purchase lost range.® products. The information on our website is intended to provide general information regarding our products and is not to be construed as medical advice or instruction.
Neither the Company nor its representatives is providing any medical advice, and none should be inferred, from any ideas, suggestions, testimonials or other information set forth on this website or in other Company materials or provided over the phone, in the mail, in product packaging, or in email correspondence. This website may contain links to third-party websites. The Company provides these links as a convenience only and does not endorse any of these sites. The Company is not responsible for the content of, and does not make any representations regarding the materials on, such linked third-party websites. If you decide to access or rely on information at linked third-party website, you do so at our own risk.
Our terms and conditions, including disclaimers, are more fully set forth in our Terms of Use, Privacy Policy and Terms of Online Sales.