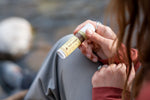 Synthetic CBD is created in a lab. When you buy plant-based CBD, you receive a product with Cannabidiol that has been extracted straight from a plant.
While there are many CBD products available on the market, not all are created equal. 
Natural products provide opportunities to use locally-available ingredients and formulations for important societal benefits. When it comes to your CBD, it's imperative to understand the differences between natural and synthetic products. 
The Rising Dangers of Synthetic
Synthetic CBD is cheaper to produce, but these products can be toxic.
According to the CDC, "Synthetic cannabinoid products can be toxic. As a result, people who [use] these products can react with rapid heart rate, vomiting, agitation, confusion, and hallucinations. Some have to get help from emergency medical services or in hospital emergency departments or intensive care units."
Shockingly, 70 percent of Cannabidiol extracts sold online are mislabeled, according to a Penn Medicine study. Make sure your CBD products are sourced from high-grade hemp facilities from companies that control every stage of the process; from growth, to extraction and production. The more involved the CBD company is in this process, the better. 
Natural CBD Benefits
At At lost range.®, our 100% natural CBD (which is extracted from the cannabis plant using organic and sustainable methods), is a great option for those looking for a safe and effective CBD product.
Extraction Methods
The quality and price of CBD products can vary greatly depending on the extraction method and formulation used. By creating CBD in a lab, the synthetic version of CBD replicates the effects of natural cannabis and Δ9-tetrahydrocannabinol but they induce more severe adverse effects including respiratory difficulties, hypertension, tachycardia, chest pain, muscle twitches, acute renal failure, anxiety, agitation, psychosis, suicidal ideation, and cognitive impairment.
At lost range.®, we prioritize product purity and allergen-free ingredients, which is why we have every batch of our CBD products third-party tested to confirm their quality and purity.
To ensure the highest quality of our products, we use a superior extraction method known as 'Cold Ethanol Extraction'. This process selectively extracts the desired cannabinoids and terpenes while leaving behind unwanted fats and chlorophyll. The result is a more pure and clean CBD oil, free of allergens and rigorously 3rd-party tested so you know what's in every drop.
Choosing a High Quality CBD Product
Taking great care at each stage of the production process is an investment in both the final product and the process itself. Our products are all crafted by hand in small batches, right here in the mountains of Steamboat Springs, Colorado. 
We take pride in ensuring that every ingredient we use is natural and selected for its incredible healing properties. With a focus on providing high-quality and effective formulations, we offer our customers a wide range of products with excellent value for money. Here are just a couple of our products that you can choose from.
Final Thoughts
If you're searching the market for high-quality CBD products, it's important to choose a brand that offers all-natural ingredients and a commitment to transparency and quality. 
When you choose lost range.®, you can trust that you're getting pure, high-quality CBD products that are free from harmful chemicals and additives. Our commitment to using natural, organic ingredients ensures that you're getting the most beneficial effects from our products, without any unwanted side effects.
If you have any questions about our brand or products, our team is always available to assist you. Contact us today to learn more.
Shop the full range of our all-natural CBD products here.
---
Disclaimer:
These products are not for use by or sale to persons under the age of 18.
These statements have not been evaluated by the Food and Drug Administration. These products are not intended to diagnose, treat, cure, or prevent any disease. The efficacy of these products has not been confirmed by FDA-approved research. The information presented here is not meant as a substitute for or alternative to information from healthcare practitioners. Please consult your healthcare professional about potential interactions or other possible complications before using any products.
Lost Range assumes no responsibility for the improper use of these products. We recommend consulting with a qualified medical doctor or physician when preparing a treatment plan for any and all diseases or ailments. Lost Range does not make any health claims about our products and recommends consulting with a qualified medical doctor or physician prior to consuming our products or preparing a treatment plan. It is especially important for those who are pregnant, nursing, chronically ill, elderly or under the age of 18 to discuss the use of these products with a physician prior to consuming.  You must be 18 years or older to visit this website and/or purchase Lost Range products. The information on our website is intended to provide general information regarding our products and is not to be construed as medical advice or instruction.
Neither the Company nor its representatives is providing any medical advice, and none should be inferred, from any ideas, suggestions, testimonials or other information set forth on this website or in other Company materials or provided over the phone, in the mail, in product packaging, or in email correspondence. This website may contain links to third-party websites. The Company provides these links as a convenience only and does not endorse any of these sites. The Company is not responsible for the content of, and does not make any representations regarding the materials on, such linked third-party websites. If you decide to access or rely on information at linked third-party website, you do so at our own risk.
Our terms and conditions, including disclaimers, are more fully set forth in our Terms of Use, Privacy Policy and Terms of Online Sales