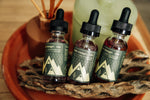 Anxiety and insomnia go hand-in-hand:  Sleep deprivation can worsen anxiety, spurring a negative cycle involving insomnia and anxiety disorders. If you are one of the one-in-three Americans suffering from insomnia - or have trouble getting to sleep from time to time - you might be considering turning to CBD oil for help.
Nearly 40% of us don't get enough sleep. The American Academy of Sleep Medicine and the Sleep Research Society recommend that adults aged 18–60 years sleep at least 7 hours each night to promote optimal health and well-being. Sleeping less than seven hours per day is associated with an increased risk of developing chronic conditions such as obesity, diabetes, high blood pressure, heart disease, stroke, and frequent mental distress.
What is the relationship between sleep and anxiety?
Anxiety disorders are the most common mental illness in the U.S., affecting 40 million adults in the United States age 18 and older, or 18.1% of the population every year. While anxiety disorders are highly treatable, only 36.9% of those suffering receive treatment.
As per sleepfoundation.org, serious sleep disturbances, including insomnia, have long been recognized as a common symptom of anxiety disorders. People who are plagued with worry often ruminate about their concerns in bed, and this anxiety at night can keep them from falling asleep. 
In fact, a state of mental hyperarousal, frequently marked by worry, has been identified as a key factor behind insomnia. People with anxiety disorders are inclined to have higher sleep reactivity, which means they are much more likely to have sleeping problems when facing stress. Sleeping difficulties have been found for people with various types of anxiety including generalized anxiety disorder, OCD10, and PTSD. In several studies, over 90% of people with PTSD associated with military combat have reported symptoms of insomnia.
While further scientific research is needed on this topic, preliminary studies have suggested CBD oil may be an effective natural remedy for insomnia sufferers, thanks to the way it interacts with the body's endocannabinoid system.
CBD Oil and Improved Relaxation
Even though it won't get you high, CBD tends to have an overall calming and soothing effect for many people that's good for winding down at the end of the day. Plus, its potential pain-reducing and anti-inflammatory effects might just be what you need to help get to sleep and stay asleep.
A study from Colorado concluded that of 72 patients who suffered from poor sleep or anxiety, 79.2% experienced less anxiety, and 66.7% slept better within the first month of using just 25 mg/day. What's more, a study published in the Journal of Clinical Pharmacology reported that subjects taking 160 mg of CBD daily reported better sleep than the placebo group. Many CBD users report better sleep using CBD.
How to Choose the Right CBD Company
Shopping for CBD can be difficult and overwhelming. Since the Food and Drug Administration (FDA) doesn't regulate CBD products in the same way they regulate drugs or dietary supplements, companies sometimes mislabel or misrepresent their products. That means it's especially important to do your own research. As a good indicator of safety, quality, and transparency, you should choose a CBD brand that: 
Is made by a

company

that provides certificates of analysis (COA) as proof of third-party testing by an ISO 17025-compliant lab

Is made with

U.S.-grown hemp

Contains no more than 0.3 percent THC, according to the COA
Showcases

product potency

Is made with clean ingredients (organic, in many cases) and without fillers

Displays signs of user trust and brand reputation, such as

customer reviews
For those seeking a stronger solution, lost range TM uses only the best cbd in our small batch products — helping our customers experience and enjoy all the benefits that cbd has to offer. We strongly believe in the powerful healing potential of our hand-made cbd products, and bear witness with remarkable reviews from our loyal customers. Our mission is to make cbd tinctures, salves, and rubs accessible to all people. 
The Best CBD Products for Sleep and Anxiety
No one type of CBD is better than another for sleep. But certain features indicate the quality of a CBD product. We've rounded up the best three products to help you unwind and relieve stress and anxiety - all in the name of getting you a good night's sleep. (ALL OF OUR PRODUCTS CONTAIN LESS THAN 0.3% THC.)
Are you a new CBD oil user? If you are new to using CBD oil, our 1000mg Isolate CBD oil tincture may be the best fit for you. Each state has their own regulations when it comes to CBD oil, so if you live in a state with stricter regulations, our Isolate CBD oil is likely your best bet. Our Isolate CBD oil tinctures can assist you in regulating pain relief, inflammation, anxiety, recovery, sleep, appetite, mood, and numerous other conditions.
Our Full Spectrum CBD oil tinctures can assist you in regulating anxiety, sleep and numerous other conditions. If you have muscle aches and pains keeping you awake, our Full Spectrum CBD oil tincture can be paired with our most popular and potent CBD Muscle and Joint Rub. Because who doesn't want a relaxing rub down before bedtime?
          3. Best Selling Lavender CBD Bath Bomb – 100mg | $20.00 — or $20.00 $16.00 / month 
Let our CBD Bath Bomb wash your worries away with its luxurious lavender aroma, giving you a bath of bliss. On the days when life hands you a heap of stress, use one of our CBD Bath Bombs to ease some of the tension. As working moms, dads, young and old, we forget sometimes to tend to ourselves.
Treat yourself with some TLCBD! At the end of a long day, sit and soak to let yourself unwind with our best selling CBD Bath Bomb. 
We also provide a range of relaxing on-the-go options such as massage oils and CBD essential oil rollers. 
Last Thoughts
Because everyone one is different with their symptoms, you may need to experiment with different CBD products to see what works best for you. You should however seek a CBD product that is tested by a 3rd party, has a good reputation, and talks about its soil quality, formula, and extraction methods.
If you would like to know more about our products and brand, our staff is always at your service for any questions. Contact us here today. 
---
Disclaimer:
These products are not for use by or sale to persons under the age of 18.
These statements have not been evaluated by the Food and Drug Administration. These products are not intended to diagnose, treat, cure, or prevent any disease. The efficacy of these products has not been confirmed by FDA-approved research. The information presented here is not meant as a substitute for or alternative to information from healthcare practitioners. Please consult your healthcare professional about potential interactions or other possible complications before using any products.
Lost Range assumes no responsibility for the improper use of these products. We recommend consulting with a qualified medical doctor or physician when preparing a treatment plan for any and all diseases or ailments. Lost Range does not make any health claims about our products and recommends consulting with a qualified medical doctor or physician prior to consuming our products or preparing a treatment plan. It is especially important for those who are pregnant, nursing, chronically ill, elderly or under the age of 18 to discuss the use of these products with a physician prior to consuming.  You must be 18 years or older to visit this website and/or purchase Lost Range products. The information on our website is intended to provide general information regarding our products and is not to be construed as medical advice or instruction.
Neither the Company nor its representatives is providing any medical advice, and none should be inferred, from any ideas, suggestions, testimonials or other information set forth on this website or in other Company materials or provided over the phone, in the mail, in product packaging, or in email correspondence. This website may contain links to third-party websites. The Company provides these links as a convenience only and does not endorse any of these sites. The Company is not responsible for the content of, and does not make any representations regarding the materials on, such linked third-party websites. If you decide to access or rely on information at linked third-party website, you do so at our own risk.
Our terms and conditions, including disclaimers, are more fully set forth in our Terms of Use, Privacy Policy and Terms of Online Sales