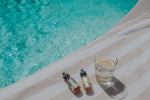 Booze-free craft cocktails are an ideal mid-week summer drink. For that extra dose of relaxation, lost range has curated the ultimate CBD mocktail menu that won't disappoint. 
It's time to sit back and relax this summer with our sip-worthy tipples everyone can enjoy. But whoa there cowboy, hold up! First, let's get back to basics. 
What is CBD?
CBD or cannabidiol is a non-intoxicating, non-psychoactive compound found in the cannabis and hemp plant. It is the most prevalent compound found in the hemp plant and second in the cannabis plant.
Why CBD?
Even though it won't get you high, CBD tends to have an overall calming and soothing effect for many people that's good for winding down at the end of the day. Plus, its potential pain-reducing and anti-inflammatory effects might just be what you need to end the busy day, and even aid in a great night's sleep.  
What CBD is Best for Mocktails? 
CBD Tinctures are the way to due to their liquid form, ready to drop right into your favorite drink. When it comes to CBD tincture preference, that all depends on you - the consumer: 
CBD Isolate is Best for…
People with sensitivity to THC and other cannabinoids.

People living in states with strict THC laws, or those who regularly undergo drug testing in their place of employment.

People who wish to cook with CBD and want something with a light flavor.
Full-Spectrum CBD is Best for…
People who are looking to target a more specific use

People who live in states where cannabis is fully legal and who have no fear of legal repercussions.

People who want to get the most out of their CBD experience.
While full-spectrum products are suited to some individuals, others will find an isolate more to their liking. It's a matter of deciding what works for you.
CBD Class Over -  Let's Get To It! 
That being said, let's get to our top 4 booze-free cocktails that are perfect for summer evenings, every night of the week...
1. Gold Buckle Big Batch
Spend less time hosting and more time toasting by making a larger batch of our signature drink - The Gold Buckle Big Batch. The lost range Gold Buckle line is our highest potency Full Spectrum CBD oil tincture designed to provide the relief you need in regulating pain relief, inflammation, anxiety, recovery, sleep, appetite, mood, and numerous other conditions. Makes 6-8 servings.
What You'll Need:
½ - 1 dropper of lost range Gold Buckle 4000mg Tincture

1 bottle 12fl oz Classic Simple Syrup

1 cup fresh mint leaves

1 bottle soda water

6-8 lemons
To Make:
Bring simple syrup and mint to a boil and then let it stand/steep for 1-4 hours. Once it's cooled, place in the fridge overnight.

Fresh Squeeze the lemons- strain off seeds and pulp-refrigerate.

Mix simple syrup and lemon juice at 5:7 ratio lemon:simple 

Do a four count of mixture over ice

Add 1/2-1 dropper of our Gold Buckle Tincture and shake!

Pour over 16oz Cup- should be about 3/4 full.

Top off with soda water.

Stir to get soda and mixture mixed a bit. 

Add fresh mint and lemon garnish

Tip: Slap mint in your hand for your garnish as it releases the oils!
2. Steamboat Sangria 
Second up is everyone's favorite - Sangria-with-a-twist. Makes 1 serving. 
What You'll Need:
0.5 mls lost range

CBD tincture

of choice

Fresh lemon slices

Fresh lime slices

Fresh orange slices

Cranberries

2 cups cranberry juice

2 cups grape juice

1 cup orange juice

1/2 cup lemon juice

4 cups San Pellegrino sparkling mineral water OR lemon-lime soda
To Make
In a large pitcher, add the lemon slices, lime slices, orange slices, and cranberries. Add cranberry juice, grape juice, orange juice and lemon juice. Stir well.

Add the CBD and stir well again. 

Refrigerate until ready to use.

Just before serving, add the sparkling mineral water or lemon-lime soda. 

Finally add your CBD drop. Mix well.
3. CBD Sour
With earthy undertones and a kick of sweet and sour, this mountain-inspired drink has everything you could wish for. Makes 1 serving.
What You'll Need: 
0.5 mls lost range CBD tincture of choice

1 ounce chilled club soda

3/4 ounce fresh lemon juice

3/4 ounce Simple Syrup

2oz of Zero-Proof Whisky or 3-4 Drops Bourbon Whisky Extract

Ice

4 pitted cherries, plus 1 cherry for garnish
To Make: 
In a cocktail shaker, muddle the 4 pitted cherries. 

Add ice and all of the remaining ingredients except the club soda, CBD & garnish. 

Shake well. 

Strain into an ice-filled tumbler/Collins glass, stir in the club soda, CBD and garnish with a cherry.
4. Lost in Lavender
Calming lavender meets refreshing lemon: AKA the ultimate mid-week chill tipple. Makes 1 serving. 
What You'll Need:
0.5 mls lost range CBD tincture of choice

6 cups water divided

1/2 cup sugar

1/4 cup honey

3 Tbsp dried lavender

2 cups lemon juice

Lemon slices and lavender petals for garnish

Optional blue or purple food coloring
To Make:
Over medium heat, combine two cups of water and sugar, bringing to a boil until sugar is dissolved. Turn off of the heat and stir in honey and lavender.

Steep for 2 hours (less if you want less of a lavender taste). 

Strain the liquid, pressing the lavender down to make sure you get all of those juices.

In a large pitcher, combine freshly squeezed lemon juice, lavender mixture and water.

Add CBD drops and optional blue/purple food coloring and stir well. 

Serve over ice and garnish with fresh lemons
Cheers! 
We hope you try out one of our "buzzy but not boozy" midweek drinks at home. If you do, be sure to tag us on Instagram and let us know what you think! 
Want to try out more recipes? If you're lucky enough to live in the beautiful town of Steamboat Springs, CO, you can catch us every Saturday from 9am at the Farmers' Market on Main Street where we'll be serving up craft CBD cocktails - with seating! 
If you have any questions on our CBD products, be sure to reach out to us here today. Our staff would love to hear from you.