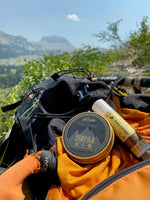 Whether you're a nervous flyer, suffering from jetlag or travel-induced muscle aches, many jet-setters are using the power of CBD to aid their on-the-go experiences.  However, keep in mind that even if CBD or other hemp products are legal in your state, that doesn't mean they will be legal in other countries.
CBD oil comes in a wide range of products. You can add CBD oil in your coffee, relax in CBD bath bombs, lather yourself in CBD oil lotions, and even supplement your pet's food with CBD. It's a buzz-worthy topic in the health and wellness space and for good reason. Scientific studies and reported benefits of using CBD include:
Pain relief
Relief from anxiety and depression
Relief from overthinking
Decreased inflammation
Increased mood
All of these listed benefits are being used by Americans to ease their travel-induced ailments, but many travelers are left confused about its legality, especially when they're considering taking certain products on a plane or traveling internationally. Here are a couple of helpful tips along with important information to note if you're traveling with CBD.
Traveling with CBD Domestically
The type of CBD oil that's derived from hemp oil is what's legal at a federal level (as of the 2018 Farm Bill) and therefore allowed to be taken across state borders, and, yes, on flights. Other CBD oils, like the type that's derived from marijuana, are still illegal in some states—so it's not recommended to take those types across state borders.
You can tell the difference between the two types of CBD oil by reading the product's label and identifying the amount of THC in it. Only hemp-derived CBD oils (with THC levels below 0.3 percent) are legal to fly with or be taken across state borders in the U.S.  It's also important to note that while CBD oil is legal at the federal level, certain state laws vary in terms of possession of any type of CBD oil.
As an extra cautionary step, double-check the CBD oil possession laws of both the state you're traveling to and the state you're traveling from. The website CBD Origin recommends printing out a product's lab report and having it available if needed to verify the cannabinoid content to any inquiring authorities. And if you're traveling with CBD oil products as medication, you should always travel with your prescription handy, as you would any other prescribed medicine.
The current status of flying with CBD oil in the U.S. as of January 2020, according to the TSA website is as follows. "Marijuana and certain cannabis infused products, including some Cannabidiol (CBD) oil, remain illegal under federal law except for products that contain no more than 0.3 percent THC on a dry weight basis or that are approved by FDA." 
Traveling with CBD Internationally
International rules and regulations on CBD are less clear, so if you're looking to travel abroad with CBD oil you'll need to research the laws of the country you're traveling to. However, professionals strongly advise on the side of caution and leave products with any cannabinoids (including hemp-derived oils) at home, especially because some countries have much stricter drug laws.
Regulations for CBD oil are confusing. Some cruise lines ban CBD oil altogether, so it's best to contact the cruise line directly if you need to travel with CBD oil on your cruise. An important thing to remember is that there are security scanners as you board a cruise ship, so there's no hiding CBD products.
Benefits of Traveling with CBD
CBD oil has many uses. It is said to help travelers regulate their body's organs, immune system, and neurotransmitter signaling systems, which can help alleviate symptoms of jet lag, anxiousness, and sleeplessness. There are a variety of different types of ways to consume CBD oil including topical creams, tinctures and beauty products. 
For all edibles, gels, lotions, oils, and other liquids, you should follow and comply with normal TSA 3-1-1 rules when you're traveling with CBD oil:
"Products/medications that contain hemp-derived CBD or are approved by the FDA are legal as long as it is produced within the regulations defined by the law under the Agriculture Improvement Act 2018."
While the TSA's statements make it seem like they are not looking for CBD products, you're still subject to search, which could lead to delays at the airport. Some go-to products our customers love on their travels include:
Final Thoughts
A safe rule of thumb when traveling with CBD is to always check the law and exercise discretion. There are multiple resources available for air travelers, such as the TSA's security screening page. The TSA also has two social media tools when you aren't sure if you can travel with a specific product. As always, travel safe, know your rights, and when in doubt check the law.
If you would like to know more about our products and brand, our staff is always at your service for any questions. Contact us here today. 
---
Disclaimer:
These products are not for use by or sale to persons under the age of 18.
These statements have not been evaluated by the Food and Drug Administration. These products are not intended to diagnose, treat, cure, or prevent any disease. The efficacy of these products has not been confirmed by FDA-approved research. The information presented here is not meant as a substitute for or alternative to information from healthcare practitioners. Please consult your healthcare professional about potential interactions or other possible complications before using any products.
Lost Range assumes no responsibility for the improper use of these products. We recommend consulting with a qualified medical doctor or physician when preparing a treatment plan for any and all diseases or ailments. Lost Range does not make any health claims about our products and recommends consulting with a qualified medical doctor or physician prior to consuming our products or preparing a treatment plan. It is especially important for those who are pregnant, nursing, chronically ill, elderly or under the age of 18 to discuss the use of these products with a physician prior to consuming.  You must be 18 years or older to visit this website and/or purchase Lost Range products. The information on our website is intended to provide general information regarding our products and is not to be construed as medical advice or instruction.
Neither the Company nor its representatives is providing any medical advice, and none should be inferred, from any ideas, suggestions, testimonials or other information set forth on this website or in other Company materials or provided over the phone, in the mail, in product packaging, or in email correspondence. This website may contain links to third-party websites. The Company provides these links as a convenience only and does not endorse any of these sites. The Company is not responsible for the content of, and does not make any representations regarding the materials on, such linked third-party websites. If you decide to access or rely on information at linked third-party website, you do so at our own risk.
Our terms and conditions, including disclaimers, are more fully set forth in our
Terms of Use
,
Privacy Policy
and Terms of Online Sales