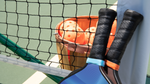 Pickle-what? Pickleball! If you've not got onto the latest fun sport for summer, you're missing out. Here's the ins-and-outs of Pickleball and how the benefits of CBD can help you recover.
The use of cannabidiol (CBD) among athletes is becoming extensive and frequent. This could be due to the elimination of CBD from the list of prohibited substances by federations and international institutions of sport. Now sports men and women of all ages across America are using CBD to help them perform. Including Pickleball!
What is Pickleball?
Pickleball is a paddle sport played with a whiffle ball on a badminton-sized court and a tennis-style net.
Pickleball is enjoyed by people of all ages and athletic abilities thanks to its ease of play and straightforward rules. The sport is inexpensive, social and healthy, and has been widely accepted in school gyms, fire stations, community centers, local parks, athletic clubs and thousands of backyard sports courts. In some ways it's a combination of tennis and badminton, and along with sports such as table tennis and racquetball, pickleball has exploded in popularity. Thousands of pickleball courts have been built in recent years, especially in senior communities.
Pickleball is a fun, engaging sport that requires a high level of physical hand-eye coordination. This sport has recently increased in popularity due to its competitive nature. Pickleball players are always looking for new ways to improve their performance. Extensive practice can enhance a pickleball player's gameplay and technique. However, prolonged practice sessions can take its toll on the body.
Extra physical stress can negatively impact an athlete's progress and overall well-being, especially when players aren't managing their physical symptoms. Because of this, CBD and pickleball are a perfect match. CBD is known for its natural healing ailments, favored by active people to help reach their peak performance.
According to a 2020 study, CBD may help reduce pain and inflammation, which is ideal for those looking to improve post-workout recovery.
Luckily, there are many lost range.® CBD products that athletes can use to their advantage. Here's a look at the top uses of CBD products for pickleball players.
CBD Muscle & Joint Rubs: Enhance Recovery
Before practice and matches, Pickleball players should warm up and stretch to loosen their tight muscles. A proper warm-up helps to lower the risk of sports-related injuries. Players can also help kick start their tendons, ligaments, muscles, and joints by using our high-potency 2000mg Muscle and Joint rub.
This CBD Cream helps your body recover quickly from pain, inflammation, and when coupled with our CBD Oil Tinctures, provides you a leg up in jumpstarting your Endocannabinoid System!
If you're looking for the highest potency CBD cream/rub for pain relief on the market, our 4000mg Gold Buckle Muscle and Joint Rub is the highest quality, highest potency CBD cream for your pain relief and inflammation. Use this CBD rub for your every day muscle and joint pain and inflammation, paired with our CBD Oil Tinctures for best results.  This rub is tailored for your every day pain and more. To use our muscle and joint rubs, apply a small amount onto the affected area and rub it in. Repeat the process after a few hours if the pain persists. Our all-natural formula contains CBD oil, as well as essential oils:
Shea butter

Beeswax

Grapeseed oil

Jojoba oil

Lavender 

Eucalyptus

Allspice

Arnica

Comfrey

Yarrow

Cinnamon

Plantain

Lemon

Chamomile

Vitamin E
Our Muscle and Joint rubs are perfect for post-match relief to alleviate pain and inflammation. By helping sore muscles, you can move more freely and lower the risk of injury during a game.
CBD Tinctures
Pickleball players can enjoy the best quality CBD products by taking a few premium CBD drops under the tongue. By consuming our CBD oil tincture orally, it ensures faster absorption into the bloodstream, so try taking your dose 20-30 minutes before your game to ease the pre-match anxiety and reduce inflammtion post-match. 
Our premium CBD oil tinctures are a great choice if you're looking for a high potency product with a punch. Our products are 20-30% lower in price compared to other potency comparables on the market—which makes for the perfect concentration to use in order to give you the best results for your money. 
Here are a couple products we recommend any pickleball player looking for a new tincture based on their potency levels:
Potent Oil Tincture – Our

1,000mg Isolate CBD Oil Tincture

is a great option for individuals who are new to CBD (and/or cannabis in general). Some people have a more active endocannabinoid system than do others, so they will naturally not require as strong of an oil.

Higher Potency Oil – Our

2000mg Full Spectrum CBD Oil Tincture

is for those who find they're having to take large (and/or multiple) doses of a lower potency CBD oil. This product is great for someone who plays pickleball on a daily basis and is looking for a midrange CBD option. Mid-range potency products are used to help regulate inflammation, recovery, and day-to-day pain. 

Highest Potency Oil – Our highest potency

4000mg Gold Buckle Full Spectrum Oil Tincture

is the most potent on the market. For the extreme pickleball player, this may be your new go-to product. Products in this strength range are commonly used for severe pain such as deep muscle soreness, day-to-day extreme stress and more.
Choose lost range.® for Your CBD Needs
CBD acts on various physiological systems of the human body, which is why its use is becoming increasingly popular in the sporting world. It is an excellent alternative to non-steroidal anti-inflammatory drugs (NSAIDs), such as ibuprofen, for athletes managing pain and inflammation. 
At lost range.®, we make a commitment to our customers by delivering CBD that adheres to the highest possible standards of quality. Our mission is to help others find natural remedies that will drive them through their endeavors. We are proud of our products and strive for total transparency every step of the way.
CBD also has excellent restorative properties that are sure to enhance the recovery of injured pickleball athletes. lost range.® offers top-of-the-line CBD tinctures, massage oils, rubs and more for any athlete seeking to elevate their game. For more information on our products, process and potency, contact us today.
---
Disclaimer:
These products are not for use by or sale to persons under the age of 18.
These statements have not been evaluated by the Food and Drug Administration. These products are not intended to diagnose, treat, cure, or prevent any disease. The efficacy of these products has not been confirmed by FDA-approved research. The information presented here is not meant as a substitute for or alternative to information from healthcare practitioners. Please consult your healthcare professional about potential interactions or other possible complications before using any products. lost range.® assumes no responsibility for the improper use of these products. We recommend consulting with a qualified medical doctor or physician when preparing a treatment plan for any and all diseases or ailments. lost range.® does not make any health claims about our products and recommends consulting with a qualified medical doctor or physician prior to consuming our products or preparing a treatment plan. It is especially important for those who are pregnant, nursing, chronically ill, elderly or under the age of 18 to discuss the use of these products with a physician prior to consuming.  You must be 18 years or older to visit this website and/or purchase lost range.® products. The information on our website is intended to provide general information regarding our products and is not to be construed as medical advice or instruction.
Neither the Company nor its representatives is providing any medical advice, and none should be inferred, from any ideas, suggestions, testimonials or other information set forth on this website or in other Company materials or provided over the phone, in the mail, in product packaging, or in email correspondence. This website may contain links to third-party websites. The Company provides these links as a convenience only and does not endorse any of these sites. The Company is not responsible for the content of, and does not make any representations regarding the materials on, such linked third-party websites. If you decide to access or rely on information at linked third-party website, you do so at our own risk.
Our terms and conditions, including disclaimers, are more fully set forth in our Terms of Use, Privacy Policy and Terms of Online Sales