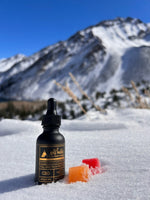 Sleigh this holiday season with premium CBD products from lost range.®!
With our wide range of CBD products, there's something for everyone, meaning gift-giving will be a breeze. From our gummies and tinctures, to honey and massage oil, everything we make in-house is high-potency, natural and plant-based to support healthy lifestyles. lost range.® premium CBD products are made by hand, in small-batches to ensure the finest craftsmanship and allowing for a consistent product, made with love and care from our hands to yours. 
Whether you're in search of the perfect gift for the man that has everything or the vegan, wellness-warrior in your life - search no further! Here are our top 5 favorite CBD gifts for the holidays. 
lost range.® premium, high-potency CBD gummies are the best on the market. Why? Sourced using organic farming practices, made by hand in small-batches to ensure the highest quality of standards is delivered in every bite. Each 33mg gummy contains cannabinoids beyond CBD; including naturally occurring terpenes, essential vitamins, fatty acids and proteins. 
Whether you're using them to unwind, kill anxiety or get a better night's sleep, our plant-based gummies are free of the unhealthy junk and artificial flavors and colors found in standard CBD gummies. Instead, they're packed with 1,000 mg of premium, full-spectrum CBD per bag. They're also vegan-friendly, as Pectin is used rather than animal gelatin in the preparation. 
Choose from Cherry or Mandarin Orange (with more flavors to come!) for just $59.00 MSRP per bag.
Highest Potency CBD Tinctures
By helping to maintain optimal health, emotional balance and support skin health, there's no better gift to give a loved one than the gift of health. 
lost range.® CBD Tinctures are perfect those who want to step up their CBD game. While there are thousands of low-dose, additive-filled oils on the market, we believe that your CBD oil should be the key ingredient in your tincture. Which is why you'll only find 2 ingredients in our oils: (MCT) coconut oil and Full-Spectrum/Isolate CBD.
All our products are considered high-dose, and you can begin your CBD journey with our 1000mg Tinctures and go all the way up to our 4000mg Gold Buckle Tincture. Remeber to start slow and work your way up. You can customize your dose with our dosing chart below. 
Bring a new level of luxury to bath time with CBD bar soaps. lost range.® CBD bath & body soap is handcrafted, all natural soap that produces a great lather and leaves you squeaky clean. A blend of proprietary herbal infused grapeseed oil, shea butter, beeswax, organic grass fed beef tallow, apricot oil, jojoba oil and essential oils - and each bar is 100% THC free. 
Our CBD bath & body soap contains 25 mg of CBD and comes in eucalyptus, lavender, lemongrass or eucalyptus and peppermint scents. Get one bar for just $19.00 MSRP. 
Everyone loves a good lip balm during the harsh winter months, when the weather can be brutal to our delicate skin. Our best-sellinglost range.® CBD Lip Balm keeps lips feeling soft and smooth no matter where life takes you. Equipped with all-natural SPF, you can use it to protect against sun and wind. Made with a combination of cocoa butter, beeswax, jojoba oil, vitamin E, zinc and our proprietary infused rapeseed oil, this product was created to soothe the driest lips. Additionally, this lip balm can repair, heal and protect lips year round, as it's mixed with our premium CBD Isolate and is 100% THC free. One stick contains 25 mg of CBD and starts at $20.00 Choose from all natural or honey vanilla. 
lost range.®'s Muscle & Joint Rub is the best quality CBD pain relief cream/rub on the market. It's 100% all-natural, handcrafted and made with high-quality CBD oil. Our muscle and joint rubs come in two size variations and was curated to help relieve issues associated with normal daily exercise and activity.
Our highest potency award-winning Gold Buckle CBD Muscle and Joint Rub packs 4,000 mg of premium CBD and is aimed for athe experienced CBD user. Our standard CBD Muscle and Joint Rub comes with a huge 2,000 mg of premium CBD. Both are made from organic ingredients and handcrafted in small batches, ensuring you're getting the most natural and effective product possible. 
With no added chemicals or preservatives, this product doesn't make the skin feel dry or irritated. You get a rich blend of organic oils and butters that melt into the skin.
Get the award-winning 4,000mg Gold Buckle CBD Muscle & Joint Rub for $79.00 - $149.00 MSRP or the 2,000 CBD Muscle & Joint Rub for $35.00 - $59.00 MSRP.
Perfect to keep your skin moisturized during the dry, winter months, our
CBD Massage Oil
is made with plant-based ingredients that work to nourish and repair your skin's barrier. Designed by five star spa professionals, our CBD massage oil provides customers with a high potency product they can administer in the comfort of their own home. Made with our proprietary herbal infused grapeseed oil, this product delivers 100 mg of CBD per ounce and is 100% THC free. Aroma options include lavender, citrus, cool blue, eucalyptus and unscented. A
1oz bottle starts at just $20.00 MRSP.
Happy Holidays from lost range.®! 
No matter what you decide to stuff your stockings with this year, we guarantee every product is all natural, high-potency and pure. Our premium CBD products are made by hand, in small batches in Steamboat Springs, Colorado to ensure the finest craftsmanship. Unlike most CBD on the market, lost range.® only offers upper end potency and high quality ingredients made in-house (meaning we don't outsource our production to third-party packing/processing facilities), ensuring our customers receive all the great benefits premium CBD has to offer. 
Check out our full line of premium CBD gifts here.
If you would like to know more about our products and brand, our staff is always at your service for any questions. Contact us here today.
These products are not for use by or sale to persons under the age of 18.
These statements have not been evaluated by the Food and Drug Administration. These products are not intended to diagnose, treat, cure, or prevent any disease. The efficacy of these products has not been confirmed by FDA-approved research. The information presented here is not meant as a substitute for or alternative to information from healthcare practitioners. Please consult your healthcare professional about potential interactions or other possible complications before using any products.
lost range.® assumes no responsibility for the improper use of these products. We recommend consulting with a qualified medical doctor or physician when preparing a treatment plan for any and all diseases or ailments. lost range.® does not make any health claims about our products and recommends consulting with a qualified medical doctor or physician prior to consuming our products or preparing a treatment plan. It is especially important for those who are pregnant, nursing, chronically ill, elderly or under the age of 18 to discuss the use of these products with a physician prior to consuming. You must be 18 years or older to visit this website and/or purchase lost range.® products. The information on our website is intended to provide general information regarding our products and is not to be construed as medical advice or instruction.
Neither the Company nor its representatives is providing any medical advice, and none should be inferred, from any ideas, suggestions, testimonials or other information set forth on this website or in other Company materials or provided over the phone, in the mail, in product packaging, or in email correspondence. This website may contain links to third-party websites. The Company provides these links as a convenience only and does not endorse any of these sites. The Company is not responsible for the content of, and does not make any representations regarding the materials on, such linked third-party websites. If you decide to access or rely on information at linked third-party website, you do so at our own risk.
Our terms and conditions, including disclaimers, are more fully set forth in our Terms of Use, Privacy Policy and Terms of Online Sales