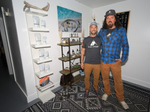 Our very own Given Johnson, Matt Hook and Michelle Parilla showed John F. Russell from the Steamboat Pilot around lost range® HQ to talk all things premium CBD.
'The CBD manufacturer lost range moved into a larger facility in February to keep up with growth, but co-owner Matt Hook said the Steamboat-based brand remains true to its roots.
"All of our products are all-natural and handmade in small batches," Hook said. "They're all third-party tested, and we share all our testing on our website with our customers. Every ingredient on the back of the packaging is natural — that's one of the things that stands out."
Co-owner and founder Given Johnson added that the high-potency of the CBD products offered at lost range, which spells its name entirely with lowercase letters, also makes the business different.
"I would say our potency," Johnson responded to a question about what sets lost range apart. "Then there is the fact that we're all-natural, small-batch and handcrafted. … We don't put any chemicals in our products and that's always been."'
Read the full article from the source here!