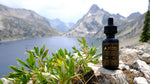 There's a ton of CBD brands and products on the market. So how do you know what's best? While CBD can be added to a variety of ingredients and into a whole spectrum of products, at the end of the day, it's the actual amount of CBD in the product that matters. Here's how to find the strongest stuff out there.
What's considered high potency CBD? If you're new to CBD this could mean something different for you as opposed to someone who has used it for years. If you're reaching for cannabidiol (CBD) oil, odds are you're looking for something to help maintain physical and mental well being.
That being said, it's also nice to know that what you're reaching for is strong enough to make a noticeable difference in your symptoms. At lost range.®,  we're proud to say our high potency CBD products are 20-30% lower in price compared to other potency comparables on the market—which makes for the perfect concentration to use in order to give you the best results for your money. 
Keep reading to learn about our strongest CBD oils and how to safely shop for and use them.
What is Considered "Strong" CBD?
CBD products can be found in a number of different potencies. There is broad-spectrum, full-spectrum and cbd isolate. High potency is considered when a product has at least 50 milligrams of CBD.  At lost range.®, our CBD hemp oil potencies range from 1,000mg to upwards of 4,000mg. While the label may tell you the percentage of the CBD in your oil, that isn't strength.
You need to know how much CBD, in milligrams, is in the bottle, so you can divide that by the amount you take to see how much CBD is in your dose. lost range.® offers only upper end potency and quality, that's why our lowest milligram percentage starts out at 1,000 and goes up from there. 
Our Isolate CBD products contain 0% THC. The CBD isolate we use here at lost range.® is tested at 99.99% CBD. Our Full Spectrum CBD products contain less than .3% THC and contain other cannabinoids such as CBD, CBG and CBC.
With this in mind, it's important to note that CBD affects everyone differently. What may feel strong to you may not feel as potent to another person. This is especially true if you're new to CBD. Let's take a look at some of the positives and negatives to using high potency CBD.
Positives: 
A little goes a long way in terms of usage to experience effects

You can scale up or down depending on what you need it for

In the long term, it will be cost effective to have a high dosage on hand
Negatives:
Higher doses aren't always necessary for first-time CBD users (you should experiment to see what dose is right for you)

There is a greater chance for side effects, although rare
How to Choose CBD
As mentioned above, our products are 20-30% lower in price compared to other potency comparables on the market—which makes for the perfect concentration to use in order to give you the best results for your money. 
You may think measuring the strength of CBD is as simple as glancing at the bottle. But not so fast…because CBD oils can be isolated, full-spectrum, or broad-spectrum, determining strength and quality can be a little more confusing. 
Here's a look each of our CBD products and what they do:
CBD isolate: Isolate CBD is the purest form of CBD available, testing around 99.99% CBD and can be found in both crystalline and powdered crystal form.

Full-spectrum CBD: Full Spectrum Oil is an oil rich in CBD but also contains low levels of other cannabinoids such as CBG, CBN, CBC and THC. Full Spectrum Oil usually tests at around 75%-90% CBD and must test at less than .3% THC.
Recommended Products
Here are a couple products we recommend based on their potency levels:
Potent Oil Tincture – Our 

1,000mg Isolate CBD Oil Tincture

 is a great option for individuals who are just starting out or who may be sensitive to CBD (and/or cannabis in general). Some people have a more active endocannabinoid system than do others, so they will naturally not require as strong of an oil.

Higher Potency Oil – Our 

2000mg Full Spectrum CBD Oil Tincture

 is for those who find they're having to take large (and/or multiple) doses of a lower potency CBD oil. In general, a lot of our customers use our mid-range potency products to help 

maintain normal emotional balance and  a sense of relaxation

.

Highest Potency Oil – Our highest potency 

4000mg Gold Buckle Full Spectrum Oil Tincture

 is the most potent on the market. Products in this strength range are commonly used for the experienced CBD user looking for a stronger solution to help 

maintain physical and mental well being.
Why lost range.® 
The "strongest" CBD definition varies depending on your vendor. It's important to start with a small dose and increase it over time once you've reached your desired effect. You can rest assured that lost range.®, is committed to our customers by delivering CBD that adheres to the highest possible standards of quality. 
Our mission is to help others find natural remedies that will drive them through their endeavors. We are proud of our products and strive for total transparency every step of the way.
If you would like to know more about our products and brand, our staff is always at your service for any questions. Contact us here today.
---
These products are not for use by or sale to persons under the age of 18.
These statements have not been evaluated by the Food and Drug Administration. These products are not intended to diagnose, treat, cure, or prevent any disease. The efficacy of these products has not been confirmed by FDA-approved research. The information presented here is not meant as a substitute for or alternative to information from healthcare practitioners. Please consult your healthcare professional about potential interactions or other possible complications before using any products.
lost range.® assumes no responsibility for the improper use of these products. We recommend consulting with a qualified medical doctor or physician when preparing a treatment plan for any and all diseases or ailments. lost range.® does not make any health claims about our products and recommends consulting with a qualified medical doctor or physician prior to consuming our products or preparing a treatment plan. It is especially important for those who are pregnant, nursing, chronically ill, elderly or under the age of 18 to discuss the use of these products with a physician prior to consuming.  You must be 18 years or older to visit this website and/or purchase lost range.® products. The information on our website is intended to provide general information regarding our products and is not to be construed as medical advice or instruction.
Neither the Company nor its representatives is providing any medical advice, and none should be inferred, from any ideas, suggestions, testimonials or other information set forth on this website or in other Company materials or provided over the phone, in the mail, in product packaging, or in email correspondence. This website may contain links to third-party websites. The Company provides these links as a convenience only and does not endorse any of these sites. The Company is not responsible for the content of, and does not make any representations regarding the materials on, such linked third-party websites. If you decide to access or rely on information at linked third-party website, you do so at our own risk.
Our terms and conditions, including disclaimers, are more fully set forth in our Terms of Use, Privacy Policy and Terms of Online Sales