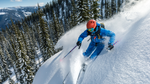 The temps are dipping, but your lost range.® Seasonpass benefits are only heating up:
📦Get 20% off every order and free shipping with orders over $25. 
🗓️Schedule your own CBD delivery for consistent supply, tailored to your needs. 
🧘A timely routine delivery of your CBD means you'll keep a consistent CBD regime to maximize the health benefits and effects of your products.
Unlock the magic of premium CBD year-round. Join today for perks your body will thank you for!
(To sign up for our Seasonpass subscription service, hit the 'Subscribe & Save 20%' option on your next purchase.)