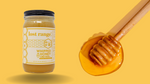 Our premium, CBD Whipped Honey is here. From the local honey's medicinal properties to CBD's anti-inflammatory support, there are so many unique benefits of CBD Honey. So let's dive in to find out why so many customers are pollen in love with our bee-autiful phytonutrient powerhouse product of the year. 
It's FINALLY here! lost range.® is excited to announce our newest product – CBD Whipped Honey! We partnered with a local Beekeeper in Steamboat Springs, CO to obtain the finest quality honey. Each batch of our Whipped CBD Honey is packed with one thousand milligrams of premium, small-batch CBD. Our Full-Spectrum CBD oil is whipped to give it a light, creamy and delicious consistency.
Our CBD Honey has the same effects as our Full-Spectrum Tinctures with the added benefits of premium honey and phytonutrients. 

Now that you know a bit about our new product, let's get into some of the benefits that come with CBD Whipped Honey.
Benefits of Local Honey
What's not to love when it comes to local honey? Not only does it taste delicious, but it is good for you, too! Honey is well known for its medicinal properties. In Ayurvedic medicine, it is used as a carrier for its synergistic effect with herbs. Honey enhances digestion, absorption and carries medicine to the deeper tissues of the body (to promote healing).
Honey is well known for its medicinal properties. In Ayurvedic medicine, it is used as a carrier for its synergistic effect with herbs. Honey enhances digestion, absorption and carries medicine to the deeper tissues of the body (to promote healing).
Raw honey has been used as a remedy throughout history and has a variety of health benefits and medical uses. It's even used in some hospitals as a treatment for wounds. On top health benefits, add in supporting local, hard-working businesses (and bees) = win/win.
Raw honey's nutrition content varies by its origin and other factors. Raw honey also contains smaller amounts of the following micronutrients (or, vitamins and minerals):
calcium
magnesium
manganese
niacin
pantothenic acid
phosphorous
potassium
riboflavin
zinc
In addition, raw honey is a source of varying amounts of amino acids, enzymes, and other beneficial compounds.
Honey has various healing properties which is why it's a popular ingredient to add to hot tea in order to soothe a sore throat for example, but because good-quality honey has antimicrobial properties, it doesn't just soothe your tickly throat; it can also kill certain bacteria. Raw honey contains an array of plant chemicals that act as antioxidants. Some types of honey have as many antioxidants as fruits and vegetables. Antioxidants help to protect your body from cell damage due to free radicals.
Local, raw honey also helps with seasonal allergies. The same allergens that trigger a reaction in you are present in local, raw honey. By ingesting honey on a regular basis you are taking the allergen in small, manageable doses. The effect over time can be compared to getting a series of allergy immunology injections. 
Raw honey is a natural antiseptic. As mentioned above, honey has antimicrobial properties. That's what makes it great for treating wounds. Since there are many types of bacteria that can't survive in honey, it speeds up healing, diminishes swelling, and gives tissue the opportunity to grow back more quickly.
CBD & Its Healing Elements
From pain management to anxiety relief, CBD is taking over the health and wellness industry for reason.
Cannabidiol is a popular natural remedy used for many common ailments. CBD is one of 100 chemical compounds called cannabinoids that are found in the cannabis plant.
Tetrahydrocannabinol, also known as THC, is the main psychoactive cannabinoid found in cannabis. This means it causes the sensation of getting high. However, unlike THC, CBD is not psychoactive, which is why CBD is an appealing option for those who are looking to invest in their health and find relief from pain without the mind-altering effects of THC. (Note: All our CBD products are less than 0.3% THC).
According to research, one of the benefits of CBD is that cannabinoids synergize and help support humans' built-in Endocannabinoid System (ECS). It was in 1992 that scientists discovered that the ECS plays a direct role in homeostasis, which regulates every metabolic process in the body, such as pain sensation, appetite, temperature regulation, stress reactivity, immune function, and sleep, as well as other processes. Even more interesting is that muscle and fat tissue also utilize these receptors to control their processes.
Benefits of CBD and Local Honey
Combining premium CBD with premium local honey, you get the benefits of both in one tasty treat. Now that you know a little more about why local honey and CBD alone is so powerful, we can get into why CBD and Honey are an absolute dream team when paired together.
CBD is often mixed with other natural flavors to make it edible. Not that CBD tastes bad but it does have this earthy or grassy flavur to it which isn't a taste that a lot of people like in their food.
CBD honey is not just a tasty treat. You can use it topically and orally for your wellness, health and happiness. CBD Honey can be used as a substitute for sugar in almost all food (and drink) items. 
These are the major health benefits that CBD honey brings to the table which makes it a really appealing product for people looking for a way to  live a healthier and better life. Here are just a few of the reasons people consume CBD Honey:
Blood pressure

Energy

Sore throat

Coughs

Inflammation

Combat free radicals

Anxiety

Heart health

Depression
Not all CBD and honey is created equal however, and buyers should always look for pure, raw honey when choosing to go with honey versus another sweetener. This is because pure, raw honey has not been altered, and thus its natural properties remain. If you're considering adding CBD oil for your personal routine, look for these factors to ensure you're buying a pure product.
Why Whipped? 
What is the purpose of whipped honey?
Whipped honey, also known and creamed honey, churned honey and spun honey,  is a process that controls crystallization.
Because this honey contains a large number of small crystals, it prevents the formation of larger crystals. Larger crystals often occur in unprocessed honey. The whipped processing also produces a smooth spreadable and delicious texture.
Will CBD Honey Get You High?
No. CBD oil and CBD products in the US are heavily regulated by the FDA. All our CBD contains no THC (>.3%) so is both legal and non-intoxicating.
CBD Honey Recipes
There's so many ways you can utilize the benefits of CBD Whipped Honey. Whether you spread some CBD Honey on your morning toast, in a smoothie or even in a cocktail, we're sure you'll love these recipes. Now that you're fully prepped on all things CBD Honey, here's a couple recipes to try at home! 
Gluten Free CBD Oat & Honey Granola Bars
These gluten free granola bars are not only easy to make but they can also be customized with your favorite mix-ins to create a treat the whole family will enjoy! The addition of CBD infused honey is an added bonus too!
Ingredients
2 C Gluten Free Oats

½ C Gluten Free Oat Flour

¼ tsp Baking Soda

½ C Puffed Rice Cereal

½ C Chopped Nuts

¾ C Chopped Dried Fruit

¼ C Light Brown Sugar or coconut sugar

½ tsp Salt

⅓ C Coconut Oil melted

1 tsp Vanilla
Instructions
Preheat the oven to 300 degrees. Line a 9×9 square pan with parchment paper.

Combine all the dry ingredients in a large bowl. Stir well.

Add the coconut oil, honey and vanilla. Stir until everything is evenly coated.

Pour mixture into the prepared pan.

Using the bottom of a smaller pan, press down on the oat mixture to compress it as tightly as possible.

Bake for 25 minutes. Remove from the oven and again use the small pan to press down on the oat bars.

Cool in the pan for 10 minutes.

Cut into 12 bars. Cool completely before wrapping.

Store in an airtight container up to 1 week
CBD-Honey Infused Fudgesicles
Creamy, sweet, and perfect for summer, these healthy fudgesicles are dairy-free, paleo friendly, naturally sweetened with CBD-infused raw honey, and dunked in an easy homemade magic shell for a thick crunch of chocolate coating in every bite.
Ingredients
1 14-oz can full-fat coconut milk*

1/4 cup cocoa powder

2 teaspoons vanilla extract

a pinch of salt

Chocolate Magic Shell

2 3-oz bars of your favorite dark chocolate (or 1 cup chocolate chips)

2 Tablespoons virgin coconut oil
Instructions
1. Put all fudgesicle ingredients into a mixing bowl and whisk until no lumps of cocoa remain (alternately, dump all ingredients into your blender and blend for about 10 seconds).

2. Pour into popsicle molds (or even small paper cups, or a muffin tin with paper liners, if you don't own a popsicle mold), insert sticks, and freeze until solid (about 4 hours).

3. Once popsicles are solid, break chocolate bars into pieces and put into a microwave-safe bowl or glass measuring cup with coconut oil. Microwave in 20 second increments, stopping to stir in-between, until melted. Mine took about 1 minute, total, to melt. (alternately, this can be done on the stovetop in a double boiler if you don't have a microwave)

4. Pour chocolate into a cup or jar about the size of your popsicles (I used a small half pint/8oz mason jar) and grab a plate that will fit your popsicles on it once they're dipped in chocolate.

5. Dunk each popsicle into the chocolate. If needed, use a spoon to coax some of the chocolate up to fully coat the pops. Put popsicles onto the plate, then transfer back into the freezer to keep frozen until you're ready to eat. Since the chocolate coating hardens immediately, you can eat these right away, if you'd like.
To Summarize
CBD honey is honey which has been infused with CBD oil. The highest-quality products combine CBD extracted from natural hemp with raw, organic honey.
We hope you enjoyed learning about our new product. Our CBD Honey has the same great effects as our Full-Spectrum Tinctures – with the added benefits of premium honey and phytonutrients. This product contains less than 0.3% THC.
For more information on our CBD Honey and other products please visit our website or contact us to learn more today.
---
Disclaimer:
These products are not for use by or sale to persons under the age of 18.
These statements have not been evaluated by the Food and Drug Administration. These products are not intended to diagnose, treat, cure, or prevent any disease. The efficacy of these products has not been confirmed by FDA-approved research. The information presented here is not meant as a substitute for or alternative to information from healthcare practitioners. Please consult your healthcare professional about potential interactions or other possible complications before using any products.
lost range.® assumes no responsibility for the improper use of these products. We recommend consulting with a qualified medical doctor or physician when preparing a treatment plan for any and all diseases or ailments. lost range.® does not make any health claims about our products and recommends consulting with a qualified medical doctor or physician prior to consuming our products or preparing a treatment plan. It is especially important for those who are pregnant, nursing, chronically ill, elderly or under the age of 18 to discuss the use of these products with a physician prior to consuming.  You must be 18 years or older to visit this website and/or purchase lost range.® products. The information on our website is intended to provide general information regarding our products and is not to be construed as medical advice or instruction.
Neither the Company nor its representatives is providing any medical advice, and none should be inferred, from any ideas, suggestions, testimonials or other information set forth on this website or in other Company materials or provided over the phone, in the mail, in product packaging, or in email correspondence. This website may contain links to third-party websites. The Company provides these links as a convenience only and does not endorse any of these sites. The Company is not responsible for the content of, and does not make any representations regarding the materials on, such linked third-party websites. If you decide to access or rely on information at linked third-party website, you do so at our own risk.
Our terms and conditions, including disclaimers, are more fully set forth in our Terms of Use, Privacy Policy and Terms of Online Sales.