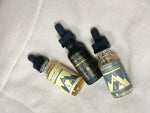 Whether you're a full-blown insomniac or simply have a tough time nodding off, bedtime can get unnerving. Many are now turning to CBD to help them drift off, but what CBD is best for sleep? Read on to learn more. 
Proper sleep is one of the most essential factors to overall health and wellbeing. Sleep not only gives you energy for the following day, it also helps grow and repair muscles and tissue, prevent sickness and contributes to memory formation. 
Unfortunately, falling or staying asleep can be difficult for some. Tossing and turning can be frustrating, leaving you exhausted and unfocused the next day.
Many have now turned to CBD as a solution to help them peacefully drift off. In fact, 42% of Americans who use CBD use it for sleep and insomnia.
What is CBD?
Cannabidiol, or CBD, is one of the main cannabinoids in the cannabis plant. Cannabinoids interact with your endocannabinoid system. This process is said to help your body maintain a state of balance and stability.
The Journal of Clinical Investigation's study results indicated that: "The cannabinoid system is an essential endogenous regulator of energy homeostasis via central orexigenic as well as peripheral lipogenic mechanisms and might therefore represent a promising target to treat diseases characterized by impaired energy balance."
Unlike THC, CBD does not have psychoactive properties, meaning it cannot get you "high." 
Cannabinoids & The ECS
Researchers have identified two primary receptors in the endocannabinoid system, CB1 and CB2, which are located in the central and peripheral nervous system. These receptors are responsible for regulating many of our body's natural processes including immune response, appetite and metabolism, sleep, memory, and much more.  When a person (or mammal) consumes cannabinoids, those cannabinoids interact with the endocannabinoid system to create a physiological response to help alleviate inflammation, control moods, and assist with our bodies homeostasis.
CBN is the most effective cannabinoid observed for sleep, making it an increasingly common choice for those with insomnia. Studies have shown that CBN works as a sedative to help reduce the time it takes to fall asleep, and can extend the duration of time asleep. These effects are significantly more apparent when pairing CBN with THC.
Best CBD Products for Sleep
CBN has been dubbed the "sleep cannabinoid". And you find CBN in full-spectrum CBD products. 
lost range.® Full-Spectrum CBD Tinctures are sourced from Colorado-grown hemp and contain many cannabinoids beyond CBD such as CBG, CBN, CBC and traces of THC (under 0.3%). All our full-spectrum products also contains naturally-occurring terpenes, essential vitamins, fatty acids, and proteins.
Here's our top Full-Spectrum picks:.
CBD Gummies (1000mg per bag, 33mg per serving)
Packed with 33mg of premium Full-Spectrum CBD in each bite, our convenient and delicious CBD gummies are an easy way to get your dose of Full-Spectrum CBD in. We suggest to take 1-2 gummies one hour before bedtime. For best results, keep lost range CBD Gummies into your daily regimen for 30-45 days. 
Full-Spectrum CBD Tincture (2000mg per bottle)
This Full-Spectrum Tincture may have a more synergistic effect than pure CBD isolate, which is often referred to as the 'entourage effect'. Our Full-Spectrum Tincture contains only two ingredients, medium-chain triglycerides (MCT) coconut oil and Full-Spectrum CBD.  Available in natural or organic peppermint flavor, try adding your preferred dose dropped under the tongue 20 mins before hitting the sack.
Gold Buckle® Full Spectrum CBD Tincture (4000mg)
At 4000mg of premium CBD per botle, our Gold Buckle® Tincture delivers our highest-potency Full-Spectrum CBD and is recommended for those looking for the most powerful daily CBD supplement. 
Take a few drops under the tongue 20-60 mins before bedtime.
Shop here.
Full Spectrum CBD Whipped Honey (1000mg per jar)
lost range.® partnered with our local Beekeeper in Steamboat Springs, CO to obtain the finest quality honey. Each batch of lost range.® Whipped CBD Honey is infused with our Full-Spectrum CBD oil and whipped to give it a light, creamy and delicious consistency. Our CBD Honey has the same great effects as our Full-Spectrum Tinctures - with the added benefits of premium honey and phytonutrients. 
Try adding a teaspoon of honey to your favorite caffeine-free herbal tea 20 mins to an hour before bedtime.
CBD Essential Oil Pulse Roller (150mg) 
Our customers love the relaxing effects of our topical CBD Essential Oil Pulse Rollers.
Our essential oil rollers combine our massage oil blends with a higher CBD potency. We've infused our favorite scents with our Isolate CBD oil to enhance the essential oils' effectiveness. The CBD roller can be applied directly to pressure points throughout the body. The cooling metal roller ball allows for easy application. 
Apply to clean skin (such as the temples or wrists) as you unwind at the end of the day, and breathe in the aromas of organic Citrus, Cool Blue, Eucalyptus or Lavender as you drift off.
Final Thoughts
With all the stressors in the world and just in our daily lives, finding rest, relaxation and focus can seem impossible.
If you find yourself struggling to drift off at night, give the above products a try. Or take a browse through our full CBD line here.
Why lost range.®?
lost range.® CBD's mission is providing all natural, high-potency, plant-based CBD products to support healthy lifestyles. Unlike most CBD products you find on the market today, lost range.® only offers upper end potency and high quality ingredients, made by hand, in small batches, in Steamboat Springs, Colorado. 
If you have any questions on our products, we pride ourselves on transparency every step of the CBD production journey. So feel free to contact us with any questions here today.
---
These products are not for use by or sale to persons under the age of 18.
These statements have not been evaluated by the Food and Drug Administration. These products are not intended to diagnose, treat, cure, or prevent any disease. The efficacy of these products has not been confirmed by FDA-approved research. The information presented here is not meant as a substitute for or alternative to information from healthcare practitioners. Please consult your healthcare professional about potential interactions or other possible complications before using any products.
lost range.® assumes no responsibility for the improper use of these products. We recommend consulting with a qualified medical doctor or physician when preparing a treatment plan for any and all diseases or ailments. lost range.® does not make any health claims about our products and recommends consulting with a qualified medical doctor or physician prior to consuming our products or preparing a treatment plan. It is especially important for those who are pregnant, nursing, chronically ill, elderly or under the age of 18 to discuss the use of these products with a physician prior to consuming. You must be 18 years or older to visit this website and/or purchase lost range.® products. The information on our website is intended to provide general information regarding our products and is not to be construed as medical advice or instruction.
Neither the Company nor its representatives is providing any medical advice, and none should be inferred, from any ideas, suggestions, testimonials or other information set forth on this website or in other Company materials or provided over the phone, in the mail, in product packaging, or in email correspondence. This website may contain links to third-party websites. The Company provides these links as a convenience only and does not endorse any of these sites. The Company is not responsible for the content of, and does not make any representations regarding the materials on, such linked third-party websites. If you decide to access or rely on information at linked third-party website, you do so at our own risk.
Our terms and conditions, including disclaimers, are more fully set forth in our
 

Terms of Use,

 

Privacy Policy

 

and Terms of Online Sales