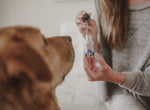 If you've tried CBD products yourself or you've heard another pet owner talking about it, you may be curious if it can offer the same health benefits to your furry best friend. Read on to understand a little more about CBD for dogs and its benefits.
They're at home waiting for us after a long day. They are enthusiastic, giving, loyal and loving.  They are dependent on us their entire lives. But did you know that CBD can help dogs and other animals to manage symptoms associated with various conditions and environmental factors?
CBD 101
CBD or cannabidiol is a non-intoxicating, non-psychoactive compound found in the cannabis and hemp plant. It is the most prevalent compound found in the hemp plant and second in the cannabis plant.
The hemp plant is richer in CBD percentages and can test upwards of 15% CBD, while maintaining a THC level of less than .3%. The hemp plant is considered hemp when it tests and contains less than .3% THC. The hemp plant is legal on the federal level. Hemp is also rich in amino acids and omega fatty acids.
But is CBD safe for your dog?  
Why Use CBD for Dogs?
Every dog has a different personality; some have a hard time relaxing, some panic at the vets, some get sick on long car rides, some show signs of aggression when anxious and some suffer terrible osteoarthritis-related pain. 
Many dog owners find success in relieving these symptoms using CBD oil specifically made for dogs. Including:
Anxiety

Pain

Noise phobia

Nausea

Loss of appetite

Epilepsy

Inflammation
CBD for Dogs - The Research
Studies have revealed the following effects of CBD for K9s:
Research from 2019 Trusted Source looked at CBD's effect on epilepsy in dogs and found that seizure frequency was reduced upon taking a CBD-infused oil. 
One 2020 study Trusted Source on CBD for osteoarthritis-related pain in dogs found that CBD helped relieve pain and improve mobility without serious side effects.
Another 2020 study Trusted Source looked at the effects of CBD on anxiety related to loud noises. 
Researchers concluded that the CBD had no effect on the fear response, but that there may be several reasons for this result, including dosing time. Additionally, some dogs may have developed a conditioned fear response to the lab testing environment.
A recent 2021 study Trusted Source suggests that CBD may help alleviate aggressive behavior in dogs.
How to choose the best CBD products for dogs
Your pet deserves the best, so using the same criteria for choosing CBD products for dogs as you do for humans is a sure way to make sure your furry sidekick is getting "the good stuff" he deserves.
Finding CBD products with good indicators of safety, quality, and transparency is a must. Look for the following criteria before purchasing and administrating CBD products to your dog:
It's also worth considering:
Product potency

Overall ingredients

Indicators of user trust and brand reputation, such as:

customer reviews

whether the company makes any unsupported health claims
Because THC is toxic to dogs, choosing products that contain broad-spectrum CBD or CBD isolate is the way to go. 
→ Fun Fact: We donate 10% of pet tincture sales to our local Humane Society. ←
CBD tincture for Pets from lost range.
Have you been searching around for the perfect CBD oil for your furry friend? 
At lost range, all our CBD products have been CBD that's lab-tested for potency and purity. Our Hemp CBD products are derived right here in Colorado. The hemp is grown under the Colorado sun by local farmers who ensure a pure product. The hemp is also extracted here in Colorado and those extracts are then used in our small batch, handmade hemp CBD products.
Full Spectrum Pet CBD Oil Tincture

– 1000mg (10% for pets!*) 
Have you been searching around for the perfect CBD oil for your furry friend? Our 1000mg Full Spectrum Pet CBD oil tincture is the best CBD product for pets on the market! Whether you're looking for CBD for dogs or CBD for cats, you can find relief for your loved one(s) in our Full Spectrum 1000mg Pet CBD oil.
Many of our pets have anxiety, aching joints, arthritis, and a multitude of other conditions that cause them pain or stress. Our CBD oil for pets can help your furry friend(s) manage their pain and anxiety by altering the brain's receptor responses to serotonin.
No one likes to see their pet in pain! Help them by adding a CBD oil dosage to their food or adding a drop of the CBD oil to their favorite treat! Why not save and get a bundle - 2 for $105: Full Spectrum Pet CBD Oil Tincture – 1000mg?
2. Me and My Pet Bundle
Who doesn't love a combo deal? Save on (1) 30mL Pet Tincture with your choice of (1) 30mL Tincture (1000mg CBD) for yourself!
lost range PET Tincture is crafted by hand for your dog, cat or other four-legged pals. We use the highest quality full-spectrum CBD oil for our tinctures and every batch is 3rd party lab tested to ensure purity.
Choose between lost range Isolate or Full-Spectrum 1000mg CBD tinctures in addition, and receive $19 off.
Bottom Line?
As CBD oil can ultimately help shape and mold a better life for you and your pet.
Of course, you want to do what's best for your pup; by using high-quality and pure CBD oil, you will have a better chance at relieving symptoms such as pain and anxiety for your dog. If you have any further questions regarding our CBD for dogs, the lost range team is always at your service. Reach out here today.