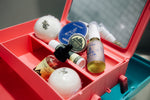 You keep hearing about it and it seems just about everyone is telling you ways CBD has given them relief. If you're looking to try CBD but aren't sure where to start, check out our handy guide to answer your questions and help clear up some of the common misconceptions surrounding CBD, CBD products and their uses.
So you've decided you want to give CBD a shot. Awesome! But did you know there's a range of CBD and CBD products? We understand that sheer volume of CBD products can be a little overwhelming, especially if you're looking to purchase some for the first time. So let's go back to basics… 
Full Spectrum vs Broad Spectrum vs Isolate
It's likely that you have encountered the terms "full-spectrum" and "isolate" while shopping for CBD. These two labels basically tell you the kind of cannabinoid content you can expect in your product.
Cannabidiol, or CBD, is just one of many cannabinoids. This means that it is one of the active compounds found in the cannabis plant, of which there may be over one hundred. While CBD and its psychoactive counterpart, THC, are found in high quantities and are the most well-known, there are plenty of other cannabinoids worth knowing about.
This includes CBG, the precursor to both CBD and THC, and CBN. Each cannabinoid has different effects on the body, and it is thought that combining the various cannabinoids can lead to a strengthened effect on the body.
Let's delve a little deeper into the terms "full-spectrum" and "isolate" to find out precisely what they mean with regard to these cannabinoids.
Firstly, What is CBD Isolate?
Probably the most basic form of CBD is an isolate. These contain nothing except pure, isolated CBD. In other words, there are no other cannabinoids, terpenes, or flavonoids – just good old CBD.
What is Full-Spectrum CBD?
In contrast to isolates, full-spectrum CBD products contain a full range of cannabinoids. When the cannabinoids are extracted from hemp, the entire extract is made into a consumable product, meaning that you are getting a healthy dose of all the cannabinoids that were in the plant.
What About Broad-Spectrum CBD?
It's likely that you have also seen the term "broad-spectrum." This refers to a CBD product that contains a range of other cannabinoids, but no THC. It allows for most of the benefits of the entourage effect, but with no risk of consuming THC.
Should I Use Full-Spectrum or a CBD Isolate?
Now that you know what each term means, you might be wondering how you make a decision between the two. 
CBD Isolate is Best for…
People with sensitivity to THC and other cannabinoids.

People living in states with strict THC laws, or those who regularly undergo drug testing in their place of employment.

People who wish to cook with CBD and want something with a light flavor.
Full-Spectrum CBD is Best for…
People who are looking to target a more specific use

People who live in states where cannabis is fully legal and who have no fear of legal repercussions.

People who want to get the most out of their CBD experience.

While full-spectrum products are suited to some individuals, others will find an isolate more to their liking. It's a matter of deciding what works for you.
What Products are Best for Me?
CBD products come in many forms, including salves, lotions, tinctures, oils, balms and more. Each of these forms is also available in different strengths and require different directions for use. And each of these different forms has different rates of bioavailability. (Bioavailability being the rate in which the CBD is absorbed into your system.) Here are a few forms of CBD you'll see most often:
Tinctures

: 

CBD tinctures 

involve dropping the CBD liquid into your mouth, holding it under your tongue for at least 60 seconds and then swallowing. This method also has the highest rate of bioavailability.

Topical CBD

: Many people report topical CBD is very beneficial, especially for areas of concern. Topical CBD comes in many forms, from 

lip balms

 to 

bath bombs

 and 

muscle rub

; use topical CBD rub for your every day muscle and joint pain and inflammation. You can also pair with CBD Oil Tinctures for best results.

Essential Oils

: Aromatherapy has the ability to improve our overall health and wellness, and infusing essential oils with Isolate CBD oil enhances the essential oils' effectiveness.

 CBD Roll-Ons: The perfect product for relieving tension, headaches, pain and stress, 

CBD Essential Oil Rollers

 can be applied directly to your pressure points throughout your body.
Strengths
You can find CBD products — whether broad-spectrum, full-spectrum, or CBD isolate — in a number of different potencies. While there's no one definition of "strong" CBD, the higher the dosage the better. A "strong" CBD oil will typically contain between 1,000 and 1,500 milligrams per 30 milliliter bottle  At Lost Range, our CBD products start at 1,000mgs and finish as high as 4,000mgs.
However, keep in mind that CBD affects everyone differently, so what feels strong to you may not feel as potent to another person. That's especially true if you're brand new to CBD.
Last Thoughts
For now, the FDA doesn't guarantee the safety, effectiveness, or quality of over-the-counter CBD products. So it's best to use a CBD supplier that comes with an up-to-date COA from a reputable third-party lab. 
Do you have any questions on CBD Products not mentioned in this article? We're here to help. Contact us here today where our staff is always at your service for any questions.