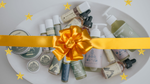 Looking for holiday gifts that your loved ones actually need? If you're searching for the perfect gift of health, look no further.
2021 has brought two key issues into our daily lives: (1) it's stressed us out, and (2) it's made us look closer at our mental health and physical wellness – and not take them for granted. With that being said, CBD has exploded onto the scenes with its potential to ease anxiety, reduce pain and calm the mind and body. But if you're new to all this, it can be confusing.  What classifies as a quality CBD product? What potency of CBD is best? Is CBD ok to ship across the country?
To answer these questions and simplify your gift-buying this year, we've got the info and suggestions for CBD-based gifts that can be shipped anywhere, and are great for beginners and advanced users alike.
Can you Ship CBD Gifts?
First off let's start with the gift-giving logistics. Hemp-derived CBD is now legal across the country because it contains less than 0.3 percent THC, which is the compound in cannabis that's psychoactive. The type of CBD oil that's derived from hemp oil is what's legal at a federal level (as of the 2018 Farm Bill) and therefore allowed to be taken across state borders, and, yes, even on flights and shipping throughout the United States. Want to know more on traveling with CBD? Read our blog here. 
With knowing you can buy and send CBD (and with the holiday's around the corner), there's truly something for everyone on your list!  Here is Lost Range's ultimate CBD gift guide, friendly enough for the entire family.
For the CBD Newbie
Full Spectrum CBD Oil Tincture – 1000mg
Price: $59.00 — or $47.20 / month
Why it's a great gift: Is a family member curious about trying CBD for the first time? Whether there is a specific condition they're aiming to treat with CBD oil, or they are just looking to maintain optimal balance in your body, our 1000mg Full Spectrum CBD oil may be the perfect product for them. Still higher potency than most Full-Spectrum CBD on the market, but low enough to start dosing low and build your way up, this hemp-derived CBD tincture is the perfect gift.
For the Insomniac
Full Spectrum CBD Oil Tincture – 2000mg
Price: $109.00 — or $109.00 $87.20 / month
Why it's a great gift: At double the CBD potency, our Full Spectrum CBD oil tinctures pack a punch and can assist in regulating pain relief, inflammation, anxiety, recovery, sleep, appetite, mood, and numerous other conditions. If your family member struggles with any of the ailments listed above, especially poor sleep, this Full Spectrum CBD oil tincture might be the best option for them. For ultimate pain relief, this tincture can be paired with our most popular and potent CBD Muscle and Joint Rub. The ingredients contain fractionated coconut oil (MCT Oil), full-spectrum CBD distillate, and the Peppermint variant also includes Peppermint flavoring. Want to know more on how CBD helps with anxiety-related insomnia? Read our blog here. 
For the Outdoors-y One
Soothing CBD Lip Balm – 250mg
$20.00 — or 
  / month
Why it's a great gift: The ultimate stocking stuffer for the one who loves the great outdoors! Whether hiking, fishing, skiing or even laying on a tropical beach, our best selling CBD Lip Balm is the perfect product for your backpack or beach bag. Our CBD Lip Balm is equipped with an all natural SPF to assist you in protecting your lips from the harshness of both the sun and the wind. Its large size means it will last you all season – or year – long.  With 250mg of CBD Isolate, this lip balm provides relief from dry, cracked lips as a soothing moisturizer anywhere you go! If you suffer from dry skin in unforgiving winter weather, try pairing our CBD Lip Balm with our CBD Skin Salve for ultimate CBD hydration!
For the Achy Elders
Gold Buckle CBD Muscle & Joint Rub
Price: $159.00 — or $159.00 $127.20 / month 
Why it's a great gift: Grandparents are the ones dealing with chronic pain during everyday tasks, and they're the people who need to be most cautious when trying new pain relief medications. So when it comes to a non-psychoactive topical to soothe their aches and pains, our highest-potency topical does the trick.
Thoroughly rub a small amount in your problematic areas as needed. For headaches and migraines, apply a small amount to your temples, forehead, and back of your neck.  No matter the lifestyle you're living, unwanted pain and inflammation can hinder you even on your best days! Lost Range uses all natural ingredients in this product like shea butter, beeswax, camphor, menthol, vitamin E, and CBD to create a moisturizing, anti-inflammatory anytime lotion. Want to know more about the benefits of CBD for older people? Read our blog here.
Looking for a less-intense CBD dosage? Try our 1000mg CBD Muscle and Joint rub here. 
For Your Furry Friend
Full Spectrum Pet CBD Oil Tincture – 1000mg 
Price: $59.00 — or $59.00 $47.20 / month 
Why it's a great gift: Many of our pets have anxiety, aching joints, arthritis, and a multitude of other conditions that cause them pain or stress. Our CBD oil for pets can help your furry friend(s) manage their pain and anxiety by altering the brain's receptor responses to serotonin. No one likes to see their pet in pain or suffering with separation anxiety! Help them by adding CBD pet tincture to their food or adding a drop of the CBD oil to their favorite treat! Want to know more on how CBD helps pets? Read our blog here. 
For the Edgy One
CBD Tattoo & Scar Salve
Price: $15.00 – $59.00 — or from $12.00 – $47.20 / month
Why it's a great gift: If you have a family member who loves getting tattoos, this product is the perfect present. CBD salve for tattoo healing and aftercare has become extremely popular in recent years, and our Tattoo & Scar Salve is the absolute best CBD salve on the market for tattoo healing. The premium ingredients assist with the tenderness, soreness, and itchiness that are associated with getting fresh ink. Apply a small amount to your new tattoo as recommended by your artist and pair it with our CBD oil tinctures for best results. 
For the Sports Lover
Massage Oil – 100mg-1200mg
$20.00 — or   / month
Why it's a great gift: Whether their game is golf, cycling or even Rodeo, if you're on the hunt for the highest quality CBD massage oil on the market, look no further! Available in handy smaller 1oz size or the extra large 12oz bottle, our CBD Massage Oil is made to help clear your mind and relieve tension, packed with an assortment of anti-inflammatory herbs that will assist healing your body in the soothing form of a CBD massage. Not only can you choose the size, but there's also 5 natural essential oil-infused scents to choose from: Lavender, Eucalyptus, Cool Blue, Citrus and Unscented. Sore muscles be gone!
For the Stressed One
Lavender Bath Bomb Powder
$59.00 — or   / month
Why it's a great gift: Let's face it… we're all pretty stressed out, especially over the holiday period. For those relatives who think of everyone but themselves, sprinkle some Zen into their nighttime routine and immerse in a relaxing and nourishing bath with our healing CBD bath bomb powder. Our CBD bath bomb powder contains essential oils that contain incredible health benefits for your skin. Opposed to a bath bomb, our bath bomb powder allows you to control the amount of product and dose of CBD you're using, so you can use it in your bathtub or at a smaller scale for a foot soak. It naturally fizzes and bubbles just like a bath bomb – but better. Learn more about the benefits of our CBD Bath Bomb Powder here. 
Last Thoughts
If you're still looking for more products for that special someone, look no further. At Lost Range, we use only the best CBD in our small batch products — helping our customers experience and enjoy all the benefits that CBD has to offer. We strongly believe in the powerful healing potential of our hand-made CBD products, and bear witness with remarkable reviews from our loyal customers. Our mission is to make CBD tinctures, salves, and rubs accessible to all people, all year long. ALL OF OUR PRODUCTS CONTAIN LESS THAN 0.3% THC.
Still looking for the perfect CBD gift for that special someone? Check out our full line of products here. We're sure your loved ones will enjoy a gift under the tree from Lost Range this holiday season. Happy shopping! 
---
Disclaimer:
These products are not for use by or sale to persons under the age of 18.
These statements have not been evaluated by the Food and Drug Administration. These products are not intended to diagnose, treat, cure, or prevent any disease. The efficacy of these products has not been confirmed by FDA-approved research. The information presented here is not meant as a substitute for or alternative to information from healthcare practitioners. Please consult your healthcare professional about potential interactions or other possible complications before using any products.
Lost Range assumes no responsibility for the improper use of these products. We recommend consulting with a qualified medical doctor or physician when preparing a treatment plan for any and all diseases or ailments. Lost Range does not make any health claims about our products and recommends consulting with a qualified medical doctor or physician prior to consuming our products or preparing a treatment plan. It is especially important for those who are pregnant, nursing, chronically ill, elderly or under the age of 18 to discuss the use of these products with a physician prior to consuming.  You must be 18 years or older to visit this website and/or purchase Lost Range products. The information on our website is intended to provide general information regarding our products and is not to be construed as medical advice or instruction.
Neither the Company nor its representatives is providing any medical advice, and none should be inferred, from any ideas, suggestions, testimonials or other information set forth on this website or in other Company materials or provided over the phone, in the mail, in product packaging, or in email correspondence. This website may contain links to third-party websites. The Company provides these links as a convenience only and does not endorse any of these sites. The Company is not responsible for the content of, and does not make any representations regarding the materials on, such linked third-party websites. If you decide to access or rely on information at linked third-party website, you do so at our own risk.
Our terms and conditions, including disclaimers, are more fully set forth in our Terms of Use, Privacy Policy and Terms of Online Sales