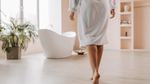 Sprinkle some Zen into your nighttime routine and immerse yourself in a relaxing and nourishing bath with our healing CBD bath bomb powder. 
Not Just Another Bath Bomb… Our CBD bath bomb powder contains essential oils that contain incredible health benefits for your skin. Opposed to a bath bomb, our bath bomb powder allows you to control the amount of product and dose of CBD you're using, so you can use it in your bathtub or at a smaller scale for a foot soak. It naturally fizzes and bubbles just like a bath bomb – but better.
Many customers use our CBD bath products to help soften their skin, and for the added relaxing aromas. Others use our bath powders to help ease anxiety, tension, sore muscles and to get a good night's sleep.
But be warned, not all bath bombs and bath bomb powders are created equal.
Toxic Ingredients Hiding in Your Bath Bombs
Bath bombs have been growing in popularity in recent years, but do you know what you're soaking in? Some of those bath bombs you've come to adore may be releasing a lot more than just colored fizz into that soothing water. ConsumerSafety.org recently launched an investigation into the components of some of those bath bombs you've come to love.
"People are using these toxic products on a daily basis, unknowingly exposing themselves and loved ones to harmful ingredients," Sydney Ziverts, a health and nutrition investigator who initially compiled the bath bomb research for Consumer Safety. Sadly, the size of the bath bomb doesn't really matter — smaller bombs can have concentrated amounts of potential allergens and toxins.
Regardless of what you use these products for, it's important to do your research and know what ingredients are used in the making of these products. To begin with, many bath bombs have the term "fragrance" listed as an ingredient. Alarmingly, the Food and Drug Administration (FDA) doesn't require companies to further break down what chemicals they use to add "fragrance" to their products.
Some popular fragrance additives are chemicals that have actually made the Environmental Protection Agency (EPA) hazardous waste list. They include:
Here's a look at some of Lost Range's recommended products, our ingredients and the added benefits of using CBD in your bath routine.
Benefits for your skin
CBD has been known to help relieve many ailments including arthritis, insomnia, and more. Nowadays you can find many products that have CBD listed as an active ingredient. It can be found in lip balms, muscle and joint rubs and massage oils just to name a few. One of the biggest benefits of using bath bomb powder infused with CBD is that it will help moisturize your skin, making it smoother and softer. But it doesn't stop there. 
In fact, research suggests that CBD oil may be beneficial for a number of different skin conditions. These may include:
Lost Range Bath Powder & Bath Salt Products
Your skin is your body's largest organ, which is why when choosing CBD bath products, you should make sure the brand:
is made by a company that

 

provides proof

 

of third-party testing by an

 

ISO 17025-compliant lab.
is made with U.S.-grown hemp.
contains no more than 0.3 percent THC, according to the

 

certificate of analysis

 

(COA).
passes tests for pesticides, molds, or heavy metals, according to the COA.
Containing 1,000mg of pure CBD Isolate, Lost Range's Lavender CBD Bath Bomb Powder is great for muscle, joint and full body recovery as well as overall relaxation. It cleanses, soothes, exfoliates, detoxes, hydrates and moisturizes while healing the body, stimulating circulation and soothing pain. 
The proprietary blend includes our herbal infused Jojoba oil (a fantastic carrier oil to help evenly absorb CBD into the skin), minerals, salts and lavender essential oil for ultimate relaxation. Each ounce brings 62.5mg of CBD to the soaking experience. Because we use our organic, small-batch handcrafted CBD Isolate, this product is 100% THC Free. 
Uses/Application: 
Our Bath Bomb Powder is a high potency, therapeutic option for soaking spa treatments and relaxing in your bathtub; including manicures, pedicures, and full body treatments. 

The loose powder consistency allows for the user to choose the amount of product desired. Recommend 1-2oz for hand and foot treatments and 2-4oz for full body treatments.
Ingredients: 
Baking Soda, Epsom Salt, Dead Sea Salt, Citric Acid, Corn Starch, Grapeseed Oil, Jojoba Oil, H2O, Lavender essential oil, Arnica, Calendula, Comfrey, Yarrow, Plantain, Chamomile, PolySorbate 80, SLSA, CBD Isolate.
Lost Range Bath Salts contains 1,000mgs of pure CBD Isolate and comes in 3 different varieties to choose from, Lavender, Lemongrass, and Eucalyptus. Transform your bathtub into an organic oasis with a variety of scents to indulge yourself in a lavish spa experience with lost range bath salts. Our salts combine earth's most sought after restorative minerals with our infused blend of nature's finest anti-inflammatory herbs, essential oils and CBD isolate. 
Usage and application: 
To achieve optimal relaxation, add 1 cup of Lost Range bath salts to a warm bath and soak for 10+ minutes.
Ingredients:
Eucalyptus: Epsom Salt, Dead Sea Salt, Himalayan Salt, Ocean Sea Salt, French Grey Sea Salt, Sonoma Sea Salt, Hawain Sea Salt, Grapeseed oil, Jojoba Oil, Arnica, Chamomile Yarrow, Plantain, Calendula, Comfrey, 1000mg Cannabidiol Hemp Isolate.

Lavender: Epsom Salt, Dead Sea Salt, Himalayan Salt, Ocean Sea Salt, French Grey Sea Salt, Sonoma Sea Salt, Hawain Sea Salt, Grapeseed oil, Jojoba Oil, Arnica, Chamomile Yarrow, Plantain, Calendula, Comfrey, 1000mg Cannabidiol Hemp Isolate.

Lemongrass: Epsom Salt, Dead Sea Salt, Himalayan Salt, Ocean Sea Salt, French Grey Sea Salt, Sonoma Sea Salt, Hawain Sea Salt, Grapeseed oil, Jojoba Oil, Arnica, Chamomile Yarrow, Plantain, Calendula, Comfrey, 1000mg Cannabidiol Hemp Isolate.
When it comes to self-care, there isn't a one-size-fits-all solution. Some people may prefer to soak in our CBD bath bomb powder to enhance their relaxation, while others may be more curious to see if our hemp-infused bath salts alleviate soreness after a hard workout. Whatever your #bathgoals this winter, we know one thing's for sure – when adding our CBD bath products into your wellness routine, you'll likely benefit from the stress-relieving and tension-reducing properties of a regular bath, plus the added advantages from the CBD extract.
Why Lost Range? 
If slipping into a warm bath is your idea of nirvana, CBD bath bomb powder could be the perfect addition to your self-care routine. If you're looking for the perfect holiday gifts, our powders and salts make for the perfect stocking filler – guaranteed to add some chill to the season's hectic nature.
Lost Range products are handcrafted, small batch, high potency, 3rd party tested, cruelty free, organic, and most of all sustainable. 
Contact us today for more information on our products. 
---
Disclaimer:
These products are not for use by or sale to persons under the age of 18.
These statements have not been evaluated by the Food and Drug Administration. These products are not intended to diagnose, treat, cure, or prevent any disease. The efficacy of these products has not been confirmed by FDA-approved research. The information presented here is not meant as a substitute for or alternative to information from healthcare practitioners. Please consult your healthcare professional about potential interactions or other possible complications before using any products.
Lost Range assumes no responsibility for the improper use of these products. We recommend consulting with a qualified medical doctor or physician when preparing a treatment plan for any and all diseases or ailments. Lost Range does not make any health claims about our products and recommends consulting with a qualified medical doctor or physician prior to consuming our products or preparing a treatment plan. It is especially important for those who are pregnant, nursing, chronically ill, elderly or under the age of 18 to discuss the use of these products with a physician prior to consuming.  You must be 18 years or older to visit this website and/or purchase Lost Range products. The information on our website is intended to provide general information regarding our products and is not to be construed as medical advice or instruction.
Neither the Company nor its representatives is providing any medical advice, and none should be inferred, from any ideas, suggestions, testimonials or other information set forth on this website or in other Company materials or provided over the phone, in the mail, in product packaging, or in email correspondence. This website may contain links to third-party websites. The Company provides these links as a convenience only and does not endorse any of these sites. The Company is not responsible for the content of, and does not make any representations regarding the materials on, such linked third-party websites. If you decide to access or rely on information at linked third-party website, you do so at our own risk.
Our terms and conditions, including disclaimers, are more fully set forth in our Terms of Use, Privacy Policy and Terms of Online Sales