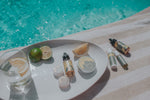 Have you tried incorporating CBD into your fiesta? From its renowned calming effects to better sleep, it's no wonder we're adding the cannabis compound to everything this Cinco de Mayo! 
Cinco de Mayo is one of the first holidays people are excited to celebrate due to warmer weather and having a sense that summer is right around the corner. Cinco de Mayo has been around for years and many don't know the origin of the holiday.
Cinco de Mayo represents the efforts Mexicans made over French forces during the Battle of Puebla on May 5, 1862. Chicano activists raised awareness of this holiday during the 1960s and since then, many people around the US and Mexico celebrate.
Whether you're having family and friends over to celebrate or looking to spice up your regular Cinco routine, lost range.® has something for everyone. Before we head to the Horchata, here's some reasons why you should include CBD into festivities this year…
Infusing CBD into Foods and Beverages
The history of cooking with cannabis dates as far back as the 10th century, but baking with CBD oil is a fairly new phenomenon. One of the first cannabis-infused drinks was in the form of a tea brewed in 1500 BC, China. That was over 3,500 years ago.
Fast forward to today, whether to settle your nerves or treat specific health issues, cannabis- and hemp-infused foods and drinks are the trendiest items in the market. By adding high-quality CBD to your party recipes, you can bring the amazing health benefits of cannabidiol (CBD) into your Cinco De Mayo celebrations!
Here are some of the best recipes that we have for you to prepare and enjoy this Cinco De Mayo.
---
CBD Margarita
Did someone say Cinco De Drinko? There are few things as fitting as a margarita on Cinco de Mayo. For everyone who is able to drink, this recipe will be just right for starting off your Cinco de Mayo party. For those omitting alcohol, do just that – omit it from the recipe for a delicious virgin alternative. 
Ingredients (makes 4):
1 1/2 ounces of your prefered tequila – Casamigos is a good one!

1 1/2 ounces triple sec

1 1/2 ounces lime juice

1 oz fresh lime juice

½ oz agave nectar

1 lime Slice

Salt or Tajin for the rim if you like them spicy
How-to:
Simply mix all of the ingredients above into a margarita glass (or increase the recipe and mix it in a pitcher) and you're good to sip. 
---
CBD-Infused Horchata 
Another drink recipe that is absolutely fitting for the holiday is Horchata. Horchata is an iced rice and milk drink that is creamy and has a hint of cinnamon. Perfect for warm days, since it's both refreshing and satisfying. 
Ingredients (makes 4):
1 Cup Rinsed Uncooked Long Grain White Rice

4 Cups Warm Water

1/2 Cup Whole Milk

2 Tsp Vanilla Extract

1/2 Tsp Almond Extract

1/2 Tsp Cinnamon 

1/4 Cup Sugar

Cinnamon Sticks (For Stirring)

Fine Metal Colander 
How-to:
In a blender, combine the rice and water. Blend for about 1 minute or until the rice is broken up. Let this sit overnight at room temperature or for at least 6 hours.

Pour this mixture over a fine metal colander and into a pitcher. Throw away leftover rice bits. 

Add in your milk, vanilla, almond, cinnamon, and sugar. Add 1ml (1 dropper full) of your tincture per serving, for this recipe it would be 4ml, or 4 dropper fulls. Mix well and then chill until ready to serve!

To serve, pour over ice and add a cinnamon stick to stir. Remember that you can always add more CBD if desired!
---
CBD Infused Guacamole
Guac is perhaps one of the most important side dishes you can have at your Cinco De Mayo gathering. Everyone loves it, and it's a healthy alternative compared to other dips on the market! 
Ingredients:
3 ripe avocados

1-1/2 tablespoons fresh lime juice (more if needed)

1 large Roma tomato, seeded and diced

1/4 cup cilantro, chopped

1 garlic clove

1/2 teaspoon salt (or more, to taste)

1 to 2 teaspoons minced jalapeño or Serrano pepper, with seeds and membrane removed. You can leave the seeds in if you prefer the spiciness.
How to:
Cut avocados in half lengthwise and remove pits. Scoop out flesh and add to the bowl.

Add lime juice. Mash with fork until creamy but still chunky.

On a cutting board, crush garlic clove with salt to make a paste. (Use a flat part of a knife, or just chop salted garlic.)

Add CBD, incorporating evenly.

Add tomato, cilantro, garlic/salt and diced peppers.

Adjust to taste with additional salt, peppers and/or lime juice.

Serve immediately, or lay plastic wrap directly on guacamole and refrigerate up to one day.
---
Simple CBD Honey Lime Glazed Fruit Salad
Fruit Salad is always a hit, especially if your guests are looking for something on the healthier side. This Fruit salad recipe can be easily made for other occasions, including summer gatherings.
Ingredients:
Fresh Fruit
16 oz Strawberries

8 oz Blueberries

4 oz peeled + chopped Orange

4 oz peeled + chopped Kiwi
CBD Honey Lime Glaze
How to:
Gently wash, then pat the berries dry and place in a large bowl.

In a small, microwave safe bowl, pour the lime juice and CBD honey. Place this into the microwave for 15 seconds until it is slightly warmed, then mix thoroughly until the three ingredients are combined.

Separate the servings of the berry fruit salad and pour CBD honey lime glaze over each serving. We suggest 2 teaspoons of CBD honey lime glaze over each serving of fruit. This is roughly 12.5 mg of CBD per serving.
---
Churros with CBD Mint Chocolate Dipping Sauce
Let's face it, it's not Cinco De Mayo without Churros. Our finger-licking CBD Mint Chocolate sauce is the perfect twist to this Mexican classic.
Ingredients:
For the Churros:
1 1/2

Tablespoons

white sugar

1

cup

water

1/2

teaspoon

salt

2

Tablespoons

vegetable oil, plus more for frying

1

cup

all-purpose flour

Coating: 1/2 cup white sugar and 1 1/2 teaspoons ground cinnamon
For the CBD Chocolate Sauce:
How to:
Make the churros:
In a small saucepan over medium heat, whisk together the water, sugar, salt and vegetable oil. Bring the mixture to a boil then remove it from the heat. Stir in the flour, mixing until it forms a smooth ball.

Heat 3 to 4 inches of vegetable oil (or any neutral flavored oil) in a large/tall stockpot set over medium-high heat (375ºF). Line a plate with paper towels.

Transfer the dough to a cloth pastry bag or heavy-duty plastic bag fitted with a large star tip (optional).

Pipe the dough over the pot of oil to a length of about 4 inches, then using scissors or a sharp knife, cut it so it releases into the oil. (Be cautious to avoid any oil splatters.) Pipe two to three churros into the oil at a time, frying them until they're golden brown.

Transfer the churros to the paper towel-lined plate to drain for 2 minutes, then while they are still hot, roll them in the cinnamon-sugar mixture. Repeat the frying and coating process until dough is all used up.
Make the CBD chocolate mint sauce:
Place the chopped chocolate in a small bowl.

Warm (don't boil) the heavy cream in small saucepan. Pour the heavy cream over the chopped chocolate. Let it sit for 1 minute then stir in CBD to combine.
---
Final Thoughts
We hope you enjoy a couple of the recipes we've mentioned above for your Cinco de Mayo festivities.
Simply put, adding some premium CBD oil or CBD honey into your foods and beverages are going to give you the same medicinal effects as your CBD oil would on its own. CBD oil is known for providing serious pain relief, specifically within muscles and joints. Its anti-inflammatory properties are more than prominent when infused into foods and drinks, so try incorporating some of the above recipes into your Cinco De Mayo recipes.
Be sure to tag us on instagram and Facebook to see how your recipes turned out! We hope you all celebrate responsibly this cinco de mayo!
To check out our full line of products,  click here.
---
Disclaimer:
These products are not for use by or sale to persons under the age of 18.
These statements have not been evaluated by the Food and Drug Administration. These products are not intended to diagnose, treat, cure, or prevent any disease. The efficacy of these products has not been confirmed by FDA-approved research. The information presented here is not meant as a substitute for or alternative to information from healthcare practitioners. Please consult your healthcare professional about potential interactions or other possible complications before using any products.
lost range.® assumes no responsibility for the improper use of these products. We recommend consulting with a qualified medical doctor or physician when preparing a treatment plan for any and all diseases or ailments. lost range.® does not make any health claims about our products and recommends consulting with a qualified medical doctor or physician prior to consuming our products or preparing a treatment plan. It is especially important for those who are pregnant, nursing, chronically ill, elderly or under the age of 18 to discuss the use of these products with a physician prior to consuming.  You must be 18 years or older to visit this website and/or purchase lost range.® products. The information on our website is intended to provide general information regarding our products and is not to be construed as medical advice or instruction.
Neither the Company nor its representatives is providing any medical advice, and none should be inferred, from any ideas, suggestions, testimonials or other information set forth on this website or in other Company materials or provided over the phone, in the mail, in product packaging, or in email correspondence. This website may contain links to third-party websites. The Company provides these links as a convenience only and does not endorse any of these sites. The Company is not responsible for the content of, and does not make any representations regarding the materials on, such linked third-party websites. If you decide to access or rely on information at linked third-party website, you do so at our own risk.
Our terms and conditions, including disclaimers, are more fully set forth in our Terms of Use, Privacy Policy and Terms of Online Sales.