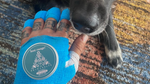 *Disclaimer: This blog contains potentially sensitive content involving a physical injury.* 
At lost range.® we love sharing inspiring stories of individuals who have had life-changing experiences with the help of our CBD products. Today, we introduce you Calen, a resilient and determined Coloradoan who faced a life-altering accident, but found hope and relief through lost range.®. But his battle is not over yet...
On September 16, 2023, Calen was involved in a horrific work accident; while pushing a piece of material through a table saw, the piece caught and kicked back, partially amputating all 4 of his fingers on his left hand.
Calen needed immediate surgery, leaving his four fingers grafted to his palm to help the skin grow and close the wounds. On October 5, 2023, Calen had his second of three needed surgeries. This was to release his fingers from his palm.
Calen has had to deal with an immense amount of pain and was clearly struggling to find any relief.
A friend had told him about lost range.® CBD products and Calen decided to give it a go. The effects of the CBD Skin Salve and Gold Buckle® tincture were nothing short of astonishing for Calen. Weeks after the accident, he could again pet his dogs, Layla and Nashoba. 
"This product has given me the ability to pet my dogs again, only weeks after my accident."
Calen continued, "Your product really is a miracle, I am definitely going to need a lot more of the salve [because] it is the only thing making it tolerable to move my digits around again... The skin salve made the pain stop immediately...the Gold Buckle® tincture has taken the edge off mentally while also helping with my pain management."
As a man who has crafted his career using his hands as a woodworker, Calen has found himself in an unimaginable position - not only from the horrific accident, but also because his insurance company will not cover the incident as his name was never added for Workers' compensation insurance.
With nowhere to turn, his mother started a GoFundMe, "I am not one to ask for help, but we need it in this time of difficulty. He is unable to work and the medical bills are going to start rolling in any day. If you can find it in your heart to help by donating, it would be greatly appreciated. Any little bit would be a tremendous help. All proceeds will go directly to paying medical bills and recovery."
While Calen's healing journey is far from over, we're proud to know he found relief in our CBD products. The pain that once felt insurmountable became a manageable part of his daily routine. 
If you can help Calen with his overwhelming medical bills as he continues his fight for recovery, you can donate to his GoFundMe at https://gofund.me/4d5b0da9. All proceeds will go directly to medical bills and recovery.
You can also follow his journey via his Instagram page here.
From all the team at lost range.® CBD - Thank you. 
---
About lost range.® CBD Skin Salve
lost range.® CBD Skin Salve is one of our most versatile products. Derived from Colorado grown hemp, lost range.® hydrating skin salve may be applied to a wide range of skin issues. Providing temporary relief for dry chapped skin, chafing, tattoos, scars, cracks, razor burns, bug bites and diaper rashes. This moisturizing salve can also be used as a protective barrier for inclement weather such as extreme cold and wind.
Handcrafted in small batches using our proprietary herbal infused grapeseed oil which blends a mix of vitamins A, C, D, E, and omega- 3, 6, 9 fatty acids with six natural herbs. Each handcrafted batch of this product is 3rd party tested for microbes to ensure safety for open wounds and fresh tattoos. This product is unscented and 100% THC Free.
Don't miss out on our 30% off CBD Skin Salve Sale! From October 16, 2023, to October 22, 2023, get 30% off our CBD Skin Salve with promo code SALVE30.
lost range.® will donate a portion of the sale proceeds to Calen's GoFundMe. Shop here.
---
Disclaimer:
These products are not for use by or sale to persons under the age of 18.
These statements have not been evaluated by the Food and Drug Administration. These products are not intended to diagnose, treat, cure, or prevent any disease. The efficacy of these products has not been confirmed by FDA-approved research. The information presented here is not meant as a substitute for or alternative to information from healthcare practitioners. Please consult your healthcare professional about potential interactions or other possible complications before using any products.
lost range.® assumes no responsibility for the improper use of these products. We recommend consulting with a qualified medical doctor or physician when preparing a treatment plan for any and all diseases or ailments. lost range.® does not make any health claims about our products and recommends consulting with a qualified medical doctor or physician prior to consuming our products or preparing a treatment plan. It is especially important for those who are pregnant, nursing, chronically ill, elderly or under the age of 18 to discuss the use of these products with a physician prior to consuming.  You must be 18 years or older to visit this website and/or purchase lost range.® products. The information on our website is intended to provide general information regarding our products and is not to be construed as medical advice or instruction.
Neither the Company nor its representatives is providing any medical advice, and none should be inferred, from any ideas, suggestions, testimonials or other information set forth on this website or in other Company materials or provided over the phone, in the mail, in product packaging, or in email correspondence. This website may contain links to third-party websites. The Company provides these links as a convenience only and does not endorse any of these sites. The Company is not responsible for the content of, and does not make any representations regarding the materials on, such linked third-party websites. If you decide to access or rely on information at linked third-party website, you do so at our own risk.
Our terms and conditions, including disclaimers, are more fully set forth in our Terms of Use, Privacy Policy and Terms of Online Sales.