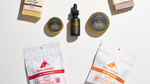 Break out the streamers, put on your party hats, and rejoice because August 8th is National CBD Day - our favorite holiday of the year! 
Yes, the day has nearly arrived when we can unite in our shared love of the magical elixir we all know and love: CBD.
Cannabidiol (CBD) has embarked on a wild ride from being THC's misunderstood cousin to becoming the wellness world's rockstar. At lost range.®, we have been riding the waves and bringing you the most premium, sustainably sourced, and high-potency CBD products. But before we get ahead of ourselves, let's take a moment to appreciate this marvelous compound.
Why All the Fuss About CBD?
CBD has become a prominent health and wellness industry player, gaining widespread popularity in recent years. Derived from the hemp plant, it is a natural compound that belongs to a family of chemicals known as cannabinoids. However, unlike its more infamous cousin THC (tetrahydrocannabinol), CBD does not have psychoactive properties, so it won't get you "high" when consumed.
The appeal of CBD lies in its potential to promote wellness, balance, and ease in our lives. This compound has garnered attention for its potential health benefits and therapeutic properties. Many people have turned to CBD products to potentially help alleviate symptoms associated with anxiety, stress, pain, inflammation, and other health issues.
One of the fascinating aspects of CBD is its interaction with the endocannabinoid system (ECS) in our bodies. The ECS is a complex network of receptors and molecules that plays a crucial role in maintaining balance and homeostasis throughout various physiological processes. This system helps regulate mood, sleep, appetite, immune response, and more.
When we encounter stressors or disturbances, the ECS returns things to equilibrium. CBD interacts with its receptors, particularly the CB1 and CB2 receptors, in the brain, central nervous system, and peripheral organs. By doing so, CBD may help the ECS maintain balance and improve overall well-being. So when life throws you off balance, CBD is there.
Feel the Benefits: The CBD Impact
Some awe-inspiring benefits of CBD have people raving about it. Though everyone's experience might be slightly different, here are some reasons our customers love lost range.® CBD:
Now, let's take a closer look at some of our products to try.
Celebrate National CBD Day with lost range.®
Since we've navigated the perks of CBD, let's make National CBD Day a memorable occasion. How about a wellness party? 
Invite your friends for a DIY spa day with our CBD Bath Products and CBD-infused topicals.
Indulge in the ultimate relaxation with lost range.® CBD Bath Bomb Powder. Carefully crafted to cleanse, soothe, exfoliate, detoxify, hydrate, and moisturize the skin while relieving exercise-induced pain. This proprietary blend combines CBD Isolate, herbal-infused grapeseed oil, minerals, salts, and lavender essential oil, offering 62.5mg of CBD per ounce for a genuinely rejuvenating soaking experience.  
Organize a CBD taste-testing with our range of flavored oils and gummies. 
Take a flavorful journey with lost range.® Full-Spectrum CBD gummies! Every delightful cherry or mandarin orange gummy delivers a potent punch of 33mg Full-Spectrum CBD. This isn't just your average CBD; it's a symphony of cannabinoids, terpenes, essential vitamins, fatty acids, and proteins that combine to provide a synergistic effect, commonly known as the 'entourage effect.' So, say hello to wellness in the yummiest way possible.
Why not try a new natural flavor of CBD Tincture like Peppermint or Lemon? 
Do you have a furry friend? Include them in the celebrations with our pet-friendly CBD products. 
Elevate your furry friend's wellness journey with lost range.® Full-Spectrum CBD Pet Tincture, a uniquely formulated, pet-friendly elixir that harnesses the wholesome goodness of Colorado-grown hemp, brimming with a symphony of cannabinoids, naturally-occurring terpenes, essential vitamins, fatty acids, and proteins, all while ensuring it contains less than 0.3% THC – a paw-fect choice for your dog or cat's relaxation and relief.
Or enjoy some alone time, starting your day with a few drops of our CBD oil, then unwinding with a good book. 
Experience the pinnacle of potency with lost range.® Gold Buckle® Tincture, a top-tier, Full-Spectrum CBD supplement. This tincture maximizes the 'entourage effect.' With just two ingredients - medium-chain triglycerides (MCT) coconut oil and Full-Spectrum CBD, and available in three tantalizing flavors - natural, organic lemon, and organic peppermint, this tincture delivers powerful daily supplementation.
Why lost range.®?
At lost range.® we place immense importance on each phase of our production process, recognizing that our diligence elevates the end product and enriches the process. Our assortment of products is meticulously handcrafted in small batches in the serene mountain landscapes of Steamboat Springs, Colorado.
We take extraordinary pride in sourcing only natural ingredients, each chosen for its exceptional healing attributes. Concentrating on delivering superior-quality and potent formulations, we present our customers with a broad spectrum of premium CBD products, from tinctures to topicals, edibles, and even pet-friendly products. 
Last Thoughts
This National CBD Day, let's celebrate this gift from Mother Nature, honor the hemp plant, and appreciate how CBD has positively impacted so many lives.
Remember, it's not just about celebrating CBD. It's about celebrating wellness and self-care.
---
Disclaimer:
These products are not for use by or sale to persons under the age of 18.
These statements have not been evaluated by the Food and Drug Administration. These products are not intended to diagnose, treat, cure, or prevent any disease. The efficacy of these products has not been confirmed by FDA-approved research. The information presented here is not meant as a substitute for or alternative to information from healthcare practitioners. Please consult your healthcare professional about potential interactions or other possible complications before using any products.
lost range®

assumes no responsibility for the improper use of these products. We recommend consulting with a qualified medical doctor or physician when preparing a treatment plan for any and all diseases or ailments.

lost range®

does not make any health claims about our products and recommends consulting with a qualified medical doctor or physician prior to consuming our products or preparing a treatment plan. It is especially important for those who are pregnant, nursing, chronically ill, elderly or under the age of 18 to discuss the use of these products with a physician prior to consuming.  You must be 18 years or older to visit this website and/or purchase

lost range®

products. The information on our website is intended to provide general information regarding our products and is not to be construed as medical advice or instruction.
Neither the Company nor its representatives is providing any medical advice, and none should be inferred, from any ideas, suggestions, testimonials or other information set forth on this website or in other Company materials or provided over the phone, in the mail, in product packaging, or in email correspondence. This website may contain links to third-party websites. The Company provides these links as a convenience only and does not endorse any of these sites. The Company is not responsible for the content of, and does not make any representations regarding the materials on, such linked third-party websites. If you decide to access or rely on information at linked third-party website, you do so at our own risk.
Our terms and conditions, including disclaimers, are more fully set forth in our
 

Terms of Use,

 

Privacy Policy

 

and Terms of Online Sales