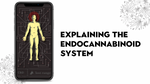 The endocannabinoid system (ECS) is a complex cell-signaling system identified in the early 1990s by researchers exploring THC. But what exactly is it, and how does CBD affect the ECS? 
For years, researchers and scientists wondered why certain drugs affect people differently. The answer was found in a study that took place decades ago which led to the discovery of the cannabinoid receptor system within the body called the endocannabinoid system – or ECS for short.
When anxiety prompts the brain to issue an emergency alert, an internal override system known as the ECS can restore balance and calm. But what exactly does it do and how does it affect the brain & body?
The Endocannabinoid System Explained
The endocannabinoid system is a crucial part of our biology that's evolved over thousands of years. The system produces and regulates cannabinoids in the human body. Cannabinoids are a group of chemicals that interact with and bind to receptors in the brain, which can help regulate mood, sleep, appetite, and pain sensation.
In large, this system helps your body maintain homeostasis. (Homeostasis is the state of steady internal, physical, and chemical conditions maintained by living systems.)
Next, let's map out the ins and outs of the Endocannabinoid System and how it functions.
Purpose of the Endocannabinoid System
As previously stated, the Endocannabinoid System essentially helps maintain homeostasis which tries to keep your internal environment stable no matter what's going on in the environment around you.
When something is operating outside of the optimal range, your body activates the ECS to help correct it. For example, when you're really hot and begin to sweat, your ECS is working to cool you down. Hunger pangs? That's your ECS helping remind you to eat because you need fuel in order to be energized. The ECS does this via cannabinoid receptors found in select tissues. 
While there are many moving parts to the system, doctors and scientists have broken it down into 3 main parts:
Cannabinoid receptors: These receptors interact with both endocannabinoids and phytocannabinoids.

Endocannabinoids

: These are the cannabinoids your body makes itself. 

Enzymes: These are responsible for both creating and breaking down endocannabinoids.
A great way to think of these parts are keys and locks. The endocannabinoids act as the "keys" and receptors act as the "locks" in the system. By turning these keys, the system sends signals throughout your body and helps regulate many physiological functions. These functions include a multitude of things such as:
Pain perception

Learning and memory

Appetite

Mood 
Once the endocannabinoids have done their job and brought balance, certain enzymes come along to break them down and prevent them from going too far and upsetting the balance in the opposite direction. Genius! 
CB1 & CB2 Receptors
Like every other part of your body, the endocannabinoid system blueprints exist as specific genes in your DNA. 
First and foremost, you cannot have the endocannabinoid system without CB1 and CB2. These key receptors play a crucial role in the system. CB1 and CB2 have been found to be located in other animals (which is why CBD pet tinctures have taken off), though they are mostly dominant in the human body. 
CB1 can be found in several areas of the body, especially in the neurons of the brain and in the peripheral nervous system within the spine. Other areas include the spleen, heart, endocrine glands, urinary tract, reproductive system, and leukocytes that are located on the spleen and tonsils.
CB2 is found in bone-forming cells and bone resorbing cells. It has also been shown that the CB2 receptors play a vital role for the regulation of the bones metabolism.
Physiologically, there has to be a balance between the bone-forming cells and the resorbing cells in order to obtain optimal health and balance. As we age, this balance becomes dysfunctional which leads to Osteoporosis and bone density loss. The CB2 agonists, which includes cannabidiol, modulates the CB2 receptors while allowing the body to remain in balance without the psychotropic effects that are associated with a cannabis plant.
CB1 receptors:

Primarily located in the central and peripheral nervous system

Important role in cognition, memory, learning, emotion, mood, motor activity, pain and motivation

Exist to a lesser degree in many peripheral organs (such as adrenal gland, adipose tissue, heart, liver, lung, prostate, uterus, ovary, testis, bone marrow, thymus, tonsils)

CB2 receptors:

Primarily in peripheral organs/tissues (including bone, GI tract, etc.) and immune system.

Modulate cytokine release (impacts pain, inflammation, immune function).

Recently, CB2 receptors have been discovered in the brain as well – including pain pathways.
ECS and CBD 
When someone uses marijuana, a cannabinoid from the plant attaches to the CB1 receptor in the brain and creates a high. This cannabinoid is called THC. However, CBD has effects on many different receptor systems as well. Although it is a cannabinoid, CBD does not directly interact with the two classical cannabinoid receptors (CB1 and CB2).  Instead, it affects signaling through CB1 and CB2 receptors indirectly. This mostly explains why its benefits come without the high of THC, meaning it is non-intoxicating. 
One known function of CBD in the brain is to stop the FAAH enzyme from breaking down anandamide, so the anandamide can have more of an impact. That's believed to be why CBD can help treat anxiety disorders.  When anxiety prompts the brain to issue an emergency alert, an internal override system known as the ECS can restore balance and calm.
CBD can also interact with dopamine receptors, which play a crucial role in regulating many aspects of behavior and cognition, including motivation and reward-seeking behavior.
Final Synopsis
The ECS is responsible for regulating a broad range of biological and physiological processes to include appetite, digestion, metabolism, pain-sensation, inflammation, mood, sleep, stress, and memory. However, the primary objective of the ECS is always the same – homeostasis, as it is quite literally the bridge between the body and the mind.
To sum it up:
→ Endocannabinoids are neurotransmitters that work on the endocannabinoid system.
→ The endocannabinoid system is a vast network of cell receptors in the brain and other parts of the body that regulate functions such as sleep, immune response, and even mood.
→ Within the ECS is a collection of cannabinoid receptors that make up the system. Cannabinoids activate cannabinoid receptors which perform a large variety of tasks in order to accomplish one goal, homeostasis.
→ Once the body is operating healthily and in tune, metabolic enzymes such as FAAH and MAGL break down cannabinoids and deactivate cannabinoid receptors.
→ CBD, a non-psychoactive compound found in Cannabis sativa, is more likely to be a promising agent for mood disorders such as anxiety and depression.
We hope this has helped answer all your ECS and CBD related questions. If not, our team of professionals are here to support your needs or address any questions and concerns you may have to fully optimize your wellness and recovery regimens 24/7.
---
Disclaimer:
These products are not for use by or sale to persons under the age of 18.
These statements have not been evaluated by the Food and Drug Administration. These products are not intended to diagnose, treat, cure, or prevent any disease. The efficacy of these products has not been confirmed by FDA-approved research. The information presented here is not meant as a substitute for or alternative to information from healthcare practitioners. Please consult your healthcare professional about potential interactions or other possible complications before using any products.
Lost Range assumes no responsibility for the improper use of these products. We recommend consulting with a qualified medical doctor or physician when preparing a treatment plan for any and all diseases or ailments. Lost Range does not make any health claims about our products and recommends consulting with a qualified medical doctor or physician prior to consuming our products or preparing a treatment plan. It is especially important for those who are pregnant, nursing, chronically ill, elderly or under the age of 18 to discuss the use of these products with a physician prior to consuming.  You must be 18 years or older to visit this website and/or purchase Lost Range products. The information on our website is intended to provide general information regarding our products and is not to be construed as medical advice or instruction.
Neither the Company nor its representatives is providing any medical advice, and none should be inferred, from any ideas, suggestions, testimonials or other information set forth on this website or in other Company materials or provided over the phone, in the mail, in product packaging, or in email correspondence. This website may contain links to third-party websites. The Company provides these links as a convenience only and does not endorse any of these sites. The Company is not responsible for the content of, and does not make any representations regarding the materials on, such linked third-party websites. If you decide to access or rely on information at linked third-party website, you do so at our own risk.
Our terms and conditions, including disclaimers, are more fully set forth in our 
Terms of Use
, 
Privacy Policy
 and Terms of Online Sales