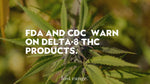 There appears to be a new type of "Delta" to be concerned about... Delta-8 cannabis products (also known as "Diet Weed") can cause scary health effects, the CDC and FDA Warn.
The Food and Drug Administration and the Centers for Disease Control and Prevention want you to know that Delta-8 products are largely unregulated and may come with some adverse effects, including symptoms similar to those seen after a too-large dose of cannabis. The federal agencies reported last week that 119 people were hospitalized after ingesting products infused with Delta-8 THC over the past year.
You may be asking yourself, what even is Delta 8-THC? Is it dangerous in CBD products? We at Lost Range CBD are here to help break down the complicated data into easy digestible facts so you can feel safe with our CBD products.
What is Delta-8?
Delta-8 tetrahydrocannabinol, also known as delta-8 THC  is one of over 100 cannabinoids that is actually produced naturally by the cannabis plant. Its chemical structure is similar to that of its well-known cousin, Delta-9-tetrahydrocannabinol (Delta-9-THC), the main psychoactive compound found in marijuana. That's what gets you "high."
When people refer to THC, they usually mean the Delta-9 that's found in high concentrations in marijuana. Both produce a euphoric, fuzzy feeling, but Delta-8 causes a milder high. In fact, Delta-8 is often referred to as "marijuana-lite" or "diet weed." Therefore it will get you high, albeit not as high as common delta-9 THC.
What is important to note is that consumers should be aware that Delta-8 THC products have neither been evaluated nor approved by the FDA. As of now, it is not recommended for safe use in any context. There is potential that these products may be marketed in ways that are risky in terms of public health, and it should be noted that these products should especially be kept out of reach of pets and children. 
The Effects Of Delta-8
Unidentified by-products and lack of regulatory oversight spell trouble for cannabis products synthesized from CBD. The FDA is also concerned that Delta-8 THC products likely expose consumers to much higher levels of the substance than are naturally occurring in hemp cannabis raw extracts. Thus, historical use of cannabis cannot be relied upon in establishing a level of safety for these products in humans.
Those who use Delta-8 products say anxiety, slower heart rate, sleepiness, numbness, and also faster heart rate can occur. As well as the hospitalizations, poison control centers in the U.S received more than 600 calls involving Delta-8 exposure since January of this year. Of those calls, 39% involved kids under the age of 18.
Because Delta-8 is so similar to delta-9 THC, it produces some of the same side effects, like:
red eyes
dry mouth
rapid heart rate
trouble with coordination
slowed reaction times
anxiety
memory loss
But Delta-8 may also have additional risks because it's something synthetically produced, meaning you might not know what's really in it.
How to Avoid Synthetic Delta-8-THC
When choosing CBD products always read the label for Delta-8-THC and go with a reputable and transparent brand. Look for a CBD company that:
is made by a company that provides proof of third-party testing by an ISO 17025-compliant lab
is made with U.S.-grown hemp
contains no more than 0.3 percent THC, according to the certificate of analysis (COA)
passes tests for pesticides, molds, and heavy metals, according to the COA
Also consider:
Company certification and manufacturing processes
Whether products contain quality/organic ingredients
Indicators of user trust and brand reputation, such as:
About Lost Range CBD
It's very difficult to keep up with FDA approvals with over 100 different chemical compounds in just cannabis plants. That's why we're here to inform you in a (hopefully) easy-to-understand fashion, so that you can feel safe with our CBD products.
In the end, though Delta 8-THC is being sold as a concentrated product derived from CBD, Lost Range's CBD products are completely void of Delta-8 THC and could provide dozens of health benefits. We use only the best CBD in our small batch products — helping our customers experience and enjoy all the benefits that CBD has to offer. What's more, ALL OF OUR PRODUCTS CONTAIN LESS THAN 0.3% THC.
If you would like to know more about our products and brand, or have more information on any details of ingredients, our staff is always at your service for any questions. Contact us here today.
---
Disclaimer:
These products are not for use by or sale to persons under the age of 18.
These statements have not been evaluated by the Food and Drug Administration. These products are not intended to diagnose, treat, cure, or prevent any disease. The efficacy of these products has not been confirmed by FDA-approved research. The information presented here is not meant as a substitute for or alternative to information from healthcare practitioners. Please consult your healthcare professional about potential interactions or other possible complications before using any products.
Lost Range assumes no responsibility for the improper use of these products. We recommend consulting with a qualified medical doctor or physician when preparing a treatment plan for any and all diseases or ailments. Lost Range does not make any health claims about our products and recommends consulting with a qualified medical doctor or physician prior to consuming our products or preparing a treatment plan. It is especially important for those who are pregnant, nursing, chronically ill, elderly or under the age of 18 to discuss the use of these products with a physician prior to consuming.  You must be 18 years or older to visit this website and/or purchase Lost Range products. The information on our website is intended to provide general information regarding our products and is not to be construed as medical advice or instruction.
Neither the Company nor its representatives is providing any medical advice, and none should be inferred, from any ideas, suggestions, testimonials or other information set forth on this website or in other Company materials or provided over the phone, in the mail, in product packaging, or in email correspondence. This website may contain links to third-party websites. The Company provides these links as a convenience only and does not endorse any of these sites. The Company is not responsible for the content of, and does not make any representations regarding the materials on, such linked third-party websites. If you decide to access or rely on information at linked third-party website, you do so at our own risk.
Our terms and conditions, including disclaimers, are more fully set forth in our Terms of Use, Privacy Policy and Terms of Online Sales