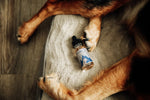 It's back to work AND back to school season for millions of Americans. As we rush around preparing, making lunches, buying school supplies and enrolling in sports leagues, sometimes we forget about those this "new-rush-to-reality" affects the most: our pets. Whether they show it or not, uprooting their routine of attention, stimulation and company can cause extreme anxiety when faced with the sudden new reality of being isolated. Here's how CBD could help.
COVID brought one positive aspect for our furry best friends: They got all the attention and excitement every summer day of activities brings. But as life begins to return to normal and offices reopen and kids return to school, we are left with an unpresented new reality: Separation anxiety.
While anxiety can be debilitating and it affects not only people, but animals as well, in many ways, our pets suffer from stress and fear just like we do. Below, we take a closer look at what causes anxiety in pets and how you can help your dog with anxiety using supportive strategies, and natural products.
What is Separation Anxiety
Pets can get separation anxiety, and that can cause trouble for everyone in the family. At Lost Range, we know from experience with our own pets. But what is separation anxiety and how does it affect our four-legged friends?
According to ASPCA, 'one of the most common complaints of pet parents is that their dogs are disruptive or destructive when left alone. Their dogs might urinate, defecate, bark, howl, chew, dig or try to escape. Although these problems often indicate that a dog needs to be taught polite house manners, they can also be symptoms of distress. When a dog's problems are accompanied by other distress behaviors, such as drooling and showing anxiety when his pet parents prepare to leave the house, they aren't evidence that the dog isn't house trained or doesn't know which toys are his to chew. Instead, they are indications that the dog has separation anxiety. Separation anxiety is triggered when dogs become upset because of separation from their guardians, the people they're attached to. Escape attempts by dogs with separation anxiety are often extreme and can result in self-injury and household destruction, especially around exit points like windows and doors.'
Common Symptoms of Separation Anxiety in Pets
Separation anxiety in dogs is a stress response that happens when a dog is bonded to person, and that person is away from home or not in close proximity to the pet. As per PetMD, typically, behaviors related to separation anxiety occur during the first hour after you've left the house, but some dogs begin exhibiting stress behaviors as soon as you prepare to leave.
Dog separation anxiety symptoms can include:
Panting
Drooling
Shaking
Barking
Attempting to follow the owner
Defecating or urinating in the house
Some dogs and other pets will stop eating, act depressed, hide or whine, and in extreme cases, might injure themselves as they attempt to escape confinement.
Treating Separation Anxiety in Pets
One of the fastest growing health trends in pet care is using Hemp and CBD oils to help treat dogs with anxiety. Cannabidiol, or CBD, is a compound found in cannabis and hemp. Research has found that CBD helps manage anxiety by changing the brain's receptor response to serotonin.
In order to treat your dog's (or other pet's) symptoms, it's important to first understand the root of the issue. There are three main causes of anxiety in pets: fear, separation, aging and general health. Providing your dog with CBD supplements will give them the benefit of relaxation without any intoxication.
Symptoms of separation anxiety in your dog can be an indication of pain or physical discomfort. Whether it's joint pain, or genetic chronic pain, they may become lethargic, irritable or show other behavior changes. Witnessing your beloved family member in pain can be distressing for any pet owner. It's always best to first take a trip to your local Veterinarian to get checked out.
Best CBD Oils for Pet Use
Though there aren't any quick fixes for anxiety, there are ways you can help adjust their behaviors. Make sure they get their exercise, a tired dog is less likely to get into trouble while you are away. It's important to be aware of how long you are away and be sure not to extend beyond your dog's comfort zone.
Research studies have found that CBD and Hemp oils help reduce joint inflammation and improve an aging dog's mobility. CBD treats for dogs are also closely regulated by the FDA and do not contain more than 0.3% TCH. If you have an elderly dog with joint pain, consider using a natural Hemp supplement such as Full Spectrum Hemp Oil, specifically for pets, as pain management for your dog's condition.
FUN FACT: You can micro manage and dose your pet's treats at home allowing you to make 250 treats at 4mg each with our pet tincture.
Full Spectrum Pet CBD Oil Tincture – 1000mg (10% for pets!*)
$59.00 — or 
  / month
Have you been searching around for the perfect CBD oil for your furry friend? Our 1000mg Full Spectrum Pet CBD oil tincture is the best CBD product for pets on the market! Whether you're looking for CBD for dogs or CBD for cats, you can find relief for your loved one(s) in our Full Spectrum 1000mg Pet CBD oil.
Many of our pets have anxiety, aching joints, arthritis, and a multitude of other conditions that cause them pain or stress. Our CBD oil for pets can help your furry friend(s) manage their pain and anxiety by altering the brain's receptor responses to serotonin.
No one likes to see their pet in pain! Help them by adding a CBD oil dosage to their food or adding a drop of the CBD oil to their favorite treat!
At Lost Range, our customers' feedback means a lot to us. We want to ensure that our products uphold quality standards and provide seamless solutions for you and your pets. At Lost Range, we use only the best CBD in our small batch products — helping our customers experience and enjoy all the benefits that CBD has to offer. We strongly believe in the powerful healing potential of our hand-made CBD products, and bear witness with remarkable reviews from our loyal customers. Our mission is to make CBD tinctures, salves, and rubs accessible to all people.
Check out a couple of customer testimonials below on their pets battling separation anxiety and how our Pet Tincture CBD oil has helped:
The CBD Oil for myself and the pet CBD oil for my dog has worked wonders for the both of us. I noticed myself feeling way less anxious throughout the day, as well as my dog's separation anxiety has calmed tremendously since starting to use these products. I recommend this company and their products to all of my friends and haven't gone a day without using Lost Range products since the day I started! Love!!
- Emilee L.
Lost Range's muscle & joint rub and the tincture for pets have exceeded my expectations. In particular, my dog's horrible separation anxiety has been greatly reduced (video evidence!) with a few drops of tincture before I leave - I come home to a relaxed pup whose kennel bed isn't torn to bits. I'm so grateful he isn't so stressed out. Also, the company's website is very intuitive, shipping is prompt and the lab analysis included w/ every shipment is useful & reassuring.
- Parice H.
Lost Range CBD oil has changed my dogs day from painful to enjoyable. Once I started him on Lost Range Pet Tincture I got a 13 year old puppy I hadn't met since I adopted him at 8 years old. He jumps again, he plays around excitedly, he pulls me along on his walks, all thanks to Lost Range. Am so glad I have found something safe for my dog that he looks forward to taking everyday!
- Sara T.
FUN FACT: *lost range will donate 10% for pets (based on 10% of Direct-To-Consumer sales of lost range PET Tinctures- lost range will donate 1 PET Tinctures for every 10 sold at DTC)
Final Thoughts
It's never easy seeing our dogs suffer from stress and anxiety. Knowing how to help your dog with anxiety begins with understanding what is causing their symptoms. Once you know the root of the cause, you'll be able to help bring them comfort by introducing a plan of action, providing them with beneficial supplements, and consulting with your vet.
If you would like to know more about our products and brand, specifically for pet separation anxiety, our staff is always at your service for any questions. Contact us here today.
---
Disclaimer:
These products are not for use by or sale to persons under the age of 18.
These statements have not been evaluated by the Food and Drug Administration. These products are not intended to diagnose, treat, cure, or prevent any disease. The efficacy of these products has not been confirmed by FDA-approved research. The information presented here is not meant as a substitute for or alternative to information from healthcare practitioners. Please consult your healthcare professional about potential interactions or other possible complications before using any products.
Lost Range assumes no responsibility for the improper use of these products. We recommend consulting with a qualified medical doctor or physician when preparing a treatment plan for any and all diseases or ailments. Lost Range does not make any health claims about our products and recommends consulting with a qualified medical doctor or physician prior to consuming our products or preparing a treatment plan. It is especially important for those who are pregnant, nursing, chronically ill, elderly or under the age of 18 to discuss the use of these products with a physician prior to consuming.  You must be 18 years or older to visit this website and/or purchase Lost Range products. The information on our website is intended to provide general information regarding our products and is not to be construed as medical advice or instruction.
Neither the Company nor its representatives is providing any medical advice, and none should be inferred, from any ideas, suggestions, testimonials or other information set forth on this website or in other Company materials or provided over the phone, in the mail, in product packaging, or in email correspondence. This website may contain links to third-party websites. The Company provides these links as a convenience only and does not endorse any of these sites. The Company is not responsible for the content of, and does not make any representations regarding the materials on, such linked third-party websites. If you decide to access or rely on information at linked third-party website, you do so at our own risk.
Our terms and conditions, including disclaimers, are more fully set forth in our Terms of Use, Privacy Policy and Terms of Online Sales