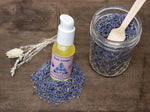 As the colors of fall arrive and the nights get colder, your skin begins to adapt, and these skin barrier changes are typically for the worse. When this occurs, it's time to introduce premium CBD products into your skincare routine.
When humidity levels drop, the amount of moisture our skin contains begins to evaporate faster than it does in warmer weather. The result of this is dry winter skin, eczema or flaky skin.
Essential oils are wonderful in combating dryness, but they have their limits when it comes to moisturizing the skin in that they can't hold onto the moisture within the skin. This is where CBD comes in.
CBD is a powerful antioxidant, more powerful in fact than Vitamin C & E! Antioxidants help to protect our cells and their functions to keep them healthy and active, preventing premature aging in the skin. 
Moisturizers Come in All Shapes and Sizes
Moisturizers are probably the first thing we reach for to help combat dry skin in the fall and winter time. What many people don't know is that some moisturizing products can actually cause more dryness and irritation to your skin. Skin that is already inflamed is easily affected by the following ingredients:
Whenever you introduce a new product to your skincare routine, it's important to check the label and see what ingredients are in it before using it. Fortunately, lost range.®'s product contains all-natural ingredients free of preservatives and other irritating ingredients. 
Support Skin Health With lost range.®
Enough of the science bit. Let's take a look at how you can get some serious skin relief this fall...
DIY CBD Whipped Honey Scrub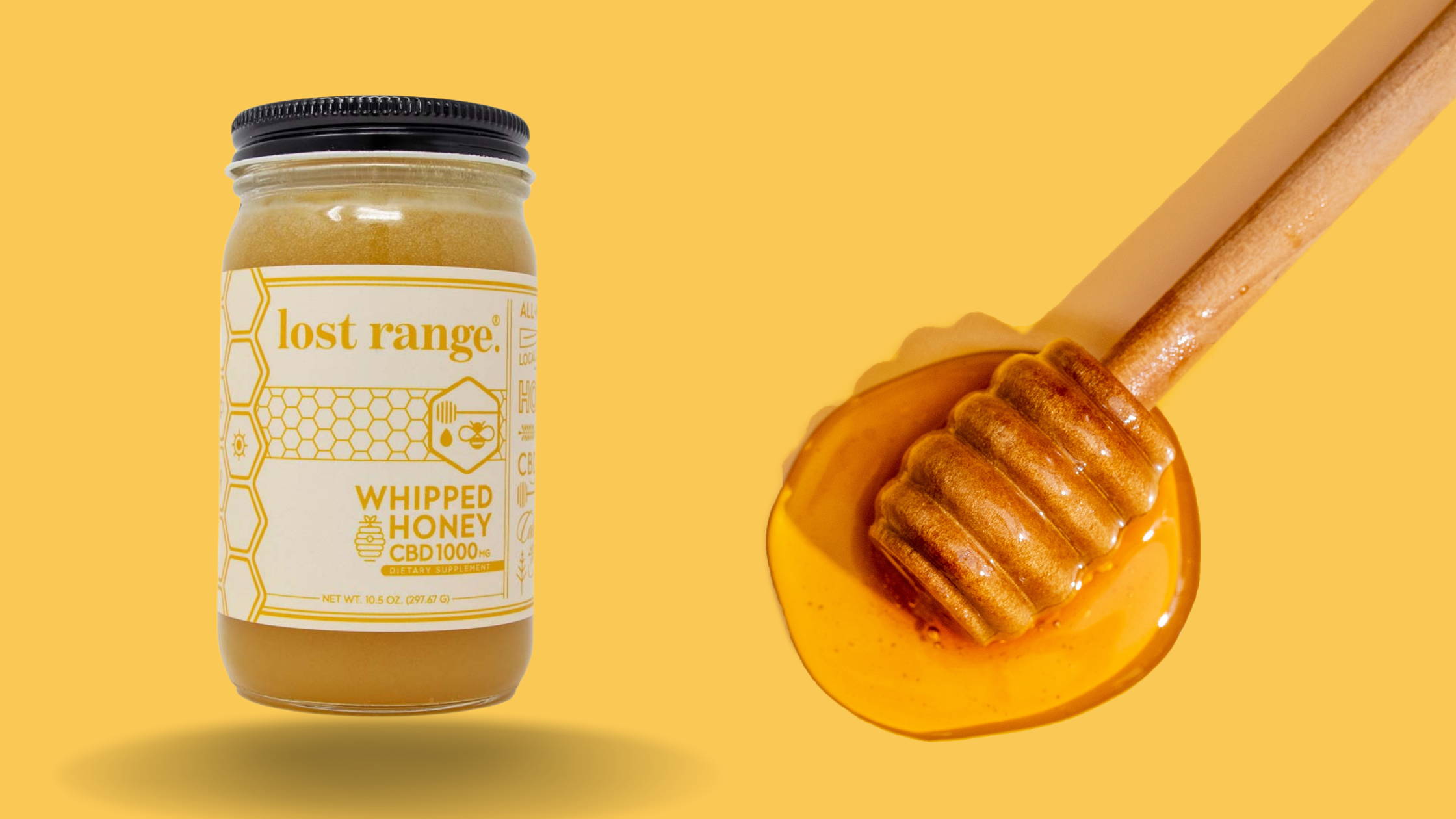 Since skin cells dry out faster in colder weather, it's important to exfoliate to prevent a build-up of dead skin and body acne. You can make your own body scrub with our CBD Whipped honey. By doing so, it will help you retain moisture and give you back the added body oil nutrients you're missing.
lost range.® has partnered with a local Beekeeper in Steamboat Springs, CO to obtain the finest quality honey. Each batch of lost range.® Whipped CBD Honey is infused with our Full-Spectrum CBD oil and whipped to give it a light, creamy and delicious consistency. Our CBD Honey has the same great effects as our Full-Spectrum Tinctures - with the added benefits of premium honey and phytonutrients. The biggest benefit of this product? It contains less than 0.3% THC!
Oatmeal And Honey Body Scrub
Oatmeal is calming and honey is antioxidant and moisture-rich!
Ingredients
1/4 cup unrefined coconut oil

1/4 cup lost range.® CBD Whipped honey

3/4 cup sugar

1/4 cup ground oats

For added fragrance you can add essential oils such as peppermint, lavender, or citrus.
Instructions
Mix all ingredients together in a small bowl. If your coconut oil has solidified, place the jar in a bowl of warm water.

Store in a glass jar for up to 6 months.
CBD Massage Oil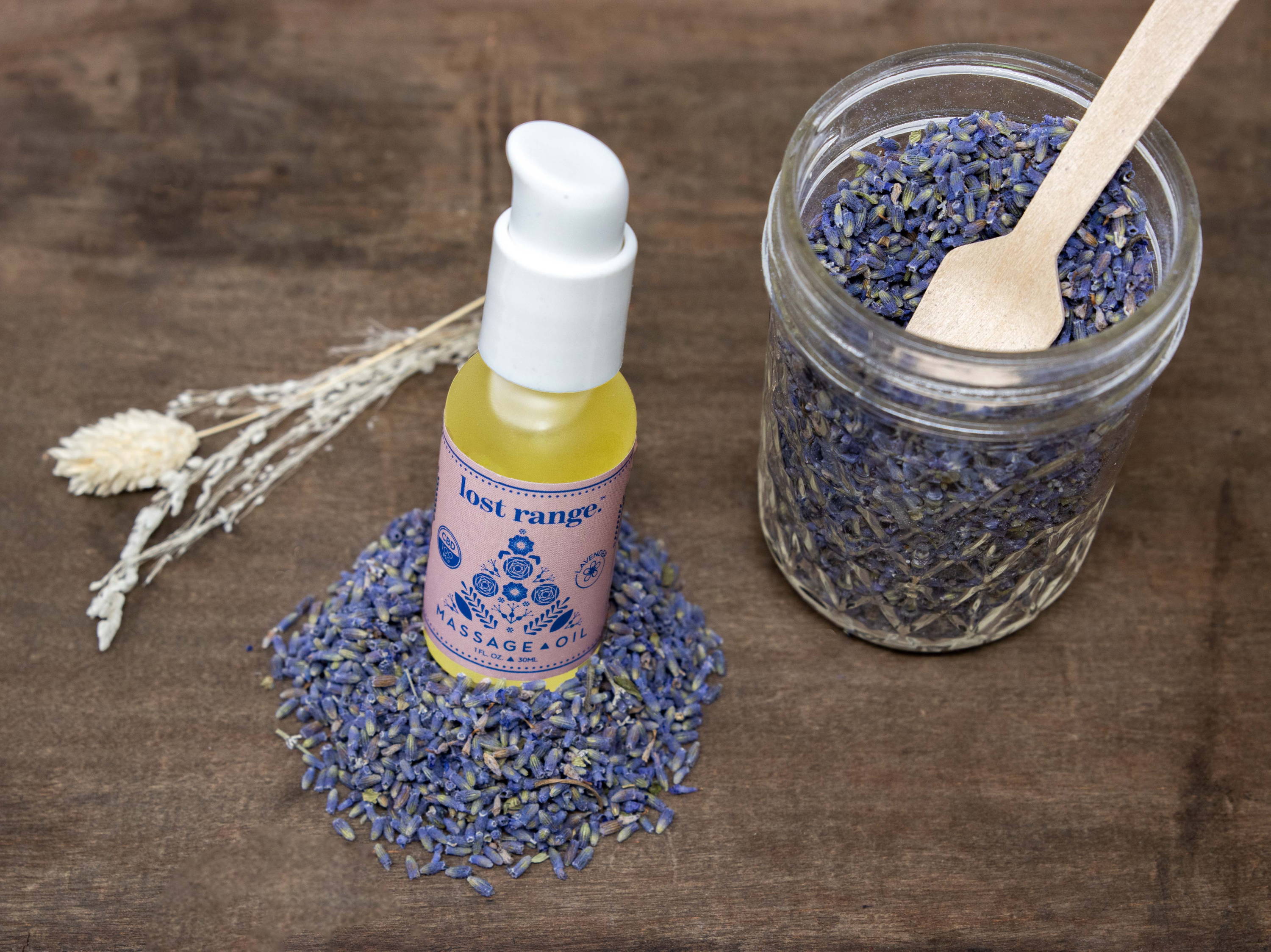 Are you looking for a new way to support your skin health?
Our CBD Massage oil is made to keep moisture in, our other plant-based ingredients work to nourish and repair your skin's barrier. For extra oomph, try the CBD Massage Oil.
lost range® CBD Massage Oil was designed by five star spa professionals to provide customers with a high potency CBD massage oil they can administer in the comfort of their own home. This oil is made with our proprietary herbal infused grapeseed oil, and delivers 100mg of CBD per ounce. This product is 100% THC Free.
Our aroma options are as follows:
Unscented - For a fragrance free experience

Lavender - Provides more of a relaxing effect

Citrus - Delivers an uplifting effect

Cool Blue - Brings about a cooling & warming effect

Eucalyptus - Provides an energizing and sinus stimulation effect
CBD Bath Salts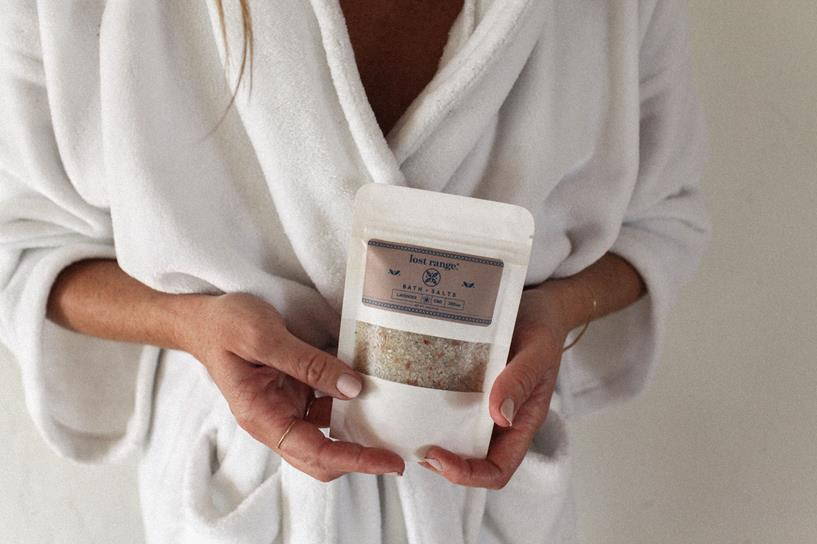 Our CBD Bath Salts are the perfect way to add unwind while supporting skin health. Made with skincare ingredients that help prevent dry skin, these salts are the perfect product to add to your routine during the fall and winter seasons when we all need a little extra nourishment.
lost range.® CBD Bath Salts  proprietary blends includes CBD Isolate, seven natural mineral salts, essential oils along with our herbal infused grapeseed oil. lost range.® CBD Bath Salts exfoliate skin while helping maintain physical and mental well being. Additionally, the seven salt mineral blend helps cleanse, soothe, detox hydrate and moisturize while regulating your skin's PH levels. Each ounce of our salts brings 62.5mg of CBD to the soaking experience. Lastly but most importantly, this product is 100% THC Free.
CBD Bath and Body Soap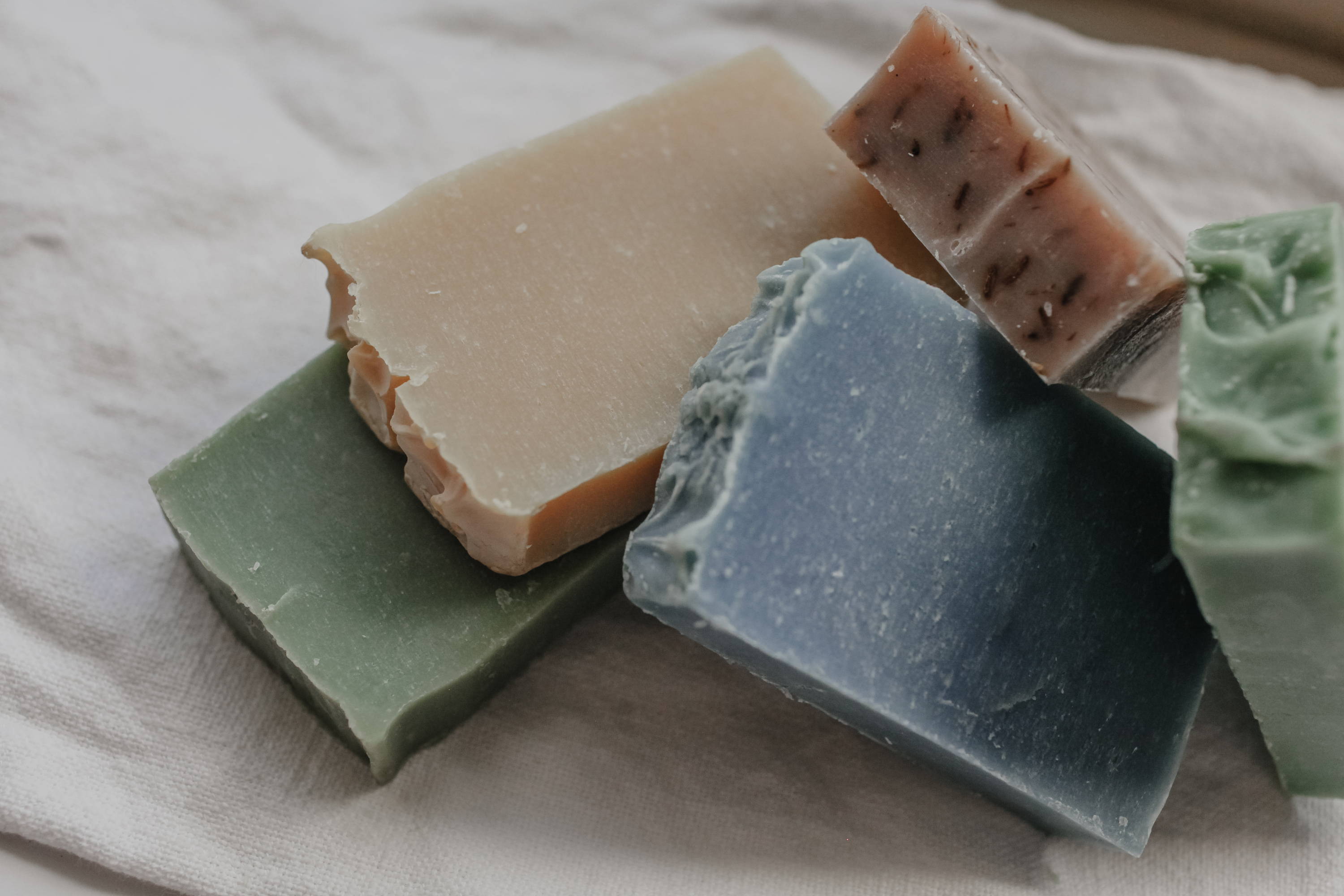 If you're looking for a premium CBD product as you lather in the shower or bath, then you should try our CBD Bath and Body soap. Our soap is handcrafted and all natural, so it produces a great lather and leaves your body squeaky clean. Our soaps are comprised of a blend of our herbal infused grapeseed oil, shea butter, beeswax, organic grass fed beef tallow, apricot oil, jojoba oil and essential oils help nourish your skin as you get clean.
It's 100% THC Free and available in Eucalyptus (contains eucalyptus buds for exfoliation), Lemongrass, Lavender (contains lavender buds for exfoliation), Eucalyptus & Peppermint!
CBD Salves and Rubs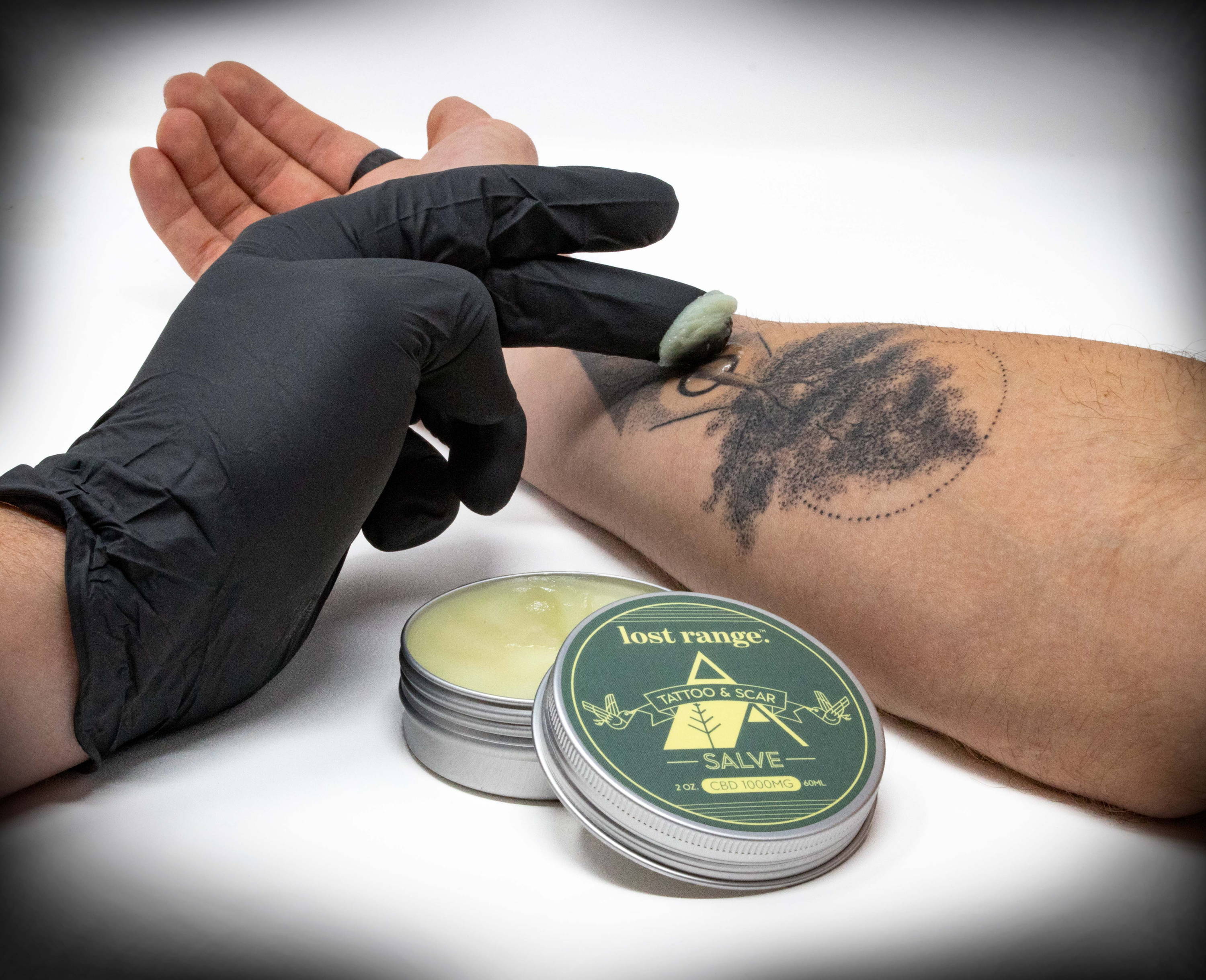 Let's not forget about protecting damaged skin during the colder months.
At lost range, our CBD Tattoo and Scar Salve is the perfect solution for helping support skin health from scars and further damage. Apply a small amount of our Tattoo & Scar Salve to your problematic area and pair it with our CBD oil tinctures for best results.
Furthermore our customer-favorite CBD Skin Salve is one of our most versatile products. Derived from Colorado grown hemp, lost range.® hydrating skin salve may be applied support skin health where needed. This moisturizing salve is handcrafted in small batches using our proprietary herbal infused grapeseed oil which blends a mix of vitamins A, C, D, E, and omega- 3, 6, 9 fatty acids with six natural herbs.
Why lost range.®
Now that you have a couple nourishing options to choose from, you can help combat dry fall/winter skin in full force. We hope you are able to reap the benefits of our natural, colorado-grown CBD. 
For more information on our products, check out our website here. For more information on our growing process click here. Contact us today to kickstart your skincare routine this season.
---
These products are not for use by or sale to persons under the age of 18.
These statements have not been evaluated by the Food and Drug Administration. These products are not intended to diagnose, treat, cure, or prevent any disease. The efficacy of these products has not been confirmed by FDA-approved research. The information presented here is not meant as a substitute for or alternative to information from healthcare practitioners. Please consult your healthcare professional about potential interactions or other possible complications before using any products.
lost range.® assumes no responsibility for the improper use of these products. We recommend consulting with a qualified medical doctor or physician when preparing a treatment plan for any and all diseases or ailments. lost range.® does not make any health claims about our products and recommends consulting with a qualified medical doctor or physician prior to consuming our products or preparing a treatment plan. It is especially important for those who are pregnant, nursing, chronically ill, elderly or under the age of 18 to discuss the use of these products with a physician prior to consuming. You must be 18 years or older to visit this website and/or purchase lost range.® products. The information on our website is intended to provide general information regarding our products and is not to be construed as medical advice or instruction.
Neither the Company nor its representatives is providing any medical advice, and none should be inferred, from any ideas, suggestions, testimonials or other information set forth on this website or in other Company materials or provided over the phone, in the mail, in product packaging, or in email correspondence. This website may contain links to third-party websites. The Company provides these links as a convenience only and does not endorse any of these sites. The Company is not responsible for the content of, and does not make any representations regarding the materials on, such linked third-party websites. If you decide to access or rely on information at linked third-party website, you do so at our own risk.
Our terms and conditions, including disclaimers, are more fully set forth in our Terms of Use, Privacy Policy and Terms of Online Sales