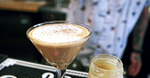 The bad news? It's the last of our Midweek Mocktail Guide 😭 The good news? This recipe is a splash of indulgence without the hangover hustle.🥳 The BEST news? You can whip it up with just three simple ingredients.

So sip back and relax, because we've shaken up the grand finale of mocktails for the very end…
What you'll need:
1

oz of

 

espresso

 

freshly brewed (or cold brew concentrate)

3oz of heavy whipping cream
Optional: Cocoa powder and/or coffee beans
Directions:
Brew the coffee then pour into a bowl to cool quickly. Fill the cocktail shaker with ice then add the cooled coffee, CBD Whipped Honey, and cream and shake well (until the honey has dissolved and it forms a lovely foam on top). Strain into a Martini glass. Optional: Top with a dusting of cocoa powder and/or three coffee beans and serve! 
Thank you to our mixology extraordinaire, Ivan Garza, and to our appreciated film crew at One Reel Media House. Watch the "How To" video below!