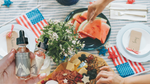 Labor Day Weekend is the perfect time to gather your family and friends, fire up the grill, and celebrate the end of summer with one final cookout, CBD-style.
Labor Day is just around the corner, and guess what? Your BBQs, picnics, and potlucks are about to get a whole lot higher on the chill scale! 
Dive into our delectably dreamy CBD recipes that promise flavor explosions and the gentle, calming embrace of our premium CBD. Ready to take your Labor Day feast to a new level of relaxation? Let's get cooking!
1. CBD-Infused Watermelon Mint Cooler. Makes 4.
Start your Labor Day festivities on a refreshing note with this CBD-infused watermelon mint cooler. This cooling beverage will keep you hydrated and relaxed throughout the day.
What You'll Need:
2 cups chilled watermelon

1 cup  coconut water

1/2 fresh squeezed lime

1/2 cup white wine spritzer (omit if making a mocktail)

1 cup ice
Instructions:
Blend fresh watermelon chunks with a handful of mint leaves, a squeeze of lime juice, and a dose of your favorite CBD oil.
Add some lost range.® CBD whipped honey or your preferred sweetener to enhance the sweetness.
Once blended, serve over ice and garnish with mint sprigs and a watermelon wedge. If pre-making this recipe, stir well before serving so the oil doesn't separate.
(If you're making this Mocktail with booze, add 1/2 cup of vodka.)
2. CBD-Infused Hawaiian Chicken Kebabs. Serves 4.
Fire up the grill and create a colorful array of CBD-infused Hawaiian chicken kebabs. Kebabs are always sure to please when it comes to having a cookout, plus they're easy to make!
What You'll Need:
For the Marinade:
1/3 cup ketchup

1/3 cup packed dark brown sugar

1/3 cup low-sodium soy sauce

1/4 cup canned pineapple juice

4 Tbsp olive oil, divided, plus more for brushing the grill

1 1/2 Tbsp rice vinegar

4 garlic cloves, minced (4 tsp)

1 Tbsp minced ginger

1/2 tsp sesame oil

Salt and freshly ground black pepper
For the Kebabs:
Wooden or metal skewers

4 boneless, skinless chicken breasts, chopped into 1 1/4-inch cubes.  chicken breast per person)

3 cups (heaping) fresh cubed pineapple (about 3/4 of 3 lb pineapple)

1 1/2 large green peppers, diced into 1 1/4-inch pieces

1 large red onion, diced into 1 1/4-inch pieces
*If using wooden skewers, soak them in water for at least 30 minutes before grilling to prevent burning.
Instructions:
Combine ketchup, brown sugar, soy sauce, pineapple juice, 2 tablespoons of olive oil, rice vinegar, garlic, ginger, sesame oil, and Full Spectrum CBD Oil in a mixing bowl. Add 3/4 teaspoon of pepper and season with salt as desired.
Next, place the chicken into a resealable bag large enough to hold it. Set aside 1/2 cup of the marinade in the refrigerator and pour the remaining marinade over the chicken. Seal the bag and refrigerate for 1 hour.
Preheat the grill to medium heat, around 400°F (200°C). Thread the vegetables and chicken onto the skewers and brush the skewers with your CBD-infused marinade, coating it evenly.
Grill the skewers for 10-15 minutes or until the chicken reaches an internal temperature of 165°F (75°C) in the center. Serve the skewers warm, and enjoy!
3. Blueberry Lavender CBD Popsicles. Serves 6. 
Cool down with these soothing blueberry lavender CBD popsicles. These frozen treats are a delightful way to enjoy CBD's benefits while savoring summer's flavors.
What You'll Need:
Popsicle molds

2 cups of coconut milk

2 cups fresh blueberries

Two tablespoons of lavender syrup

1 cup water

2 tbsp culinary-grade lavender buds
Instructions:
Put your popsicle molds in the freezer for 10 minutes before making the recipe. (This will help everything get cool faster).
Combine the blueberries, lost range.® CBD whipped honey, lavender syrup, and water in a saucepan. Simmer your fruit compote on low for 15 minutes. 
When the 15 minutes are up, remove your fruit compote from the heat and let it cool for 5 minutes. Add one layer of unsweetened coconut milk to each popsicle mold. 
Add the blueberry compote to make the second layer, and repeat this process until your popsicle molds are full. You can get super creative and add as many layers as possible. 
Freeze for 6 hours or preferably overnight. Soak the popsicle molds in warm water for 10-15 when ready to eat seconds and enjoy!
4. CBD Strawberry Chocolate Brownies. Serves 9.
Let's take a spin on the fan-favorite treat and indulge in Strawberry Chocolate Brownies. This recipe is gluten-free –a plus for everyone! These brownies redefine goodness by combining fudgy chocolate, almond butter, and diced strawberries.
What You'll Need:
1/2 cup oil or melted butter

1/3 cup almond butter

3/4 cup coconut sugar

1/4 cup milk

2 large eggs

1 teaspoon vanilla

3/4 cup oat flour

1/2 cup cocoa powder

1/2 cup chocolate chips

1/4 teaspoon salt

1/2 teaspoon baking powder

1/2 cup finely diced strawberries

1/3 cup fresh strawberries (sliced)
Instructions:
Preheat the oven to 350 degrees Fahrenheit, line an 8×8″ baking pan with parchment paper, and set aside.
Whisk together all ingredients until smooth in a large bowl. Whisk in the dry ingredients, aside from the chocolate chips. Next, fold the chocolate chips, diced strawberries, and Gold Buckle® Full Spectrum CBD Oil.
Transfer to the prepared pan and smooth out your mixture. You can top it with sliced strawberries and additional chocolate chips if desired.
Bake for 30-38 minutes or until a toothpick comes out clean. Let cool in the pan for 20 minutes, then transfer to a wire rack to finish cooling.
Slice into 16 squares and enjoy!
Last Thoughts
Culinary Adventurers unite! Take your celebration to a new level of relaxation and enjoyment this Labor Day with lost range.®.
Remember to choose high-quality CBD products when making CBD-infused recipes and adjust the dosage to your preference.
Here's to a Labor Day filled with good food, company, and a bonus dose of relaxation. 
Bon Appétit
---
Disclaimer:
These products are not for use by or sale to persons under the age of 18.
These statements have not been evaluated by the Food and Drug Administration. These products are not intended to diagnose, treat, cure, or prevent any disease. The efficacy of these products has not been confirmed by FDA-approved research. The information presented here is not meant as a substitute for or alternative to information from healthcare practitioners. Please consult your healthcare professional about potential interactions or other possible complications before using any products.
lost range®

 

assumes no responsibility for the improper use of these products. We recommend consulting with a qualified medical doctor or physician when preparing a treatment plan for any and all diseases or ailments.

 

lost range®

 

does not make any health claims about our products and recommends consulting with a qualified medical doctor or physician prior to consuming our products or preparing a treatment plan. It is especially important for those who are pregnant, nursing, chronically ill, elderly or under the age of 18 to discuss the use of these products with a physician prior to consuming.  You must be 18 years or older to visit this website and/or purchase

 

lost range®

 

products. The information on our website is intended to provide general information regarding our products and is not to be construed as medical advice or instruction.
Neither the Company nor its representatives is providing any medical advice, and none should be inferred, from any ideas, suggestions, testimonials or other information set forth on this website or in other Company materials or provided over the phone, in the mail, in product packaging, or in email correspondence. This website may contain links to third-party websites. The Company provides these links as a convenience only and does not endorse any of these sites. The Company is not responsible for the content of, and does not make any representations regarding the materials on, such linked third-party websites. If you decide to access or rely on information at linked third-party website, you do so at our own risk.
Our terms and conditions, including disclaimers, are more fully set forth in our
 

Terms of Use,

 

Privacy Policy

 

and Terms of Online Sales