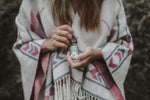 If you're looking for the perfect Mother's Day gift, our CBD Gift Guide is for you. Here are some of our top products that allow Mom to focus on herself.
Moms are able to use their resilience and strength to manage daily challenges and maintain a sense of calm amidst the chaos. As Mother's Day approaches (May 14th - just a friendly reminder), it's important to recognize that they deserve some much-needed self-care and me-time.
A bunch of flowers is a nice token of appreciation, but rather than focusing on common disposable gifts, why not take some time to think about their health and wellness?
Give the Gift of Wellness
Health and wellness are key factors for living a happy life, so Mother's Day is a good opportunity to nurture this.
Research has proven that consistent self-care is correlated with improved physical, mental, and emotional health – and is essential to overall wellbeing.
For older moms, CBD can be especially helpful. Roughly half of the older adult population lives with arthritis. Compared to traditional pain medications, CBD can be a compelling alternative as a natural and potentially safer remedy. Studies have indicated that CBD can reduce inflammation while alleviating pain. Conditions improved include joint pain, arthritis and multiple sclerosis. A study from The Arthritis Foundation also found most CBD users reported improvement in physical function, sleep, and well-being.
Show your appreciation for all that moms do by giving them a meaningful gift of CBD to boost their health and well-being. With that in mind, ahead are our top picks that will help the mom in your life look after herself in purposeful, positive, and perhaps unexpected ways. 
CBD For Stress
All mothers experience stress at some point, and working moms can find it especially challenging to juggle their responsibilities. That's why premium CBD makes for an ideal Mother's Day gift. CBD offers a natural solution to alleviate anxiety and sleep problems, helping your mom unwind and relax.
CBD oil has minimal side effects, is non psychoactive (aka won't get you high) and since it's a natural product, it's gentle on the body.
Try our Full-Spectrum and CBD Isolate tinctures. All of our tinctures are made of the highest quality CBD, grown under the Colorado sun by local farmers who ensure a pure product.  Our tinctures are available in several natural flavors including Natural, Peppermint, and Lemon.
Full Spectrum Oil is an oil rich in CBD but also contains levels of other cannabinoids such as CBG, CBN, CBC, and under .3% THC. Perfect for all-around relief.
Isolate CBD is the purest form of CBD available, testing around 99.99% CBD. Our Isolate is made through a 3-step extraction process in order to get the CBD isolated to its purest form.
Go for gold with our highest-potency Gold Buckle tincture. If mom suffers from chronic pain, a more potent product is called for, and our Gold Buckle tincture packs 4000mg of premium CBD into every bottle. We recommend she starts off slowly and build her way up to find the sweet spot of relief she's looking for.
CBD For Aches and Pains
As we grow older, watching our parents age can be challenging. CBD products can offer natural pain relief to make their lives a little easier. Regardless of the lifestyle, pain and inflammation can affect anyone even on their best days.
Whether your mom is an active individual who enjoys running and cycling, or is simply always on the go, our topical CBD products are designed for targeted relief. 
Our best-selling topical CBD rubs, salves and oils are the perfect size to keep them handy wherever their busy lives take them.
For the most potent CBD topical on the market, our award-winning Gold Buckle Muscle and Joint Rub is the clear winner. It has been voted the best topical by Cream Advisor and is of the highest quality and potency, making it the perfect choice for those experiencing pain and inflammation. Pair with our CBD Oil Tinctures for optimal results.
The best CBD Rub/Cream on the market for pain and muscle relief and it is 100% all Natural and handmade, lost range.® CBD Muscle & Joint Rub is our flagship product, crafted to soothe exercise induced body aches, pain, muscle soreness and inflammation. Handcrafted in small batches using a proprietary blend of essential oils and herbs, this aromatic salve uses ingredients such as menthol and camphor to bring immediate relief with a cooling and warming sensation to the skin. 
CBD For Sleep
Mothers think of all the things no one else does—all the little details you'll never notice, that keep their world spinning and our family functioning. So it's no wonder they have time drifting off at night. In fact, according to the National Sleep Foundation, women are approximately 40% more prone to experiencing insomnia symptoms than men.
Even more the reason to give a gift that promotes relaxation and quality sleep.
Unlike prescription sleep medication, CBD doesn't cause sedation. CBD works with your ECS system to slow down the mind and restore balance, allowing your mom to unwind and naturally fall asleep without worrying about any negative side effects.
After a long, hard day, our premium handcrafted CBD Bath Bomb Powder is perfect for a relaxing soak in the tub, which pairs nicely with a glass of wine!
For optimal results, pour desired amount of bath bomb powder into a drawn warm bath and soak for 10+ minutes. This product can also be used for a foot soak or sprinkled on the shower floor for the ultimate luxury showering experience. 
Available in zesty Lemongrass, luxury Lavender (including lavender buds for extra exfoliation), cooling Eucalyptus and refreshing Eucalyptus Peppermint, this daily-use gift demands mom to relax and unwind every morning and/or night.
Our CBD-infused Bath and Body soaps offer a natural lathering experience, leaving your body relaxed, soft and squeaky clean. 
Perfect for busy lifestyles, lost range.® CBD Gummies are packed with 33mg of premium Full-Spectrum CBD in each bite. Containing many cannabinoids beyond CBD (CBG, CBN, CBC), they also contain naturally-occurring terpenes, essential vitamins, fatty acids, and proteins. Full-Spectrum gummies may have a more synergistic effect than pure CBD isolate, which is often referred to as the 'entourage effect'.
These soft and delicious gummies provide a gentle and natural way to get your daily dose of CBD on-the-go and also support healthy sleep at night. They come in two mouthwatering flavors, Cherry and Mandarin Orange, making them a delightful treat day or night. 
Final Thoughts
Still searching for "the one"? We invite you to check out our full range of natural, cruelty-free products here.
At lost range.®, we use only the best CBD in our small-batch products — helping moms experience and enjoy all the benefits that CBD has to offer. 
We strongly believe in the powerful healing potential of our hand-made CBD products, and bear witness to remarkable reviews from our loyal customers. Our mission is to make CBD tinctures, salves, and rubs accessible to all people, all year long. 
We can't wait to hear how your mom loved her health and wellness-themed CBD gifts for Mother's Day. Check out some of our other reviews from other moms across the country here!
---
Disclaimer:
These products are not for use by or sale to persons under the age of 18.
These statements have not been evaluated by the Food and Drug Administration. These products are not intended to diagnose, treat, cure, or prevent any disease. The efficacy of these products has not been confirmed by FDA-approved research. The information presented here is not meant as a substitute for or alternative to information from healthcare practitioners. Please consult your healthcare professional about potential interactions or other possible complications before using any products.
Lost Range assumes no responsibility for the improper use of these products. We recommend consulting with a qualified medical doctor or physician when preparing a treatment plan for any and all diseases or ailments. Lost Range does not make any health claims about our products and recommends consulting with a qualified medical doctor or physician prior to consuming our products or preparing a treatment plan. It is especially important for those who are pregnant, nursing, chronically ill, elderly or under the age of 18 to discuss the use of these products with a physician prior to consuming.  You must be 18 years or older to visit this website and/or purchase Lost Range products. The information on our website is intended to provide general information regarding our products and is not to be construed as medical advice or instruction.
Neither the Company nor its representatives is providing any medical advice, and none should be inferred, from any ideas, suggestions, testimonials or other information set forth on this website or in other Company materials or provided over the phone, in the mail, in product packaging, or in email correspondence. This website may contain links to third-party websites. The Company provides these links as a convenience only and does not endorse any of these sites. The Company is not responsible for the content of, and does not make any representations regarding the materials on, such linked third-party websites. If you decide to access or rely on information at linked third-party website, you do so at our own risk.
Our terms and conditions, including disclaimers, are more fully set forth in our
 

Terms of Use,

 

Privacy Policy

 

and Terms of Online Sales