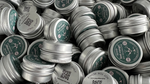 Plastic-free packaging, new bath pouches and higher potency products... there's a lot going on at lost range.® HQ.
We've had a bustling year so far in 2023, and we are excited about our growth in the months to come! Our team has been working tirelessly every day to manufacture and deliver all-natural CBD products of the highest quality and purity on the market. Here's a look at what's coming up. 
New Product Packaging 
lost range.® is constantly working to improve our products and product offerings. Especially when it comes to sustainability. 
Our planet is in critical need of our help and a big time overhaul of our values as a society. We've been targeting single-use plastic as a priority and have already removed plastic from our full size and sample size CBD topical containers.
COMING SOON: We're proud to announce our new Printed Bath Product pouches are made from all-recycled materials, created using only the best quality sustainable materials for a brighter and greener future. 
Massage Oil is Getting a Bump in Milligrams
Also coming soon: Our massage oil is one of our most popular products at lost range.®. Our customers have been raving about its effectiveness and the relief it provides. We are thrilled to announce that we are taking our massage oil to the next level by increasing the CBD milligrams to 250mg per ounce. 
This means that our 12-ounce bottle will now contain 3,000mg of CBD, and our gallon container will contain a whopping 30,000mg of CBD.
This enhancement will provide our customers with a more potent and effective massage oil, enabling them to achieve even better results.
At lost range.® we're always looking for ways to improve our products, and this is just one example of how we listen to our customers' feedback and continuously strive to enhance their experience with our products.
Future Dates To Remember
lost range.® will be mobile this summer and you can find us at an event near you. So make sure to put a reminder on your calendars to stay updated  throughout the spring and summer of 2023!
May 2023: TheGrint Tour Golf Tournament
Our commitment to excellence and passion for golf align perfectly with the values of TheGrint Tour. 
TheGrint Tour was created to fulfill the need of having an amateur golf tour that satisfies the high expectations of the golfing community. This tournament is focused on cultivating a community of golfers at all levels. 
lost range.® are thrilled to be sponsoring this fun golfing event at every Denver tournament. 
Check out the tour Denver dates through September here.
June 2023: Steamboat Springs Farmers Market
Come say hi to our awesome crew from June 10, 2023 - September 23, 2023, 9am to 2pm where we'll be serving up our small batch lost range.® CBD products and plenty of other goodies all summer long! 
The Main Street Steamboat Farmers Market is located on Yampa Street between 5th and 8th streets and is held every Saturday.
Staying Up To Date
If you're new to CBD, you know researching to find the best products for you is overwhelming. Our blog section has an extensive range of CBD topics, all designed to aid you in discovering the best CBD products for your individual needs.
Whether you want guidance on dosage, application, or product selection, our blogs offer a wealth of information that will help you make informed decisions on your CBD journey.
What's more, our social media channels also offer valuable insights, promotions, and much more. By following us on Facebook, Instagram, Twitter, Pinterest and LinkedIn, you can stay updated with the latest product launches, news and events throughout the year.
Last Thoughts
At lost range.®, our team is constantly working hard to provide our customers with the highest quality and variety of premium CBD products. Our mission is simple: we sincerely hope that our handmade CBD products will help you become the best 'you' possible.
If you're interested in learning more about our products, see here.
For more information, contact us today.
---
Disclaimer:
These products are not for use by or sale to persons under the age of 18.
These statements have not been evaluated by the Food and Drug Administration. These products are not intended to diagnose, treat, cure, or prevent any disease. The efficacy of these products has not been confirmed by FDA-approved research. The information presented here is not meant as a substitute for or alternative to information from healthcare practitioners. Please consult your healthcare professional about potential interactions or other possible complications before using any products.
Lost Range assumes no responsibility for the improper use of these products. We recommend consulting with a qualified medical doctor or physician when preparing a treatment plan for any and all diseases or ailments. Lost Range does not make any health claims about our products and recommends consulting with a qualified medical doctor or physician prior to consuming our products or preparing a treatment plan. It is especially important for those who are pregnant, nursing, chronically ill, elderly or under the age of 18 to discuss the use of these products with a physician prior to consuming.  You must be 18 years or older to visit this website and/or purchase Lost Range products. The information on our website is intended to provide general information regarding our products and is not to be construed as medical advice or instruction.
Neither the Company nor its representatives is providing any medical advice, and none should be inferred, from any ideas, suggestions, testimonials or other information set forth on this website or in other Company materials or provided over the phone, in the mail, in product packaging, or in email correspondence. This website may contain links to third-party websites. The Company provides these links as a convenience only and does not endorse any of these sites. The Company is not responsible for the content of, and does not make any representations regarding the materials on, such linked third-party websites. If you decide to access or rely on information at linked third-party website, you do so at our own risk.
Our terms and conditions, including disclaimers, are more fully set forth in our
 

Terms of Use,

 

Privacy Policy

 

and Terms of Online Sales