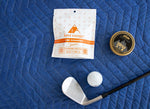 Right off the back of another nail-biting Masters Week, today we celebrate National Golfer's Day.  If Bubba Watson, Lucas Glover and Scott Piercy all state they've used CBD to improve their game, perhaps you can, too. 
As the popularity of CBD grows, more athletes are turning to this natural remedy for its potential therapeutic effects. 
Since the World Anti-Doping Agency removed CBD from its banned substance list in 2018, the PGA Tour Anti-Doping organization does not list CBD as a prohibited substance for players. In fact, it might even help your golf game.
Greg Norman, Bubba Watson and Lucas Glover have all openly revealed they regularly use CBD oil to take their game to the next level. Tiger Woods and Phil Mickelson have also reportedly used CBD oil during the 2019 Masters.
PGA Tour Champions player Scott McCarron has stated "...hemp oil helps my mind stay focused and my body recover, so I can always play my best," he continues " "Most people don't realize the incredible level of mental stress and anxiety that comes with pro golf. In order to continue playing and performing at the highest level, I need to take care of the one body I have."
This National Golfers Day, now is the perfect time to explore the potential of CBD for your golf game. So, can CBD positively affect your golf game? Let's take a closer look.
What is CBD and What Does It Do
CBD is a natural compound found in hemp plants that are extracted and used to create various products, including oils, edibles, and salves. The effects of CBD can vary among individuals, and trying out different products can help find the best one for you.
From anxiety relief to inflammation aid, the CBD experience varies significantly from user to user - so experimenting with a different range of products can help you find the best product for you. While CBD product makers can't promote any particular benefits, common anecdotal feedback includes the following:
Anti-inflammatory properties (i.e., reduced soreness or swelling)

Reduced anxiety (a feeling of calmness on the golf course)

Improved sleep for better/quicker recovery

Increased overall wellness and balance
At lost range.®,  we are committed to making high-quality CBD tinctures, salves, and rubs accessible to all, and all of our products contain less than 0.3% THC, perfect for ammeter and scratch golfers alike.
CBD + Golf, The Perfect Match
Regular golfers often experience aches and pains associated with the sport. To address this, incorporating CBD topical creams and ointments into your daily routine can be an effective solution.
CBD is great for golfers who want a stress free round, too. Known for keeping the body's nervous system balanced, CBD could be exactly what you need to help you on your way to shooting par time and time again.
When to Take CBD
Before Your Game: For golfers, nervousness and anxiety can hit before you've even stepped foot out the house. Support your central nervous system and put your ball on the tee with confidence with a few drops of premium CBD oil under the tongue before you leave.
During your Round: Fighting in-round fatigue and inflammation will allow you to have more energy to play longer. Bring your discreet high-potency CBD Gummies and pop a couple mid-round as a tasty and convenient way to reap the benefits of CBD as you play.
Post-game: Battling pain has become extremely important when it comes to overall health and wellness. And we all know the physical toll 18 holes can take on the body. Try rubbing a small amount of high-potency CBD Muscle & Joint Rub to affected areas for fast relief.
Enhanced Concentration
If you're seeking a way to enhance your focus and concentration on the golf course, you're not alone. Maintaining mental fortitude and blocking out distractions is critical to playing at your best. Golf demands meticulous planning and unwavering attention for every shot. 
While it may not eliminate distractions, research suggests CBD has the potential to heighten your focus to the extent that you can stay in the moment more effectively. If you'd like to give CBD a try, check out our products below!
lost range.® CBD Products For Golfers
CBD Gummies
Get your daily dose of our premium Full-Spectrum CBD in a delicious gummy! Perfect for on-the-go relief, each lost range.® gummy is packed with 33mg of premium Full-Spectrum CBD which contains many cannabinoids beyond CBD. They also boast naturally-occurring terpenes, essential vitamins, fatty acids, and proteins. Full-Spectrum gummies may have a more synergistic effect than pure CBD isolate, which is often referred to as the 'entourage effect'. Perfect for fine tuning your focus at the range or on the course.
Gold Buckle® CBD Muscle & Joint Rub
Our highly acclaimed Gold Buckle® CBD Muscle & Joint Rub is designed to ease exercise-induced body aches, pains, muscle soreness, and inflammation. This magnificent salve contains four times the CBD content of our original formula, making it an ideal choice for golfers seeking relief from their symptoms.
Recognized as America's #1 CBD cream by CBD Cream Advisor, our 4000mg Gold Buckle Muscle & Joint Rub is carefully handcrafted in small batches and is entirely free of THC. To use our highly effective CBD Muscle & Joint Rub, gently massage a thin layer onto any areas experiencing pain or inflammation.
Gold Buckle® Full Spectrum CBD Tincture 
For optimal relief, pair our 4000mg lost range® Gold Buckle® Tincture with our Gold Buckle CBD Muscle and Joint Rub. This top-of-the-line tincture is formulated with our highest-potency Full-Spectrum CBD. This product is THC-compliant with a content of less than 0.3%. 
If you're interested in our line of handcrafted CBD products, see here.
Final Thoughts
Golf is your time and place to escape, compete and have fun. Not a place where you feel anxious, in pain or bad about your performance. 
Our products are crafted using high-quality, all-natural ingredients that are free from harmful chemicals. By choosing lost range.®, you can trust that you're getting a safe and effective solution to help support your active lifestyle.
If you have any questions or would like to learn more about our brand and products, our dedicated team is always here to assist you. Don't let muscle soreness and anxiety hold you back from playing your best game – try lost range® CBD today and feel the difference.
Contact us today to learn more.
---
Disclaimer:
These products are not for use by or sale to persons under the age of 18.
These statements have not been evaluated by the Food and Drug Administration. These products are not intended to diagnose, treat, cure, or prevent any disease. The efficacy of these products has not been confirmed by FDA-approved research. The information presented here is not meant as a substitute for or alternative to information from healthcare practitioners. Please consult your healthcare professional about potential interactions or other possible complications before using any products.
Lost Range assumes no responsibility for the improper use of these products. We recommend consulting with a qualified medical doctor or physician when preparing a treatment plan for any and all diseases or ailments. Lost Range does not make any health claims about our products and recommends consulting with a qualified medical doctor or physician prior to consuming our products or preparing a treatment plan. It is especially important for those who are pregnant, nursing, chronically ill, elderly or under the age of 18 to discuss the use of these products with a physician prior to consuming.  You must be 18 years or older to visit this website and/or purchase Lost Range products. The information on our website is intended to provide general information regarding our products and is not to be construed as medical advice or instruction.
Neither the Company nor its representatives is providing any medical advice, and none should be inferred, from any ideas, suggestions, testimonials or other information set forth on this website or in other Company materials or provided over the phone, in the mail, in product packaging, or in email correspondence. This website may contain links to third-party websites. The Company provides these links as a convenience only and does not endorse any of these sites. The Company is not responsible for the content of, and does not make any representations regarding the materials on, such linked third-party websites. If you decide to access or rely on information at linked third-party website, you do so at our own risk.
Our terms and conditions, including disclaimers, are more fully set forth in our Terms of Use, Privacy Policy and Terms of Online Sales