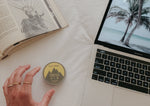 The beginning of a new year is a great time to make healthy lifestyle changes, give up bad habits, and improve your well-being. Here's why CBD should be in your 2023 New Year's Resolutions.
Found in the Cannabis sativa plant, cannabidiol, CBD for short, is a chemical compound that has long been associated with many applications. While CBD can be extracted from cannabis plant cousins hemp or marijuana, CBD does not contain the psychoactive chemical known as tetrahydrocannabinol (THC), so it's not a drug for 'getting high' as some may mistakenly believe. Instead, people use CBD for a wide range of other benefits.
There have been several positive outcomes from research that has been conducted thus far, including findings that reveal the benefits that CBD can have for you both physically and mentally.
The best part? CBD is now available in a number of forms including tinctures, salves, bath products, and even induced in honey. Let's dive deeper into why CBD can be greatly beneficial for you in 2023.
Your Fitness Plan
Rest and recovery is an essential part of any workout routine. Your after-exercise recovery routine has a big impact on your fitness gains and sports performance and allows you to train much more effectively. Start the year off with being more mindful of what you put in your body and make sure you are getting enough rest.
For sore muscles and inflammation, topical CBD is more localized and is used to help relieve issues associated with normal daily exercise and activity. Since it's a more direct form of application, it may have a more pronounced effect.
After you've gone for a run or lifted some weights, your body is telling you that it needs time to recover. Research has shown people who use CBD after exercise have benefitted from relief for muscle and joint discomfort, and therefore better quality sleep.
Improve Sleep
Do you have trouble falling asleep? Or are you struggling to stay asleep?
The Sleep Foundation suggests that the average adult needs between 6-9 hours of sleep a night. Eight hours of sleep per night is the most optimal for adults. It's important to get an uninterrupted, restful night's sleep because it keeps your immune system strong and in shape to react to life's stresses.
If you are one of the millions of Americans who struggle to switch off at night, try our most popular 2000mg Full Spectrum Tincture 20 mins before bedtime. 
lost range.® Full-Spectrum CBD Tincture is sourced from Colorado grown hemp and contains many cannabinoids beyond CBD including naturally-occurring terpenes, essential vitamins, fatty acids, and proteins.
Save Money
Always near the top of anyone's resolutions list is saving money. We've all blown New Year's resolutions before. But as you reflect on your life over the last year and how you want to improve your personal finances over the next, focus on ideas that help you save money, build wealth faster, live healthier, and design your perfect life.
If you're looking to save on your health and wellness routine in 2023, start with shopping for the best value CBD on the market. At lost range.®,  we're proud to say our high potency CBD products are 20-30% lower in price compared to other potency comparables on the market—which makes for the perfect concentration to use in order to give you the best results for your money. 
lost range.®

Products to Try in 2023

High Potency Gold Buckle™ Line
If you haven't done so yet, give our Gold Buckle® line of products a try! Containing 4000mg of premium sourced and organically farmed CBD, it's our most potent CBD salve and tincture yet.
Our Gold Buckle Muscle & Joint Rub is made with a proprietary blend of essential oils and herbs to help help maintain optimal physical health and help relieve issues associated with exercise..
This salve is derived from our original lost range.® CBD Muscle & Joint Rub recipe and enhanced with four times the amount of CBD to make it one of the most powerful topicals on the market today. 
Shop CBD Muscle & Joint Rub (2000-4000mg)
Shop Gold Buckle® Full Spectrum CBD Tincture (4000 mg)
 CBD Gummies
If you're looking for a convenient and tasty way to get your daily dose of premium and high-potency CBD, our gummies are for you.
Our gummies come in two delicious flavors, cherry and mandarin. Start with 1 gummy daily. Work your way up to 1-2 gummies as part of a daily regimen to help maintain normal emotional balance and a sense of relaxation. Take 1-2 gummies one hour before bedtime. For best results, incorporate lost range.® CBD Gummies into your daily regimen for 30-45 days.
CBD Honey
With the new year comes sickness. We're being hit left, right and center with new emerging viruses and many love the soothing and medicinal effects of our Whipped CBD Honey.
lost range.® partnered with our local Beekeeper in Steamboat Springs, CO to obtain the finest quality honey. Each batch of lost range.® Whipped CBD Honey is infused with our Full-Spectrum CBD oil and whipped to give it a light, creamy and delicious consistency. Our CBD Honey has the same great effects as our Full-Spectrum Tinctures - with the added benefits of premium honey and phytonutrients. 
Shop 1000mg CBD Honey
Last Thoughts
If you're looking to add CBD to your New Year's Resolutions, make sure to try out lost range.®. As always, it's important to keep in mind that CBD affects everyone differently, especially if you're new to CBD products. At lost range.® all of our products contain less than 0.3% of THC.
If you're looking to give CBD a try, take a look at our premium CBD products here today.
---
These products are not for use by or sale to persons under the age of 18.
These statements have not been evaluated by the Food and Drug Administration. These products are not intended to diagnose, treat, cure, or prevent any disease. The efficacy of these products has not been confirmed by FDA-approved research. The information presented here is not meant as a substitute for or alternative to information from healthcare practitioners. Please consult your healthcare professional about potential interactions or other possible complications before using any products.
lost range.® assumes no responsibility for the improper use of these products. We recommend consulting with a qualified medical doctor or physician when preparing a treatment plan for any and all diseases or ailments. lost range.® does not make any health claims about our products and recommends consulting with a qualified medical doctor or physician prior to consuming our products or preparing a treatment plan. It is especially important for those who are pregnant, nursing, chronically ill, elderly or under the age of 18 to discuss the use of these products with a physician prior to consuming. You must be 18 years or older to visit this website and/or purchase lost range.® products. The information on our website is intended to provide general information regarding our products and is not to be construed as medical advice or instruction.
Neither the Company nor its representatives is providing any medical advice, and none should be inferred, from any ideas, suggestions, testimonials or other information set forth on this website or in other Company materials or provided over the phone, in the mail, in product packaging, or in email correspondence. This website may contain links to third-party websites. The Company provides these links as a convenience only and does not endorse any of these sites. The Company is not responsible for the content of, and does not make any representations regarding the materials on, such linked third-party websites. If you decide to access or rely on information at linked third-party website, you do so at our own risk.
Our terms and conditions, including disclaimers, are more fully set forth in our
 

Terms of Use,

 

Privacy Policy

 

and Terms of Online Sales