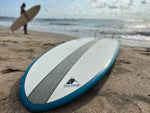 Surfing attracts water sports enthusiasts and adventure seekers from around the globe. Whether you're just learning the bottom turn or carving the waves with lost range®, you'll be swelling with natural relief.
Yo, dude, bro, broski . . . rad barrels out there! From the mighty crash of waves to the exhilarating sensation of gliding across the water's surface, surfing offers a perfect combination of adrenaline and communion with nature.
This blog delves into the captivating world of surfing and how CBD can help before and after hitting the water. Here's what you need to know.
Why Athletes Choose CBD For Water Sports
Surfing and swimming are physically demanding activities that require strength, endurance, and focus. The workout you get through surfing builds up heart strength through paddling, standing on the board, and working your core muscles.
Athletes participating in these water sports constantly seek ways to optimize their performance and enhance their overall experience. In recent years, CBD has gained popularity as a supplement among surfers and swimmers, offering potential benefits to their well-being both in and out of the water.
CBD's ability to help alleviate inflammation and potentially reduce muscle soreness is one of its critical advantages for water sports enthusiasts. Hours spent battling waves and currents can take a toll on the body, resulting in post-activity discomfort. By leveraging CBD's anti-inflammatory properties, athletes can effectively reduce inflammation caused by intense physical exertion, leading to more efficient recovery and a quicker return to the water.
In addition, CBD is recognized for its potential to promote relaxation and reduce anxiety. The calming effects of CBD can be precious for individuals engaging in water sports, where they face the ocean's unpredictable and sometimes challenging nature. By lowering anxiety levels, CBD enhances focus, enabling athletes to navigate the waves with greater clarity and composure during their sessions.
It's important to note that CBD affects individuals differently, and selecting high-quality CBD products from reputable sources is essential. Athletes should consult with their healthcare professionals before incorporating CBD into their routine, mainly if they use other medications or have specific health considerations. With the right approach, CBD can become a valuable tool for enhancing the performance and well-being of water sports athletes.
Hydrate, Hydrate, Hydrate
CBD aside, swimming and surfing may not make you feel as sweaty as other activities, but it causes significant fluid loss. Therefore, staying hydrated is crucial to optimize your swim sessions and prevent dehydration. Water is vital in transporting red blood cells, supporting muscle growth, and aiding recovery.
Hydration is vital in maintaining metabolic efficiency. When your body is adequately hydrated, it functions optimally. However, dehydration can lead to various issues, including cramping, early-onset fatigue, slower lap times, and an increased risk of injury.
While the general recommendation for adults is 2 to 4 liters of water daily, swimmers need to replenish even more fluids due to the water's unique demands. To support your swimming workout, aim to consume at least 16 fluid ounces (473 ml) of water within 2 hours before your session. Afterward, during the recovery phase, continue replenishing those fluids to ensure proper hydration.
Remember, each individual's hydration needs may vary, so listening to your body and adjusting is essential. Make hydration a priority to enhance your swim performance and maximize your time in the water.
Unlocking the Power of Quality Sleep with CBD
Rest and recovery play pivotal roles in any athletic performance, so quality sleep is crucial for the body to repair and rejuvenate itself.
The metabolic rebuilding phase is the foundation for improved performance, and sleep is the most effective way to supercharge this process. Insufficient sleep can give rise to various issues that can adversely affect swimming performance, including:
Reduction in glucose metabolism

Elevation of cortisol levels

Impairment of tissue repair and growth

Compromised immune function

Decreased protein breakdown

Suppression of growth hormone release
It is important to recognize that each individual has unique recovery needs. Some people require seven hours of sleep, while others need nine to rejuvenate fully. Maintaining a sleep journal, tracking sleep hours, and assessing daily performance and well-being can help determine the optimal sleep duration for personal recovery needs.
Must-Try CBD Products for Surfers and Water Sports Athletes
lost range.® offers a diverse range of must-try CBD products for surfers and water sports enthusiasts...
CBD Topicals and Rubs: Our CBD Topicals and Rubs can be applied directly to the skin and provide targeted relief to specific areas of soreness or inflammation. CBD-infused balms, creams, and salves can be beneficial in soothing muscle aches, reducing swelling, and promoting recovery after a rigorous water sports session.
CBD Tinctures/Oils: Our CBD Tinctures are absorbed quickly and offer a convenient way to incorporate CBD into your routine. Consider using CBD tinctures before bedtime to enhance recovery during the night.
Pair our 2000mg lost range® CBD Tincture with our flagship Muscle and Joint Rub for optimal relief. This top-of-the-line tincture is formulated with our highest-potency Full-Spectrum CBD. This product is THC-compliant with a content of less than 0.3%. 
CBD Edibles: Our CBD-infused gummies offer a tasty and discreet way to consume CBD on the go—each lost range.® gummy is packed with 33mg of premium Full-Spectrum CBD which contains many cannabinoids beyond CBD.
They also boast naturally-occurring terpenes, essential vitamins, fatty acids, and proteins. Full-Spectrum gummies may have a more synergistic effect than pure CBD isolate, often called the 'entourage effect.' Perfect for fine-tuning your focus on and off the water.
Choosing quality CBD products is essential to ensure safety and effectiveness. Start with a lower CBD dosage and gradually increase it. Consult a healthcare professional to determine the best CBD regimen for your needs. See here if you're interested in our handcrafted CBD products.
Final Thoughts
Whether you're seeking relief from a specific condition or aiming to maintain optimal balance in your body, our commitment to quality ensures that you receive the best CBD experience possible. Our small-batch CBD products are crafted using only the finest CBD, allowing our customers to enjoy all the benefits CBD offers.
With a seed-to-sale guarantee, our final products are meticulously produced in the beautiful mountains of Steamboat Springs, Colorado. Each product undergoes rigorous third-party lab testing, guaranteeing your CBD is natural, clean, and pure. We take pride in creating our products with care and love, ensuring you receive the highest quality CBD for your needs.
Whether you're an avid daily surfer or a weekend wanderer, contact us today to embark on your CBD wellness experience.
---
Disclaimer:
These products are not for use by or sale to persons under the age of 18.
These statements have not been evaluated by the Food and Drug Administration. These products are not intended to diagnose, treat, cure, or prevent any disease. The efficacy of these products has not been confirmed by FDA-approved research. The information presented here is not meant as a substitute for or alternative to information from healthcare practitioners. Please consult your healthcare professional about potential interactions or other possible complications before using any products.
Lost Range assumes no responsibility for the improper use of these products. We recommend consulting with a qualified medical doctor or physician when preparing a treatment plan for any and all diseases or ailments. Lost Range does not make any health claims about our products and recommends consulting with a qualified medical doctor or physician prior to consuming our products or preparing a treatment plan. It is especially important for those who are pregnant, nursing, chronically ill, elderly or under the age of 18 to discuss the use of these products with a physician prior to consuming.  You must be 18 years or older to visit this website and/or purchase Lost Range products. The information on our website is intended to provide general information regarding our products and is not to be construed as medical advice or instruction.
Neither the Company nor its representatives is providing any medical advice, and none should be inferred, from any ideas, suggestions, testimonials or other information set forth on this website or in other Company materials or provided over the phone, in the mail, in product packaging, or in email correspondence. This website may contain links to third-party websites. The Company provides these links as a convenience only and does not endorse any of these sites. The Company is not responsible for the content of, and does not make any representations regarding the materials on, such linked third-party websites. If you decide to access or rely on information at linked third-party website, you do so at our own risk.
Our terms and conditions, including disclaimers, are more fully set forth in our Terms of Use, Privacy Policy and Terms of Online Sales