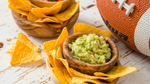 Who's having a Super Bowl LVII party!? When your eats are touchdown-worthy, you're guaranteed to score big with your party guests. Here's how CBD can bring some winning vibes to gameday. 
Super Bowl Sunday is just days away and it's time to start planning your game day festivities! While there's no shortage of food, drinks, and fun, have you thought about incorporating CBD into your plans? 
What is CBD?
CBD, or cannabidiol, is a non-psychoactive compound found in hemp plants and has been making waves in the health and wellness industry. 
Humans naturally produce endocannabinoids that interact with cell receptors throughout our bodies. Our endocannabinoid system (ECS) is involved in many physiological functions, including pain, sleep, inflammation, memory, digestion, immune functions, and neuroprotection. When CBD is introduced to the body, it interacts with the ECS, but does not bind directly to the system's main receptors. As a result, CBD is not known to cause the intoxicating, euphoric effects that THC does; in fact, it may help reduce these effects.
The decades-long criminalization of all forms of cannabis delayed extensive research into the full effects of cannabinoids within the body, but scientists are now highly engaged in the type of clinical trials necessary to formalize the anecdotal evidence and theoretical science that indicates CBD's effectiveness.
So why not add a little CBD to your game day plans and see what all the buzz is about? 
Whether you're hosting the pregame or planning a small gathering, these recipes are sure to leave you and your company with a relaxing buzz. Continue reading below to learn more!
Pre-Game CBD Jello-Shots
(CLICK IMAGE TO DOWNLOAD RECIPE CARD)
Who called for shots? Indulge in these scrumptious, delightful gummy jello shots. A must-have for game day with your friends! Mix it up with our wide selection of lost range® CBD Gummies, the ideal way to enjoy CBD on gameday.
Ingredients
6 (2 oz) plastic shot cups with lids

1/2 (3 oz) box powdered gelatin of your liking (cherry or orange flavored)

1/2 cup boiling water

1/2 cup vodka (if preferred)
Directions
Place the plastic shot cups on a large baking sheet (without the lids on, so you can fill them easier later on). 

Add about 1-2 of our

 lost range.®  CBD gummies

to each cup, before setting it aside.

Pour the ½ box of the flavored gelatin into a mixing bowl. 

Take the ½ cup of boiling water and add it to the gelatin mix, whisking it until the gelatin has fully dissolved. 

Once it's fully dissolved, you'll add ½ cup of cold vodka and mix it thoroughly.(skip this part if you prefer not to add alcohol).

Once mixed, fill up the plastic shot cups but leave a bit of room to add gummies.

Once the shot cups are filled, you'll place the baking sheet with the filled jello cups into the fridge and chill them for about 2 hours. Enjoy responsibly!
CBD Honey BBQ Wings
(CLICK IMAGE TO DOWNLOAD RECIPE CARD)
These wings offer a unique and tantalizing experience for taste buds, combining the sweetness of honey with the classic taste of barbecue sauce and a touch of heat from hot sauce. The addition of CBD adds a twist to traditional BBQ wings. Making for an unforgettable appetizer for your guests to enjoy. 
Ingredients
2 pounds chicken wings

2 tablespoons sunflower oil, or any other oil

1 tablespoon baking powder

1 tablespoon garlic powder

1 tablespoon onion powder

Salt & pepper

1/4 cup butter 

1 cup barbecue sauce

1 ½ tablespoons ketchup

3 tablespoons hot sauce

1 teaspoon garlic powder
Directions
Preheat the oven to 350 F.

Place the wings in a large mixing bowl. Add the oil, baking powder, garlic powder, onion powder, salt and pepper. Coat the wings well.

Place the wings skin side up on the cookie sheet. Bake in the oven for 10 minutes.

Turn the oven up to 420F. Bake for an additional 10 minutes. The wings are ready when they are golden brown and the skin is crispy.

While the wings are baking, melt the butter over low heat in a saucepan.

Add the barbecue sauce, honey, ketchup, hot sauce, and garlic powder and mix well.

Toss the baked wings in the BBQ sauce and serve with celery.
CBD Guacamole 
(CLICK IMAGE TO DOWNLOAD RECIPE CARD)
This guac recipe is fresh, simple, and it's infused with CBD. This appetizer is ideal for any gathering, but it's bound to go fast. Consider making extra batches, just in case. It's important to select the desired strength CBD oil for this recipe. Fortunately, lost range.® offers a wide variety to choose from! However, for this recipe our Isolate tinctures may be the best option due its neutral flavor.
Ingredients
3 ripe Haas avocados

1-1/2 tablespoons fresh lime juice (more if needed)

1 large plum or Roma tomato, seeded and diced

1/4 cup cilantro leaves and tender stems, chopped

1 garlic clove

1/2 teaspoon salt (or more, to taste)

1 to 2 teaspoons minced jalapeño or Serrano pepper, with seeds and membrane removed (leave the membrane and seeds if you prefer lots of heat)
Instructions
Cut avocados in half lengthwise and remove pits. Scoop out flesh and add to the bowl.

Add lime juice. Mash with fork until creamy but still chunky.

On a cutting board, crush garlic clove with salt to make a paste. (Use a flat part of a knife, or just chop salted garlic.)

Fold in CBD, incorporating evenly.

Add tomato, cilantro, garlic/salt and diced peppers.

Adjust to taste with additional salt, peppers and/or lime juice.

Serve immediately, or lay plastic wrap directly on guacamole and refrigerate up to one day.
Final Thoughts
We hope our recipes ignite your creativity to incorporate CBD into your Super Bowl Sunday plans. Don't forget to share your creations on social media and tag us!  In addition to these signature recipes, check out our products here.
Need more information on our offerings? Get in touch with us today!
---
These products are not for use by or sale to persons under the age of 18.
These statements have not been evaluated by the Food and Drug Administration. These products are not intended to diagnose, treat, cure, or prevent any disease. The efficacy of these products has not been confirmed by FDA-approved research. The information presented here is not meant as a substitute for or alternative to information from healthcare practitioners. Please consult your healthcare professional about potential interactions or other possible complications before using any products.
lost range.® assumes no responsibility for the improper use of these products. We recommend consulting with a qualified medical doctor or physician when preparing a treatment plan for any and all diseases or ailments. lost range.® does not make any health claims about our products and recommends consulting with a qualified medical doctor or physician prior to consuming our products or preparing a treatment plan. It is especially important for those who are pregnant, nursing, chronically ill, elderly or under the age of 18 to discuss the use of these products with a physician prior to consuming. You must be 18 years or older to visit this website and/or purchase lost range.® products. The information on our website is intended to provide general information regarding our products and is not to be construed as medical advice or instruction.
Neither the Company nor its representatives is providing any medical advice, and none should be inferred, from any ideas, suggestions, testimonials or other information set forth on this website or in other Company materials or provided over the phone, in the mail, in product packaging, or in email correspondence. This website may contain links to third-party websites. The Company provides these links as a convenience only and does not endorse any of these sites. The Company is not responsible for the content of, and does not make any representations regarding the materials on, such linked third-party websites. If you decide to access or rely on information at linked third-party website, you do so at our own risk.
Our terms and conditions, including disclaimers, are more fully set forth in our Terms of Use, Privacy Policy and Terms of Online Sales