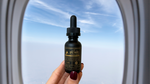 Whether by car, train, or plane, if you're on the move this holiday season, ensure you understand the rules and regulations of traveling with CBD. 
'Tis the season! Millions of people take the highways and skyways for holiday travel. And what better way to spread holiday cheer than with your trusty travel companion, CBD? But if you plan on journeying cross-state or even internationally this winter, it's vital to understand the dos and don'ts surrounding traveling with CBD.
Whether you're a seasoned CBD enthusiast or someone curious about its potential, this guide is your ticket to a more relaxed, enjoyable, and harmonious holiday season - the right (and regulated) way.
Why Travel with CBD?
From festive (or frantic) family gatherings to winter wonderland explorations, CBD can help make your travel venture a smooth one this season:
Stress Reduction:
Traveling during the holidays can be anxiety-inducing, with crowded airports, traffic jams, and the pressure of gift-giving. CBD is known for its potential to
reduce stress and anxiety
, helping you stay calm during the chaos.
Improved Sleep:

Many people struggle with sleep disruptions during travel, especially when adjusting to different time zones.

CBD may help regulate sleep patterns

and improve the quality of your rest, ensuring you're well-rested for holiday festivities.
Pain Relief:

Long flights or car rides can lead to discomfort and muscle tension.

CBD's anti-inflammatory properties

can help alleviate pain, making your journey more comfortable.
Mood Regulation:

The holidays are a time for joy, but they can also be emotionally challenging for some.

CBD may positively impact mood

and overall well-being, helping you maintain a cheerful spirit throughout your travels.
Mile High Regulations
Whether you're heading to a snowy mountain retreat or embarking on a cross-country family visit, CBD can be a reliable companion for your journey. However, ensuring a stress-free experience requires a bit of planning and knowledge.
While many places around the world consider cannabis an illicit substance, CBD is legal in most countries. However, because CBD is extracted from the cannabis plant — and there are more than one species in this family — its legality isn't unconditional everywhere.
What You Need to Know About Flights within the U.S. with CBD
According to current regulations, flying with CBD is permitted in the U.S. as long as the CBD is hemp-derived and contains less than 0.3% CBD, which is the legal requirement according to the 2018 Farm Bill. If taken as a carry-on item (not checked luggage), in line with TSA rules, all liquids must be less than  3.4 ounces (100 milliliters) or less per item.
What You Need to Know About International Flights with CBD
International rules and regulations on CBD are less clear, so if you're looking to travel abroad with CBD oil, you'll need to research the laws of the country you're traveling to.
Below, mydosage.com lists the countries that have legalized hemp-derived CBD products. While it's important to look into the laws of each country due to different regulations pertaining the amount of THC permitted to carry, the following countries are safe for traveling with CBD:
Argentina
Austria
Belgium
Belize
Bulgaria
Canada
Chile
China
Colombia
Costa Rica
Croatia
Cyprus
Czech Republic
Denmark
Estonia
Finland
France
Georgia
Germany
Greece
Guam
Guatemala
Hong Kong
Hungary
Iceland
India
Ireland
Italy
Latvia
Lithuania
Luxembourg
Malta
Netherlands
Antilles
Norway
Peru
Poland
Portugal
Puerto Rico
Romania
Russia
Slovakia
However, professionals strongly advise on the side of caution and leave products with any cannabinoids (including hemp-derived oils) at home, especially because some countries have much stricter drug laws.
What About Cruises?
Some cruise lines ban CBD oil altogether, so it's best to contact the cruise line directly if you need to travel with CBD oil on your cruise. An important thing to remember is that there are security scanners as you board a cruise ship, so there's no hiding CBD products.
Additional CBD Travel Tips
Check Local Laws:

Research the CBD laws at your travel destination and any states or countries you'll be passing through. Laws can vary, so ensure your CBD is legal in those areas.
Pack Securely:

To prevent leakage, place your CBD products in a sealed, leak-proof bag or container. Keeping them in their original packaging can also be helpful.
Know TSA Guidelines:

The Transportation Security Administration (TSA)

permits hemp-derived CBD

on domestic flights within the United States. Keep your CBD in your carry-on bag, and have the CoA on hand for potential inspections. 
Only Bring What's Necessary:

While it's crucial to have enough CBD for your trip, avoid carrying excessive amounts, as it might raise suspicion. Stick to a reasonable supply for your holiday stay.
Be Informed and Transparent:

If questioned by law enforcement or security personnel, stay calm and be ready to explain CBD's legality under federal law. Having the CoA handy can be valuable in such situations.
Choose Reputable Products:

Opt for high-quality CBD products from

trusted brands

. Look for a Certificate of Analysis (CoA) from an independent lab to verify the product's cannabinoid content, including THC levels.
Looking for Travel-Sized CBD Products?
At lost range.® we carry all-natural, high-potency, and quality CBD products, in an array of sizes.
Some go-to products our customers love to bring on their travel adventures include:
Final Thoughts 
As you prepare for your holiday travels, remember that CBD can be a trusty sidekick, helping you navigate the bustling airports, long road trips, and the occasional family gatherings with a sense of serenity. But be sure to take a few steps before bringing it along.
Always purchase CBD from a reputable brand that clearly indicates the amount of THC present to avoid issues while traveling. Have the product's COA on hand to show TSA workers who might ask about your CBD.
Also, check state and country cannabis and CBD laws before taking CBD with you on your next trip. 
Safe travels and happy holidays from lost range.® CBD!
---
More on lost range.®
At lost range.® we place immense importance on each phase of our production process, recognizing that our stringent processes elevate the end product for our consumers
Handcrafted in Small Batches: Our premium CBD products are made by hand, in small batches, in Steamboat Springs, Colorado to ensure the finest craftsmanship and allow for a consistent product made with care and love from us to you.
High Potency: Unlike most CBD products you'll find on the market today, we only offer upper-end potency and high-quality ingredients, allowing our customers to receive all of the positive benefits premium CBD has to offer.
Cruelty-Free: Our commitment to animal welfare means that we will never, EVER test on animals, and only source ingredients that the supplier can document are completely cruelty-free.
3rd-Party Tested: Our products receive independent third-party lab testing to identify the potency, and use of pesticides, microbes, and heavy metals, ensuring product consistency and providing total transparency to our customers. Our testing meets and exceeds both state and federal testing protocols.
All-Natural: We use all-natural and hand-selected ingredients in our CBD products, ensuring that each and every product is free of chemicals and parabens.
Sustainable: Our CBD oil is made from industrial hemp using certified organic practices in the surrounding area of Hotchkiss, Colorado. These hemp farms, each of them smaller than 100 acres, are family-owned and operated using sustainable and organic methods. This smaller-scale farming ensures high-quality hemp production without compromising the integrity of the soil or environment as a whole. lost range.® is committed to minimizing our footprint by continually seeking environmentally friendly practices and materials.
Explore our wide range of CBD product options.
---
Disclaimer:
These products are not for use by or sale to persons under the age of 18.
These statements have not been evaluated by the Food and Drug Administration. These products are not intended to diagnose, treat, cure, or prevent any disease. The efficacy of these products has not been confirmed by FDA-approved research. The information presented here is not meant as a substitute for or alternative to information from healthcare practitioners. Please consult your healthcare professional about potential interactions or other possible complications before using any products.
lost range.® assumes no responsibility for the improper use of these products. We recommend consulting with a qualified medical doctor or physician when preparing a treatment plan for any and all diseases or ailments. lost range.® does not make any health claims about our products and recommends consulting with a qualified medical doctor or physician prior to consuming our products or preparing a treatment plan. It is especially important for those who are pregnant, nursing, chronically ill, elderly or under the age of 18 to discuss the use of these products with a physician prior to consuming.  You must be 18 years or older to visit this website and/or purchase lost range.® products. The information on our website is intended to provide general information regarding our products and is not to be construed as medical advice or instruction.
Neither the Company nor its representatives is providing any medical advice, and none should be inferred, from any ideas, suggestions, testimonials or other information set forth on this website or in other Company materials or provided over the phone, in the mail, in product packaging, or in email correspondence. This website may contain links to third-party websites. The Company provides these links as a convenience only and does not endorse any of these sites. The Company is not responsible for the content of, and does not make any representations regarding the materials on, such linked third-party websites. If you decide to access or rely on information at linked third-party website, you do so at our own risk.
Our terms and conditions, including disclaimers, are more fully set forth in our Terms of Use, Privacy Policy and Terms of Online Sales.