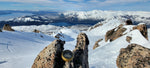 Ready to reach new heights of relief? Voted America's #1 CBD product, unleash the benefits of the purest, highest potency 4000mg Gold Buckle CBD Muscle & Joint Rub.
The CDC estimates that 50 million Americans – just over 20 percent of the adult population – have chronic pain. About 20 million of them have "high-impact chronic pain" -- pain severe enough that it frequently limits life or work activities.
With so many suffering, it's no wonder 60% of adult CBD users cite 'relieving pain' as the reason for using CBD.
Are you looking to buy a topical CBD product with confidence by finding a premium high-potency product? Then our 4000mg CBD Muscle & Joint Rub is for you.
Why 4000mg CBD?
With the abundance of topical CBD rubs, salves, creams and other products available, choosing one with the right strength and purity can be a challenge.
With higher potency, comes the need for less product. Most CBD rubs and creams on the market are much lower in potency (in the low 100's). So why spend your hard-earned money on a weaker product? 
Here's how to ensure you are getting the best 4000 mg CBD product on the market.
Buy High Quality CBD
Hemp-derived CBD comes in a variety of potencies, including high-potency options like 4000mg CBD. But why is it important to choose high-quality CBD products?
First and foremost, the quality of the CBD product you use can greatly affect its effectiveness. Low-quality CBD products may contain impurities, contaminants, or even harmful chemicals that can negate the benefits you're looking for. On the other hand, high-quality CBD products are rigorously 3rd-party tested to ensure that they are pure, safe, and effective.
What's Considered a Strong CBD?
The potency of a CBD product is measured in milligrams (mg), not just the percentage of CBD found in the product. When shopping for CBD products, it's important to understand what constitutes a high-potency product.
High-potency CBD is generally considered to have at least 50mg of CBD per dose. At lost range.®, we offer a range of CBD hemp oil products with potencies ranging from 1,000mg to upwards of 4,000mg. This makes it easy to find the right potency for your needs, and to know exactly how much CBD you're getting with each dose. 
It's important to keep in mind that the effects of CBD can vary greatly from person to person. What one individual may consider strong, may not have the same impact on someone else. This is especially true for those new to using CBD products. At the end of the day, choosing a high-potency CBD product will ensure that you are getting the best quality CBD possible.
The Benefits of High Potency CBD
One of the many benefits of using high potency CBD products is that it allows for greater precision in high dosing. With high-potency CBD products, a smaller amount can be used to achieve the desired effects, making it easier to maintain the level of CBD in your system while getting more bang for your buck. 
To determine the strength of a product, it's important to check the milligrams of CBD it contains, as opposed to just the percentage listed on the label. As a provider of top-notch potency and quality, lost range.® ensures that each full-size tin of CBD Muscle & Joint Rub has a huge 4000mg of premium CBD.
#1 Voted CBD Product
lost range.® Gold Buckle CBD Muscle & Joint Rub was voted first place by CBD Cream Advisor!
Our 4000mg Muscle & Joint Rub was tested alongside 180 competitors for strength, quality, testing methods, pain relief, skin conditions and more; and we came out #1.
If you're looking for 4000mg of CBD in your topical CBD products, then our Gold Buckle CBD Muscle & Joint Rub is the ideal product for you. 
This salve is derived from our original lost range.® CBD Muscle & Joint Rub recipe and enhanced with four times the amount of CBD, making it one of the most potent CBD topicals on the market.
Handcrafted in small batches using a proprietary blend of essential oils and herbs, this aromatic salve uses ingredients such as menthol and camphor to bring immediate relief with a cooling and warming sensation to the skin. This product is 100% THC Free.
Kind on the skin, our 4000mg CBD rub consists of only all-natural ingredients:
CBD Isolate, Shea butter, beeswax, camphor oil, menthol crystal, cajeput oil, peppermint oil, clove oil, lavender oil, eucalyptus oil, allspice oil, cinnamon oil, lemon oil, grapeseed oil, jojoba oil, arnica, comfrey, yarrow, plantain, chamomile, calendula, vitamin E.
As with all our CBD products, our hemp is sourced and organically grown locally in the mountains of Steamboat Springs, Colorado.
If you're interested in our other line of topical CBD products, see here. For all other premium, handcrafted CBD products, see here.
Final Thoughts
Using high quality CBD has immense benefits to users. At lost range.®, we are dedicated to our customers and are committed to providing CBD of the highest quality standards.
Our goal is to assist others in discovering natural solutions to support their endeavors. We take pride in our products and are transparent throughout every aspect of the process.
If you have any questions about our brand or products, our team is always available to assist you. Contact us today to learn more.
---
Disclaimer:
These products are not for use by or sale to persons under the age of 18.
These statements have not been evaluated by the Food and Drug Administration. These products are not intended to diagnose, treat, cure, or prevent any disease. The efficacy of these products has not been confirmed by FDA-approved research. The information presented here is not meant as a substitute for or alternative to information from healthcare practitioners. Please consult your healthcare professional about potential interactions or other possible complications before using any products.
Lost Range assumes no responsibility for the improper use of these products. We recommend consulting with a qualified medical doctor or physician when preparing a treatment plan for any and all diseases or ailments. Lost Range does not make any health claims about our products and recommends consulting with a qualified medical doctor or physician prior to consuming our products or preparing a treatment plan. It is especially important for those who are pregnant, nursing, chronically ill, elderly or under the age of 18 to discuss the use of these products with a physician prior to consuming.  You must be 18 years or older to visit this website and/or purchase Lost Range products. The information on our website is intended to provide general information regarding our products and is not to be construed as medical advice or instruction.
Neither the Company nor its representatives is providing any medical advice, and none should be inferred, from any ideas, suggestions, testimonials or other information set forth on this website or in other Company materials or provided over the phone, in the mail, in product packaging, or in email correspondence. This website may contain links to third-party websites. The Company provides these links as a convenience only and does not endorse any of these sites. The Company is not responsible for the content of, and does not make any representations regarding the materials on, such linked third-party websites. If you decide to access or rely on information at linked third-party website, you do so at our own risk.
Our terms and conditions, including disclaimers, are more fully set forth in our Terms of Use, Privacy Policy and Terms of Online Sales