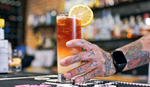 We're at the penultimate Mocktail recipe of the series... but don't bring those tears JUST yet, this week's Mocktail is sure to help you unwind and pretend Monday didn't even happen.
Not managed to wade through the lavender fields for that Instagram snap? No worries! Here's how to whip up a refreshing, delicious and Insta-worthy CBD Mocktail in minutes; Lavender Fields.
Courtesy of Mixologist Ivan Garza and filmed by One Reel Media House. 
What you'll need:
1.5oz lemon juice
.25oz Lavender Simple
Unsweetened Tea
Directions:
Fill a cocktail shaker with ice. Add the lemon juice, Lavender Simple and CBD Honey and shake well. Strain into an ice-filled Collins glass, stir in the ice tea and garnish with a wedge of lemon (and if you're feeling REALLY fancy, a few lavender sprigs).