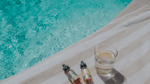 Training for a long swim isn't a walk in the park. Even non-regular swimmers are surprised by the energy it takes to spend an hour or so in the pool. Then there's the next day recovery from painful lactic acid build-up. Here we discuss why swimming is just one of many sports that could benefit from CBD. 
There are so many workouts that are good for your cardiovascular health. Climbing, Golfing, Yoga, and perhaps the most beneficial to your cardio health – swimming. Despite swimming being a low-impact sport, it's not easy. You're pushing your body's limits when you're in the water and you definitely feel the soreness the next day.  Competitive swimming can be incredibly demanding on the body whether it is the numerous regular training or the competition event as well. To perform at the professional level, rigorous practice and training methods are required but it puts the body under a lot of stress and more vulnerable to injuries. When the swimmer's typical training day is physically taxing the bones, muscles and tendons and this continually puts them at risk of injury and that can put you at risk of losing your place in the competition.
When you wake up with stiff joints and sore muscles, it can put a damper on your workout the next day. If you want to find some healthy relaxation methods to reach your goals and push through the discomfort, CBD may be the answer for you.
Living an active lifestyle is known to be important for both your emotional and physical wellbeing, so how could incorporating CBD help you keep your active lifestyle in full motion? Here's what you should know about CBD and how it can benefit Swimmers.
Why Athletes Love CBD
Let's start off with the basics. CBD, also known as cannabidiol, is one of many naturally derived compounds found in cannabis and hemp plants. CBD, along with other cannabinoids have been thought to help with a variety of health and wellness related issues, from stress relief to pain management and better sleep.
In addition to pain management, CBD has powerful anti-inflammatory properties, making it ideal for those who experience inflammation due to injuries or certain health conditions. With the use of high-quality CBD, athletes are able to recover more quickly and more easily from pain and inflammation, which enables them to get back to their sporting activities sooner rather than later. It also makes it safer for them to return to their activities without sustaining further future problems. Here's some of the associated research…
A 2020 review of the benefits of CBD for athletes says preliminary research suggests it may help reduce inflammation and pain, a good payoff for those looking for post-workout relief. The review also notes it may:

protect against gastrointestinal damage that's linked to inflammation
promote the healing of skeletal injuries
help relieve stress and anxiety, which can boost mental performance during physical activity

 Another recent study found that CBD oil had significant effects on physical performance in athletes. The study was conducted by analyzing data from over 100 professional athletes. The results showed that CBD oil improved performance in all major areas of exercise. In addition, the study found that CBD oil greatly reduced muscle fatigue and helped athletes maintain their energy levels during intense work sessions.
CBD & Swimming
How sore you feel the day after a swim depends on several factors tied to your fitness levels. Feeling sore is a pain scale and it's different for everyone. Here's a couple factors that may affect your soreness levels:
How new your body is to the workout

How hard you worked out

How long you worked out

Your age

Your body weight
In many cases, what causes sore muscles is typically tied to a condition known as delayed-onset muscle soreness (DOMS). DOMS is due to very small tears in muscle fibers, to which the body produces inflammation to combat this more intense pain. Swimmers are prone to DOMS because it is an eccentric exercise. Due to the fact that the muscles are in a constant stiff and elongated state.
The oldest swimmer to win an Olympic medal never had CBD in her medicine cabinet as she competed and trained. Dara Torres, who participated in the Olympic Games an astonishing five times, and won 12 medals, believes she could have performed better, faster, longer —  if she'd CBD products back then.
"The hardest thing for me was recovery, either from a hard workout or the actual events themselves," says Torres, now a 52-year-old Californian and holder of three world records in swimming. "I wish I knew about CBD when I was competing — I think I could have won more medals and could have had a longer career."
Other Ways to Help Boost Your Swim Session
Staying Hydrated
When you're swimming youre losing a lot of sweat, even though it may not feel like it. It's important to stay hydrated because you can easily become dehydrated after a long swim. Water helps the body transport red blood cells throughout our physiological systems and form both protein and glycogen—all of which are essential for muscle growth and recovery.
When your body is properly hydrated, you can optimize your metabolic efficiency. However, when you're dehydrated, it can cause a host of issues, such as:
Cramping

Early-onset fatigue

Poorer lap times

Increased risk of injury
While adults are supposed to drink 2 to 4 liters of water a day, swimming causes you to lose more fluids than other activities. Therefore, swimmers should drink at least 16fl oz of water within 2 hours of their swimming workout and then replenish those fluids afterward during the recovery phase. 
Getting Ample Amount of Sleep
Another reason why swimmers and athletes alike love CBD is its effect on getting more sleep.
While people naturally link increased training with higher fitness, the truth is that most of the body's recovery efforts happen while at rest. During training, you may notice yourself swimming faster or further, but the body's adaptation to those activities actually occurs during the recovery phase.
The metabolic rebuilding phase is the genesis of better performance. Sleep just so happens to be the best way to supercharge it. If you get too little sleep, it can cause several issues that will impact your swimming, including:
Reducing glucose metabolism

Increasing cortisol levels

Impacting tissue repair and growth

Compromising immune function

Reducing protein break down

Decreasing growth hormone release 
Everyone recovers differently. Some people may need seven hours of sleep, while others need nine. It's helpful to keep a sleep journal, track your hours, and gauge your performance and feelings throughout the day.
Researchers discovered that your endocannabinoid system plays a role in maintaining certain body functions, such as mood, appetite, sleep, and regulating circadian rhythms. Within the endocannabinoid system is a network of cannabinoid receptors in the brain and central nervous system.The two primary receptors identified are CB1 and CB2.
Cannabinoids attach to these cells and have various effects. As far as how they may affect sleep, some research indicates that the cannabinoid CBD may interact with specific receptors, potentially affecting the sleep/wake cycle.
Additionally, CBD may also decrease anxiety and pain, which can both interfere with restful sleep. By reducing certain symptoms, it's also possible that sleep may improve.
Taking a single dose an hour before bed will help support deep and restful sleep. The CBD combined with melatonin work together to ensure that you get the proper amount of sleep you need in order for your body to recover after a long swim. 
Products to Try
Many swimmers are starting to rely on CBD as a pre-workout and post-workout recovery tool to combat DOMS and sleep disorders alike. CBD can help support natural cannabinoid production and offer relief to sore muscles both directly and indirectly:
Topically – Rub a topical CBD Joint Rub or Massage Oil into the sore joints and muscles after a swim is finished. Or recover by soaking in a hot bath with CBD Bath Bomb Powder. Here's a couple of products to consider:
Gold Buckle CBD Muscle & Joint Rub $89.00 – $159.00 — or from $71.20 – $127.20 / month
CBD Muscle & Joint Rub $15.00 – $59.00 — or from $12.00 – $47.20 / month
Cool Blue Massage Oil – 1200mg $79.00 — or $79.00 $63.20 / month 
CBD Bath Bomb Powder – Lavender – From $20.00 – or from $16.00 / month
Sublingual (Under the tongue) – Take CBD orally to relieve discomforts occurring throughout the entire body. Additionally, an oral application can cause a host of side benefits like an energy boost and relief from stress. Here's a couple of products to consider: 
Gold Buckle Full Spectrum CBD Oil Tincture – 4000mg $159.00 — or $159.00 $127.20 / month
Full Spectrum CBD Oil Tincture – 2000mg $109.00 — or $109.00 $87.20 / month
Full Spectrum CBD Oil Tincture – 1000mg $59.00 — or $59.00 $47.20 / month
Isolate CBD Oil Tincture – 1000mg $59.00 — or $59.00 $47.20 / month
Final Thoughts
If you're sore from a long day of swimming, taking CBD may help you take your backstroke to the next level. Whether there is a specific condition you're aiming to treat with CBD oil, or you are just looking to maintain optimal balance in your body, we use only the best CBD in our small batch products — helping our customers experience and enjoy all the benefits that CBD has to offer. 
Seed-to-sale guarantee, all of our final products are produced in the mountains of Steamboat Springs, Colorado. After rigorous third-party lab testing, you can rest assured your CBD is natural, clean and pure – made with care and love from us to you. 
If you would like to know more about our products and brand, our staff is always at your service for any questions. Contact us here today. 
---
Disclaimer:
These products are not for use by or sale to persons under the age of 18.
These statements have not been evaluated by the Food and Drug Administration. These products are not intended to diagnose, treat, cure, or prevent any disease. The efficacy of these products has not been confirmed by FDA-approved research. The information presented here is not meant as a substitute for or alternative to information from healthcare practitioners. Please consult your healthcare professional about potential interactions or other possible complications before using any products.
lost range.® assumes no responsibility for the improper use of these products. We recommend consulting with a qualified medical doctor or physician when preparing a treatment plan for any and all diseases or ailments. lost range.® does not make any health claims about our products and recommends consulting with a qualified medical doctor or physician prior to consuming our products or preparing a treatment plan. It is especially important for those who are pregnant, nursing, chronically ill, elderly or under the age of 18 to discuss the use of these products with a physician prior to consuming.  You must be 18 years or older to visit this website and/or purchase Lost Range products. The information on our website is intended to provide general information regarding our products and is not to be construed as medical advice or instruction.
Neither the Company nor its representatives is providing any medical advice, and none should be inferred, from any ideas, suggestions, testimonials or other information set forth on this website or in other Company materials or provided over the phone, in the mail, in product packaging, or in email correspondence. This website may contain links to third-party websites. The Company provides these links as a convenience only and does not endorse any of these sites. The Company is not responsible for the content of, and does not make any representations regarding the materials on, such linked third-party websites. If you decide to access or rely on information at linked third-party website, you do so at our own risk.
Our terms and conditions, including disclaimers, are more fully set forth in our Terms of Use, Privacy Policy and Terms of Online Sales