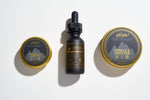 Are you in search of a last-minute Father's Day gift that's sure to impress? lost range® is thrilled to announce that we're now offering gift cards available for purchase online.
Not only does this new option make gift-giving more straightforward than ever, but our gift cards also allow the recipient to choose from our high-quality, small-bath CBD products that best suit their individual needs. Instantly! 
CBD - A Perfect Gift for Dad
In a world where wellness and self-care are becoming increasingly important, CBD has gained immense popularity.
From arthritis pain to bone fragility and even insomnia, getting older comes with its pitfalls. Thankfully, the positive effects that are brought by using CBD can be particularly welcoming to seniors.
From aiding with anxiety relief to supporting healthy sleep patterns and potentially reducing pain and inflammation, CBD offers numerous potential benefits for your dad.
With our newly available gift cards, you can give your father the chance to explore these benefits for himself, choosing the products that most appeal to him.
Quality and Potency Matter
Taking great care at each stage of the production process is an investment in both the final product and the process itself. Our products are all crafted by hand in small batches, right here in the mountains of Steamboat Springs, Colorado. 
We take pride in ensuring that every ingredient we use is natural and selected for its incredible healing properties. With a focus on providing high-quality and effective formulations, we offer our customers a wide range of products with excellent value for money. 
Why a lost range® Gift Card?
Not everyone is familiar with CBD or knows exactly what product to start with. By giving a lost range® gift card, you're offering a thoughtful, personalized gift that allows your father the flexibility to choose his own journey into the world of CBD. With our wide range of products, there's something for everyone, regardless of prior CBD experience.
Products He'll Love:
Gold Buckle Full Spectrum CBD Oil Tincture – 4000mg: lost range.® Gold Buckle® Tincture delivers our highest-potency Full-Spectrum CBD and is recommended for those looking for the most powerful daily CBD supplement. Ideal for those seeking potentially powerful pain relief, anxiety regulation, improved sleep, or an overall wellness boost. 
Gold Buckle CBD Muscle and Joint Rub - 4000mg: Voted #1 CBD Muscle & Joint Rub in the U.S, lost range.®'s award-winning Gold Buckle® CBD Muscle & Joint Rub was formulated to deliver our highest potency CBD salve to soothe the most severe exercise-induced body aches, pains, muscle soreness and inflammation. This salve is derived from our original lost range.® CBD Muscle & Joint Rub recipe and enhanced with four times the amount of CBD, making it one of the most potent CBD topicals on the market. THIS WEEK ONLY: DON'T MISS 30% OFF TOPICALS (INCLUDING GOLD BUCKLE MUSCLE AND JOINT RUB) WITH CODE THANKSDAD.
CBD Gummies - (1000mg): On-the-go relief is here with our premium CBD Gummies. Each lost range.® gummy is packed with 33mg of premium Full-Spectrum CBD which contains many cannabinoids beyond CBD including naturally-occurring terpenes, essential vitamins, fatty acids, and proteins.
How to Purchase a Gift Card
To purchase a lost range® gift card, simply visit our website, select the gift card option, choose your desired amount, and check out as usual. The e-gift card will be sent directly to your email, and you can then forward it to your recipient or print it out to give in person.
Gift cards are available in $10, $25, and $100 and $500. Get Yours Here.
Happy Father's Day!
As Father's Day quickly approaches, our online gift cards present an innovative and convenient solution for your last-minute gifting needs. Give your dad the gift of choice this Father's Day, and let him experience the potential benefits of CBD with lost range® products.
Whether he's a seasoned CBD user or new to the concept, our gift cards offer the perfect introduction to a world of wellness possibilities.
Purchase instantly online, or if you're in Colorado, come and say hi to the lost range® family to grab a gift card today!
We wish all fathers out there a happy and healthy Father's Day!
---
Disclaimer:
These products are not for use by or sale to persons under the age of 18.
The Food and Drug Administration has not evaluated these statements. These products are not intended to diagnose, treat, cure, or prevent any disease. The efficacy of these products has not been confirmed by FDA-approved research. The information presented here is not meant as a substitute for or alternative to information from healthcare practitioners. Before using any products, please consult your healthcare professional about potential interactions or other possible complications.
Lost Range assumes no responsibility for the improper use of these products. We recommend consulting with a qualified medical doctor or physician when preparing a treatment plan for any and all diseases or ailments. Lost Range does not make any health claims about our products and recommends consulting with a qualified medical doctor or physician prior to consuming our products or preparing a treatment plan. It is especially important for those who are pregnant, nursing, chronically ill, elderly, or under the age of 18 to discuss the use of these products with a physician prior to consuming.  You must be 18 years or older to visit this website and/or purchase Lost Range products. The information on our website is intended to provide general information regarding our products and is not to be construed as medical advice or instruction.
Neither the Company nor its representatives are providing any medical advice, and none should be inferred, from any ideas, suggestions, testimonials, or other information set forth on this website or in other Company materials or provided over the phone, in the mail, in product packaging, or email correspondence. This website may contain links to third-party websites. The Company provides these links as a convenience only and does not endorse any of these sites. The Company is not responsible for the content of, and does not make any representations regarding the materials on, such linked third-party websites. If you decide to access or rely on information at linked third-party website, you do so at your own risk.
Our terms and conditions, including disclaimers, are more fully outlined in our
 

Terms of Use,

 

Privacy Policy

 

and Terms of Online Sales.