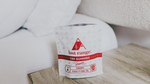 If you're on the hunt for new ways to improve your health and lifestyle this season, look no further! Here's why our premium high-potency CBD Gummies stand out from the rest.
Fellow wellness seekers unite! At lost range.® we've got a little something that's both a treat to your taste buds and a boost for your well-being: high-potency CBD gummies.
CBD, or cannabidiol, has become the talk of the town, and for good reason. From its potential to help with anxiety to assisting in pain management, CBD has numerous potential health benefits. But let's face it, using a tincture on-the-go isn't everyone's cup of tea. Enter CBD gummies, the flavorful and convenient way to enjoy the benefits of CBD wherever life takes you. 
Why High-Potency?
As much as we love munching on something sweet, it's crucial to ensure we're actually getting an effective dose of CBD. That's where high-potency CBD gummies come into play. 
Each lost range.® gummy is packed with 33mg of premium Full-Spectrum CBD (that's 1000mg per bag!) which contains many cannabinoids beyond CBD including naturally-occurring terpenes, essential vitamins, fatty acids, and proteins. Full-Spectrum gummies may have a more synergistic effect than pure CBD isolate, which is often referred to as the 'entourage effect'.
Let's put that into perspective: Most regular CBD gummies typically contain about 10 to 25mg of CBD. With a 33mg dose, you're getting a powerful punch of CBD in every bite, perfect for those who require a higher dose for their daily needs.
The
lost range.®

Magic

At lost range.®, we've gone above and beyond to deliver gummies that are not only potent but also delicious and responsibly made. Our CBD gummies are crafted from all-natural, non-GMO, and gluten-free ingredients. Oh, did we mention that these gummies are also vegan? Yep, we've thought of everything. You won't find a trace of ground-up bones, AKA, gelatin, ever. 
Flavor Fiesta
Now, if you're worried that 'high-potency' translates to 'bad taste,' fret not. We've made sure that these gummies are a flavor explosion. Think of your favorite mouth-watering starburst flavors: Cherry and Mandarin Orange. It's like a party in your mouth, with CBD as the guest of honor.
How To Use
The best part about these high-potency CBD gummies is their convenience. We recommend starting with 1 gummy daily. Work your way up to 1-2 gummies as part of a daily regimen to promote relaxation. To aid with sleep, take 1-2 gummies one hour before bedtime. For best results, incorporate lost range.® CBD Gummies into your daily regimen for 30-45 days. 
They're perfect for on-the-go moments, so you can have your daily dose of CBD wherever you are.
The Takeaway
lost range.®'s high-potency CBD gummies are truly a game-changer for our customers. And why wouldn't they be? They're a fun, tasty, and effective way to enjoy the benefits of premium CBD. Whether you're a seasoned CBD user or a newbie, our gummies are worth giving a try.
So, the next time you're looking for a tasty and potent option to add to your wellness regimen, you know where to look. Until then, stay curious, stay healthy, and don't forget to treat yourself every now and then.
---
Disclaimer:
These products are not for use by or sale to persons under the age of 18.
These statements have not been evaluated by the Food and Drug Administration. These products are not intended to diagnose, treat, cure, or prevent any disease. The efficacy of these products has not been confirmed by FDA-approved research. The information presented here is not meant as a substitute for or alternative to information from healthcare practitioners. Please consult your healthcare professional about potential interactions or other possible complications before using any products.
lost range®

 

assumes no responsibility for the improper use of these products. We recommend consulting with a qualified medical doctor or physician when preparing a treatment plan for any and all diseases or ailments.

 

lost range®

 

does not make any health claims about our products and recommends consulting with a qualified medical doctor or physician prior to consuming our products or preparing a treatment plan. It is especially important for those who are pregnant, nursing, chronically ill, elderly or under the age of 18 to discuss the use of these products with a physician prior to consuming.  You must be 18 years or older to visit this website and/or purchase

 

lost range®

 

products. The information on our website is intended to provide general information regarding our products and is not to be construed as medical advice or instruction.
Neither the Company nor its representatives is providing any medical advice, and none should be inferred, from any ideas, suggestions, testimonials or other information set forth on this website or in other Company materials or provided over the phone, in the mail, in product packaging, or in email correspondence. This website may contain links to third-party websites. The Company provides these links as a convenience only and does not endorse any of these sites. The Company is not responsible for the content of, and does not make any representations regarding the materials on, such linked third-party websites. If you decide to access or rely on information at linked third-party website, you do so at our own risk.
Our terms and conditions, including disclaimers, are more fully set forth in our
 

Terms of Use,

 

Privacy Policy

 

and Terms of Online Sales