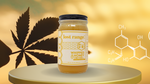 Dive into the blissful marriage of nature's liquid gold and the wonder compound that has everyone buzzing; lost range.® CBD honey, your newest pantry MVP!
In honor of Honey Month, dive into the sweet world of lost range.® CBD Honey, and you're in for a delightful treat that's more than just a sugary kick. 
Why settle for regular honey when you can elevate your taste buds, while also tapping into the tranquility that CBD might offer? Join us as we uncover how this golden nectar can become your partner in managing stress and enhancing sleep. 
CBD and Honey: A Match Made in Heaven
Before we explore the magic CBD and Honey create together, let's briefly understand these two remarkable substances.
Meet CBD: CBD, (Cannabidiol) is a naturally occurring compound in the cannabis plant, known for its therapeutic properties without the mind-altering effects of its cousin, THC. It interacts with our endocannabinoid system, which is crucial in regulating various bodily functions.
Meet Honey: Cave paintings discovered in Spain dating back to 7000 BC provide some of the earliest evidence of beekeeping practices. Fossils of honey bees have been unearthed, dating back approximately 150 million years! Honey, often called "liquid gold," is a natural sweetener bees produce from the nectar of flowers. Beyond its delicious taste, honey boasts a wealth of benefits. It is rich in antioxidants, vitamins, and minerals and possesses potent antimicrobial properties.
When CBD Met Honey: This pair is like the dream team of relaxation, as if Mother Nature herself whispered to the honeybee, "Let's mix some zen with your sweet symphony." CBD honey is a blend of quality, natural local honey and premium CBD oil derived from the hemp plant. Pairing full-spectrum CBD with quality honey and phytonutrients is the perfect, powerful combination for fighting life's unwanted ailments. Let's take a look at some of the benefits CBD honey offers.
CBD Honey Benefits
In today's fast-paced world, finding natural solutions to everyday challenges is more important than ever. That's where CBD Honey comes into the picture. This dynamic duo combines CBD's soothing properties with honey's comforting sweetness. Here are just some of the incredible benefits this synergy can offer:
Stress and Anxiety Management: The calming effect of CBD is beautifully complemented by honey's comforting sweetness. Together, they can help reduce stress and anxiety, offering a sense of tranquility during turbulent times.
Promoting Better Sleep: Many people struggle with sleep issues, and CBD Honey could be your perfect natural remedy. CBD can promote sleep and relaxation; when paired with

honey's lower glycemic index (GI) than table sugar

, it can create a bedtime elixir that helps you drift into a peaceful slumber.

Skin Nourishment: CBD's antioxidant and anti-inflammatory properties can also benefit your skin. Whether as a facial mask or a skincare ingredient, honey is a therapeutic agent for skin disorders. Combining the two has the potential to transform your skincare routine.
Pain Management: Beyond stress and sleep, CBD honey can greatly help manage pain and inflammation. CBD is known for helping reduce inflammation by interacting with the body's endocannabinoid system. Recently, there is growing evidence indicating that honey could have an inhibitory effect on chronic inflammation, oxidative stress, and on their relative gene expression. BOOM! 
lost range.® Whipped CBD Honey
With 1000mg of premium CBD in each jar, enjoy the same great effects as our Full-Spectrum Tinctures - with the added benefits of premium honey and phytonutrients.
We partnered with a local beekeeper in Steamboat Springs, CO, to bring you the best in whipped honey infused with a whopping 1000mg of our premium Full-Spectrum CBD oil.
Our lost range.® CBD Honey is meticulously whipped by hand to achieve a light, creamy, and delectable consistency, making it the perfect addition to your daily regimen. 
Even more noteworthy is that this product boasts less than 0.3% THC content, ensuring its legality and safety for consumption. Crafted with precision and care in-house, each small-batch of lost range.® Whipped CBD Honey provides a natural and delicious way to savor the benefits of CBD in your daily life.
How to Incorporate CBD Honey into Your Routine
There are so many ways you can use CBD honey in your routine. Take a look at some of our favorite methods for CBD Honey: 
Tea Time:

Stir a spoonful of CBD Honey into your evening herbal tea for a soothing bedtime ritual. (

See Our Honey Mocktail Guide Here

)

Toast Topper:

Spread CBD Honey on whole-grain toast as a delicious and nutritious breakfast option.

Yogurt Parfait:

Mix CBD Honey into your morning yogurt for a sweet and health-conscious start to your day.

Smoothie Booster:

Add a dollop of CBD Honey to your morning smoothie for an extra wellness punch.
CBD Honey Cocktail
One of our favorite ways to imbibe at the weekend is with a CBD Honey Cocktail. Looking for the best cocktail recipe? If honey-one can do it, it's Writer and Editor Leslie Pariseau. A renowned cocktail and restaurant industry expert, Leslie brings you this bomb lost range.® recipe... trust us, this one takes the honey to the bank:
A riff on the classic Bee's Knees is the perfect match for lost range.®'s CBD honey. Thanks to its verdant flavor profile, it mixes well with gin's botanicals, amplified with whatever fresh seasonal herbs you have on hand. Muddle in or mint in summer, rosemary or sage in winter. Tangy with a green bite, the resulting cocktail is meant for sun-drenched afternoons on the porch.
1 1/5 ounces gin
3/4 ounce lemon juice
3/4 ounce

lost range.®

 

honey

 

syrup
sea salt
fresh seasonal herbs
lemon wheel
To make the

 

honey

 

syrup, heat 1/4 cup water on the stovetop over medium heat. Once steaming, take off of heat and add 1/4 cup

lost range.® 

 

honey

. Stir to dissolve. Bottle and store in the refrigerator. 
In a mixing tin, add gin, lemon juice,

lost range.®

 

honey

 

syrup, the tiniest pinch of sea salt and a sprig of fresh herbs. Add ice and shake until well chilled. Strain into a rocks glass over ice. Garnish with a lemon wheel and a sprig of herbs. 
Last Thoughts
Whether you seek relief from stress and anxiety or a night of restful sleep, CBD Honey might be the missing piece in your wellness puzzle. So, the next time you're buzzing around the kitchen, reach out for that jar of CBD honey and add a splash of fun to your routine.
Ready to experience the unique benefits of CBD in raw whipped honey? Shop here.
---
Disclaimer:
These products are not for use by or sale to persons under the age of 18.
These statements have not been evaluated by the Food and Drug Administration. These products are not intended to diagnose, treat, cure, or prevent any disease. The efficacy of these products has not been confirmed by FDA-approved research. The information presented here is not meant as a substitute for or alternative to information from healthcare practitioners. Please consult your healthcare professional about potential interactions or other possible complications before using any products.
lost range.®

 

assumes no responsibility for the improper use of these products. We recommend consulting with a qualified medical doctor or physician when preparing a treatment plan for any and all diseases or ailments.

 

lost range.®

 

does not make any health claims about our products and recommends consulting with a qualified medical doctor or physician prior to consuming our products or preparing a treatment plan. It is especially important for those who are pregnant, nursing, chronically ill, elderly or under the age of 18 to discuss the use of these products with a physician prior to consuming.  You must be 18 years or older to visit this website and/or purchase

 

lost range.®

 

products. The information on our website is intended to provide general information regarding our products and is not to be construed as medical advice or instruction.
Neither the Company nor its representatives is providing any medical advice, and none should be inferred, from any ideas, suggestions, testimonials or other information set forth on this website or in other Company materials or provided over the phone, in the mail, in product packaging, or in email correspondence. This website may contain links to third-party websites. The Company provides these links as a convenience only and does not endorse any of these sites. The Company is not responsible for the content of, and does not make any representations regarding the materials on, such linked third-party websites. If you decide to access or rely on information at linked third-party website, you do so at our own risk.
Our terms and conditions, including disclaimers, are more fully set forth in our
 

Terms of Use,

 

Privacy Policy

 

and Terms of Online Sales