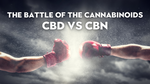 Welcome to the ultimate showdown in the world of wellness - the Battle of the Cannabinoids! 
In the red corner, we have the reigning champ, CBD (cannabidiol). CBD has taken the industry by storm, becoming a cultural phenomenon and a staple in wellness routines around the world. 
In the blue corner, we have the challenger, CBN (cannabinol). While lesser known than its cannabinoid counterpart, it's been gaining attention for some powerful properties, especially in Slumberland.
Get ready for a thrilling brawl of the Titans as they go head-to-head in a clash of benefits, effects, and popularity. Ding ding!
Round 1: Origins  
CBD steps into the ring with a well-known reputation for being the rockstar of cannabinoids. Its origins can be traced back to the cannabis plant, which has been used for various medicinal and recreational purposes for centuries. CBD is predominantly derived from hemp, a variety of cannabis that is cultivated for industrial purposes and contains minimal levels of tetrahydrocannabinol (THC), the psychoactive compound responsible for the "high" associated with marijuana.
On the other side, dubbed the savage sleep cannabinoid, CBN also finds its roots in the cannabis plant. CBN is a product of the aging process of THC. As cannabis flowers age and are exposed to light and oxygen, THC will gradually convert into CBN through oxidation. Despite it initially being overshadowed by the more well-known cannabinoids like THC and CBD, CBN has recently been gaining more traction and making its rooky debut in the wellness world.
Round 2: Benefits
CBD is greatly known for its soothing properties, taking the lead in promoting relaxation, reducing anxiety, and providing pain and inflammation relief. Numerous studies suggest that CBD interacts with the endocannabinoid system, helping to regulate key physiological functions such as mood, stress response, and sleep patterns. 
The opposer, CBN, steps into the spotlight with its potential sedative effects, showcasing a unique set of strengths that distinguish it from CBD. Some research has suggested that CBN may have the ability to induce relaxation and promote sleep, making it particularly attractive to those grappling with insomnia or sleep disturbances.
Round 3: Popularity
CBD's dominance in the market has been nothing short of a phenomenon, and its popularity continues to soar as a symbol of natural wellness. The availability of CBD in diverse forms, ranging from tinctures to soothing topicals, showcases its versatility and adaptability to different consumer preferences.
In contrast, CBN emerges as the underdog, quietly but steadily gaining momentum in specific niches, particularly as a natural alternative sleep aid. As the cannabinoid responsible for potential sedative effects, CBN has carved out a distinct space for itself, appealing to individuals seeking a natural remedy for sleep disorders or those simply aiming for a more restful night.
When Titans Collide
Recent studies and scientific advancements have shed light on the fascinating synergy between CBD and CBN, showcasing their ability to join forces rather than conflict with each other. This collaborative partnership, often referred to as the "entourage effect," indicates that when these two compounds combine, they don't cancel each other out; instead, they work together as a united force. 
This phenomenon is particularly intriguing because it may pave the way for more effective and natural therapeutic solutions. For example, while CBD is well-known for its calming and anti-anxiety properties, CBN is often recognized for its potential to induce sleepiness. When they team up, they may offer a potent solution for enhanced relaxation and improved sleep cycles.
The Final Scorecard
As the dust settles in the final round, it's clear that both CBD and CBN bring something unique and effective to the ring. The comparison between CBD and CBN unveils a fascinating dynamic in the world of cannabinoids. While CBD excels in providing a broad spectrum of benefits, from stress reduction to pain management, CBN carves its niche as a potential natural sleep aid. 
The ultimate fighting champion? The golden glove goes to CBD and CBN - together. This full-spectrum powerhouse packs a powerful punch of benefits, making it the true winner in balance and well-being. 
---
Why lost range.® CBD?
At lost range.® we place immense importance on each phase of our production process, recognizing that our stringent processes elevate the end product for our consumers
Handcrafted in Small Batches: Our premium CBD products are made by hand, in small batches, in Steamboat Springs, Colorado to ensure the finest craftsmanship and allow for a consistent product made with care and love from us to you.
High Potency: Unlike most CBD products you'll find on the market today, we only offer upper-end potency and high-quality ingredients, allowing our customers to receive all of the positive benefits premium CBD has to offer.
Cruelty-Free: Our commitment to animal welfare means that we will never, EVER test on animals, and only source ingredients that the supplier can document are completely cruelty-free.
3rd-Party Tested: Our products receive independent third-party lab testing to identify the potency, and use of pesticides, microbes, and heavy metals, ensuring product consistency and providing total transparency to our customers. Our testing meets and exceeds both state and federal testing protocols.
All-Natural: We use all-natural and hand-selected ingredients in our CBD products, ensuring that each and every product is free of chemicals and parabens.
Sustainable: Our CBD oil is made from industrial hemp using certified organic practices in the surrounding area of Hotchkiss, Colorado. These hemp farms, each of them smaller than 100 acres, are family-owned and operated using sustainable and organic methods. This smaller-scale farming ensures high-quality hemp production without compromising the integrity of the soil or environment as a whole. lost range.® is committed to minimizing our footprint by continually seeking environmentally friendly practices and materials.
Explore our wide range of CBD product options.
---
Disclaimer:
These products are not for use by or sale to persons under the age of 18.
These statements have not been evaluated by the Food and Drug Administration. These products are not intended to diagnose, treat, cure, or prevent any disease. The efficacy of these products has not been confirmed by FDA-approved research. The information presented here is not meant as a substitute for or alternative to information from healthcare practitioners. Please consult your healthcare professional about potential interactions or other possible complications before using any products.
lost range.® assumes no responsibility for the improper use of these products. We recommend consulting with a qualified medical doctor or physician when preparing a treatment plan for any and all diseases or ailments. lost range.® does not make any health claims about our products and recommends consulting with a qualified medical doctor or physician prior to consuming our products or preparing a treatment plan. It is especially important for those who are pregnant, nursing, chronically ill, elderly or under the age of 18 to discuss the use of these products with a physician prior to consuming.  You must be 18 years or older to visit this website and/or purchase lost range.® products. The information on our website is intended to provide general information regarding our products and is not to be construed as medical advice or instruction.
Neither the Company nor its representatives is providing any medical advice, and none should be inferred, from any ideas, suggestions, testimonials or other information set forth on this website or in other Company materials or provided over the phone, in the mail, in product packaging, or in email correspondence. This website may contain links to third-party websites. The Company provides these links as a convenience only and does not endorse any of these sites. The Company is not responsible for the content of, and does not make any representations regarding the materials on, such linked third-party websites. If you decide to access or rely on information at linked third-party website, you do so at our own risk.
Our terms and conditions, including disclaimers, are more fully set forth in our Terms of Use, Privacy Policy and Terms of Online Sales.