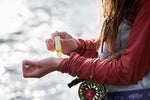 It's common knowledge that the holidays are stressful. Sometimes the best gift you can give someone (or yourself) is the gift of relaxation. In search of stress relief gifts that will bring instant relaxation and calm? We got you. 
Anxiety and depression tend to spike around the holidays and, well, the struggle is real. Traveling, navigating Covid-19 restrictions, and the pressures of shopping and hosting can start to add up. So, if you're not sure what to give your family and friends, why not give the power of CBD a try?
CBD for Alleviating Anxiety and Stress
Too much stress can wreak havoc on the body, from tension headaches to insomnia, and of course, anxiety. Thankfully, CBD has demonstrated powerful healing when it comes to combating stress and anxiety disorders.
Evidence from pre-clinical and clinical trials has further supported the anti-anxiety effects of CBD, as well as its ability to reduce the physiological response to stress. Across the US, stress is catapulting at an alarming rate—so much so that almost half of us (48%) are feeling more stressed than we did a year ago, and it's having an impact on our health. For generalized anxiety disorder (GAD), the National Institute on Drug Abuse (NIDA) says that CBD has been shown to reduce stress in animals such as rats. Study subjects were observed as having lower behavioral signs of anxiety. Their physiological symptoms of anxiety, such as increased heart rate, also improved.
Being subjected to stress on a daily basis can threaten your social life, mental and physical health. CBD oil is being used as a natural way to reduce the daily stress that is keeping you from living your best life. So, whether you're shopping for a loved one or yourself this holiday season, keep reading to learn the best CBD gifts for infusing some much-needed calm into the holiday season…
Best CBD for Stress
$20.00 – $59.00 — or from $16.00 – $47.20 / month
It's normal to want to use CBD to get through the holidays, but don't forget to share the gift of relaxing beauty rituals. This gift is perfect for the spa queen in your life! Let the stress melt away in the bathtub with Lost Range's Lavender Bath Bomb Powder. Available in a 4oz or 16oz bag, you can transform your bathtub into an organic oasis and indulge yourself in a lavish spa experience. Our powder is rich in anti-inflammatory herbs, salts, essential oils and CBD isolate perfect for the ultimate wind-down.
Full Spectrum CBD Oil Tincture – 2000mg
$109.00 — or $109.00 $87.20 / month
Inject some serious Zen into a loved one's daily routine with Lost Range's Full Spectrum CBD Oil Tincture. Containing 2000mg of CBD, this premium hemp-derived tincture comes in natural and peppermint flavors in order to offer a potent dose of CBD to keep the gift's recipient happy and healthy. Our Full Spectrum CBD oil tincture assists in regulating pain relief, inflammation, anxiety, recovery, sleep, appetite, mood, and numerous other conditions. If your "giftee" is a CBD newbie, why not try our 1000mg Full Spectrum tincture? Whether there is a specific condition you're aiming to treat with CBD oil, or you are just looking to maintain optimal balance in your body, our Full Spectrum CBD oil may be the perfect product for you.
$20.00 — or $20.00 $16.00 / month
For luxury lip care fans, we recommend this soothing CBD lip balm by Lost Range. It comes in 2 different scents, natural/unscented, and vanilla honey and made with all natural ingredients and 99.9% pure CBD isolate. This soothing stick is equipped with an all natural SPF to assist you in protecting your lips from the harshness of both the mountain sun and the winter wind; providing relief from dry, cracked lips as a soothing moisturizer anywhere you go! If you suffer from dry skin in unforgiving winter weather, try pairing our CBD Lip Balm with our CBD Skin Salve for ultimate CBD hydration!
$20.00 — or $20.00 $16.00 / month
This on-the-go, CBD-infused essential oil roller is available in Citrus, Lavender, Eucalyptus or Cool Blue; providing aromatherapeutic relief for any tension-inducing moments. This is perfect for anyone who loves aromatherapy and natural healing. Aromatherapy has been known to have the ability to improve our overall health and wellness. Pairing that with our all-natural signature herbal scents makes for the perfect recipe to relieve tension, headaches, pain and stress. For quality and purity, the essential oils in our CBD blends are sustainably distilled via steam processing of leaves, bark, and roots, or cold pressing methods. We take care to ensure that our products are free of impurities and allergens, confirming via third party testing for every batch made. No fillers, no chemicals.
$79.00 — or $79.00 $63.20 / month 
Annnnndddd breathe…. Lost Range's Cool Blue CBD massage oil is perfect for anyone who loves to get massages, and who doesn't love a good rub down?! This invigorating massage oil is made with cooling Menthol, Camphor, Cinnamon, Wintergreen, Peppermint, Evergreen, Yarrow, Plantain, Calendula, Arnica, Comfrey, Chamomile, Vitamin E, and CBD Isolate. Our customers love our selection of massage oils to help reduce stress, calm the senses and help soothe musculoskeletal soreness. Go big or go home with our 12oz pump bottle with 1200mg of premium CBD Isolate! Our bodies love this herbalized massage oil, deeply calming and soothing, to body, mind, and to spirit. 
Let Go of Stress Today
It's more important now than ever to take care of you and those around you. Luckily, there are plenty of ways to help ourselves and the people we love to take the edge off. One of our favorites? Gifts that aid in stress relief. At Lost Range, we use only the best CBD in our small batch products — helping our customers experience and enjoy all the benefits CBD has to offer. We strongly believe in the powerful healing potential of our hand-made CBD products, and bear witness with remarkable reviews from our loyal customers. Our mission is to make CBD tinctures, salves, and rubs accessible to all people, all year long. ALL OF OUR PRODUCTS CONTAIN LESS THAN 0.3% THC.
Still looking for the perfect CBD gift for that special someone? Check out our full line of products here. We're sure your loved ones will enjoy a gift under the tree from Lost Range this holiday season.
(Pssssst: Don't miss FREE SHIPPING through December 20th!) 
---
Disclaimer:
These products are not for use by or sale to persons under the age of 18.
These statements have not been evaluated by the Food and Drug Administration. These products are not intended to diagnose, treat, cure, or prevent any disease. The efficacy of these products has not been confirmed by FDA-approved research. The information presented here is not meant as a substitute for or alternative to information from healthcare practitioners. Please consult your healthcare professional about potential interactions or other possible complications before using any products.
Lost Range assumes no responsibility for the improper use of these products. We recommend consulting with a qualified medical doctor or physician when preparing a treatment plan for any and all diseases or ailments. Lost Range does not make any health claims about our products and recommends consulting with a qualified medical doctor or physician prior to consuming our products or preparing a treatment plan. It is especially important for those who are pregnant, nursing, chronically ill, elderly or under the age of 18 to discuss the use of these products with a physician prior to consuming.  You must be 18 years or older to visit this website and/or purchase Lost Range products. The information on our website is intended to provide general information regarding our products and is not to be construed as medical advice or instruction.
Neither the Company nor its representatives is providing any medical advice, and none should be inferred, from any ideas, suggestions, testimonials or other information set forth on this website or in other Company materials or provided over the phone, in the mail, in product packaging, or in email correspondence. This website may contain links to third-party websites. The Company provides these links as a convenience only and does not endorse any of these sites. The Company is not responsible for the content of, and does not make any representations regarding the materials on, such linked third-party websites. If you decide to access or rely on information at linked third-party website, you do so at our own risk.
Our terms and conditions, including disclaimers, are more fully set forth in our Terms of Use, Privacy Policy and Terms of Online Sales