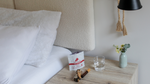 Ever counted sheep until you reached numbers you didn't even know existed? There's a new superhero in town ready to whisk you away to dreamland: CBD.
Sleep-seekers and midnight toss-and-turners, we all know the nightly sleep struggle leads to daily life struggles. When over-the-counter meds simply don't cut it, and you're sick of the grogginess brought on by stronger sleep aids, where do you turn? The answer could lie in the power of premium CBD.
CBD & Zzz: The Dynamic Duo for Dreamland
Ever felt the frustration of staring at the ceiling, willing the sandman to pay a visit? You're not alone. As sleep disorders and insomnia continue to affect millions of individuals across the nation, the exploration of alternative remedies has become increasingly important. In recent years, many have tried turning to CBD and have seen positive results. 
Proper sleep is one of the most essential factors to overall health and well-being. Sleep not only gives you the energy for the following day, it also helps grow and repair muscles and tissue, prevents sickness, and contributes to memory formation.
Experts recommend adults get at least seven hours of sleep a night. Unfortunately, falling asleep or staying asleep is a common issue for many Americans. According to the Centers for Disease Control and Prevention, an estimated 50 to 70 million Americans have chronic sleep disorders. 
CBD has become an increasingly popular strategy for those dying for a good night's sleep. In fact, 42% of Americans who use CBD use it for sleep and insomnia. Let's learn more.
What is CBD?
CBD, short for cannabidiol, is a natural compound found in the cannabis plant. It's one of over a hundred different cannabinoids, which are chemical compounds unique to cannabis. Unlike its more well-known cousin, THC (tetrahydrocannabinol), CBD does not produce a "high" or psychoactive effect when consumed, making it an attractive option for those seeking the potential therapeutic benefits of cannabis without the associated euphoria.
CBD interacts with the endocannabinoid system (ECS) in the human body. The ECS is a complex network of receptors, enzymes, and endocannabinoids (cannabinoids naturally produced by our bodies) that plays a crucial role in regulating various physiological processes, including pain sensation, mood, appetite, sleep, and immune function. When CBD is consumed, it can influence the ECS, potentially restoring balance and promoting overall well-being.
The Endocannabinoid System (ECS) and Sleep
Research has suggested that the ECS also plays a role in regulating sleep cycles. There are two primary types of cannabinoid receptors within the ECD relevant to sleep regulation: 
CB1 Receptors:

These receptors are primarily found in the central nervous system, including the brain. CB1 receptors play a crucial role in regulating neurotransmitters like serotonin and GABA, which are involved in mood and relaxation. Activation of CB1 receptors can influence the sleep-wake cycle by promoting relaxation and reducing anxiety, two factors that can contribute to better sleep.
CB2 Receptors:

These receptors are more commonly associated with the immune system, but they also exist in the brain. They play a role in modulating inflammation and immune responses, which can indirectly affect sleep quality. Inflammation can disrupt sleep patterns and contribute to conditions like chronic pain, which can also interfere with sleep.
CBD and Sleep 
As mentioned, external cannabinoids, like CBD, can interact with the ECS and influence the
activity of CB1 and CB2 receptors. It's been shown that CBD may help release neurotransmitters like serotonin and GABA, which play key roles in mood regulation and relaxation. By promoting a sense of calm and reducing overactivity of the mind, CBD may help individuals unwind and fall asleep more easily. 
Another study has shown that CBD has aided sleep by alleviating pain and discomfort. Common pain conditions, such as arthritis or muscle soreness, can disrupt sleep patterns and lead to insomnia. CBD has demonstrated pain-relieving properties by interacting with receptors involved in pain perception and inflammation. By helping to mitigate pain, CBD may allow individuals to experience less nighttime discomfort, enabling them to enjoy more restorative and uninterrupted sleep.
When Should You Use CBD for Sleep?
Whether you choose to use CBD to try to improve your sleep is ultimately up to you and your healthcare provider. Individual responses to CBD can vary, so it's important to always consult with a healthcare professional before incorporating it into your sleep regimen, especially if you have underlying health conditions or take additional medication. If you want to try CBD for sleep, here are the recommended products and how to use them before hitting the sack.
The Best CBD Products for Sleep
If you do decide to try CBD to help with your sleep struggles, always be sure it's from a reputable company. At lost range.®, we place immense care on each phase of our production process. We're dedicated to providing all-natural, high-potency, plant-based CBD products to support healthy lifestyles - and sleep is essential to a well-balanced lifestyle. 
With that being said, here are the top products we recommend:
CBD Gummies:

Packed with 33mg of premium Full-Spectrum CBD in each bite, our convenient and delicious CBD gummies are an easy way to get your dose of Full-Spectrum CBD in. We suggest enjoying 1-2 gummies one hour before bedtime. For best results, keep lost range.® CBD Gummies into your daily regimen for 30-45 days.

Full-Spectrum CBD Tincture:

The Full-Spectrum Tincture may have a more synergistic effect than pure CBD isolate, which is often referred to as the 'entourage effect'. Our Full-Spectrum Tincture contains only two ingredients: medium-chain triglycerides (MCT) coconut oil and Full-Spectrum CBD.  Available in natural or organic peppermint flavor, try adding your preferred dose dropped under the tongue 20 minutes before retiring for the night.

CBD Honey:

lost range.® partnered with our local Beekeeper in Steamboat Springs, CO, to obtain the finest quality honey. Each batch of lost range.® Whipped CBD Honey is infused with our Full-Spectrum CBD oil and whipped to give it a light, creamy, and delicious consistency. Our CBD Honey has the same great effects as our Full-Spectrum Tinctures - with the added benefits of premium honey and phytonutrients. Try it mixed into your nightcap like malted milk (make it booze-free, as alcohol severely affects your sleep quality), on a light snack, or go all out and enjoy it straight off the spoon.

CBD Essential Oil Pulse Roller:

Our essential oil rollers combine our massage oil blends with a higher CBD potency. We've infused our favorite scents with our Isolate CBD oil to enhance the essential oils' effectiveness. The CBD roller can be applied directly to pressure points throughout the body. The cooling metal roller ball allows for easy application. Apply to clean skin (such as the temples or wrists) as you unwind at the end of the day, and breathe in the aromas of organic Citrus, Cool Blue, Eucalyptus, or Lavender as you drift off.
Final Thoughts
While research into CBD's effects on sleep is still evolving, it continues to present promising results for those seeking to tackle their struggles. As we've seen in multiple studies, its potential to reduce anxiety, alleviate pain, and promote relaxation can significantly contribute to a better night's rest.
Remember, everyone's body is unique, so what works wonders for one person might be different for another. However, if you're looking to add a natural sleep assistant to your bedtime routine, CBD just might be the dreamy solution you've been searching for.
Sweet dreams and happy snoozing! 🌙✨
---
Disclaimer:
These products are not for use by or sale to persons under the age of 18.
These statements have not been evaluated by the Food and Drug Administration. These products are not intended to diagnose, treat, cure, or prevent any disease. The efficacy of these products has not been confirmed by FDA-approved research. The information presented here is not meant as a substitute for or alternative to information from healthcare practitioners. Please consult your healthcare professional about potential interactions or other possible complications before using any products.
lost range.® assumes no responsibility for the improper use of these products. We recommend consulting with a qualified medical doctor or physician when preparing a treatment plan for any and all diseases or ailments. lost range.® does not make any health claims about our products and recommends consulting with a qualified medical doctor or physician prior to consuming our products or preparing a treatment plan. It is especially important for those who are pregnant, nursing, chronically ill, elderly or under the age of 18 to discuss the use of these products with a physician prior to consuming.  You must be 18 years or older to visit this website and/or purchase lost range.® products. The information on our website is intended to provide general information regarding our products and is not to be construed as medical advice or instruction.
Neither the Company nor its representatives is providing any medical advice, and none should be inferred, from any ideas, suggestions, testimonials or other information set forth on this website or in other Company materials or provided over the phone, in the mail, in product packaging, or in email correspondence. This website may contain links to third-party websites. The Company provides these links as a convenience only and does not endorse any of these sites. The Company is not responsible for the content of, and does not make any representations regarding the materials on, such linked third-party websites. If you decide to access or rely on information at linked third-party website, you do so at our own risk.
Our terms and conditions, including disclaimers, are more fully set forth in our Terms of Use, Privacy Policy and Terms of Online Sales.