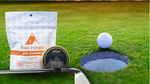 Happy National Golf Month! Whether you're a seasoned pro like Open Championship winner Brian Harman, a newbie on the course, or someone who likes the thrill of yelling "FORE!" at unsuspecting passersby, this blog is for you.
Just like an unwavering caddie, lost range.® CBD is by your side, ready to support your golf game in unexpected and delightful ways. CBD has emerged as a potential game-changer for golfers seeking to enhance their performance and overall well-being. Why CBD, you ask? Well, just like a golf swing, there's a certain rhythm and science to it. 
Par-Tee with lost range.® 
With lost range.®, we're not just about the golf – we're about the lifestyle. That's why our premium CBD products go beyond just golf and wellness. So, what exactly is CBD?
Cannabidiol, or CBD, is a natural compound found in hemp plants. It's renowned for its wide array of potential health benefits, such as aiding in relaxation, managing stress, improving sleep quality, and supporting general well-being.
Here at lost range.®, we're all about empowering your journey to wellness with our high-quality CBD, on and off the green – your perfect companion for the ultimate golfing experience.

A CBD Connection
Life is all about connections, just like the satisfying THWACK you hear when your driver connects with the ball. When it comes to golf and CBD, we're talking about an epic connection – almost as satisfying as that hole-in-one you're dreaming about!
When to Take CBD for Golf
Just as every golf player has their unique swing, the optimal time to take CBD can vary from person to person. However, here's a rough guide to follow:
Pre-game prep:

An hour before you head to the course, consider taking your lost range.® CBD.

Boost your central nervous system and tee up with unwavering confidence by simply placing a few drops of our

premium CBD oil

under your tongue before heading out.

This gives it ample time to kick in, soothing any pre-game jitters and helping you focus on the game ahead.
Mid-game maintenance:

A top-off during the halfway point can be beneficial if you're in for a long day on the green. It keeps the CBD working for you, combating the stress of the game, and keeping you locked into that perfect swing rhythm.

Don't forget to bring along our discreet and

high-potency CBD Gummies

. Enjoy the delicious and convenient experience of popping a couple of these gummies mid-round, and savor the benefits of CBD as you play.
Post-game relaxation:

Golf is a sport that demands not only skill but also endurance. Taking CBD after a game can aid recovery and prepare you for another round tomorrow.

Experience rapid relief by applying a small amount of our

high-potency CBD Muscle & Joint Rub

to the affected areas.
How CBD Helps Golf Players
Whether you're a scratch golfer or just there for fun, CBD can play an integral role in enhancing your golfing experience.
Pain and inflammation:

Golf may look easy on the joints, but ask any golfer, and they'll tell you about the strain it can put on your back, knees, and shoulders. CBD is known for its

anti-inflammatory benefits

, helping you manage that post-game stiffness and preparing you for the next round.
Your Wellness Caddie 
When we say we're here to support your golf game, we mean it. Our range of premium CBD oils, gummies, and topicals are like the caddie you never knew you needed. Imagine this: a caddie that could support recovery from those tough training sessions or that unanticipated backswing tweak. Sounds fantastic, right?
CBD Gummies
Experience the ultimate delight of our premium Full-Spectrum CBD, now available in gummy form! Perfect for on-the-go relief, each gummy is packed with 33mg of premium Full-Spectrum CBD which contains many cannabinoids beyond CBD. They also boast naturally-occurring terpenes, essential vitamins, fatty acids, and proteins. Full-Spectrum gummies may have a more synergistic effect than pure CBD isolate, often called the 'entourage effect.' Perfect for fine-tuning your focus at the range or on the course.
Gold Buckle® CBD Muscle & Joint Rub
Our highly acclaimed and award-winning Gold Buckle® CBD Muscle & Joint Rub is designed to ease exercise-induced body aches, pains, muscle soreness, and inflammation. This magnificent salve contains four times the CBD content of our original formula, making it an ideal choice for golfers seeking relief from their symptoms.
With the distinguished title of America's #1 CBD cream by CBD Cream Advisor, our 4000mg Gold Buckle® Muscle & Joint Rub is meticulously handcrafted in small batches, ensuring the utmost quality. Rest assured, this powerful formula is entirely free of THC. To experience the remarkable benefits, massage a thin layer of our highly effective CBD Muscle & Joint Rub onto the areas experiencing pain or inflammation. Your body will thank you for the rejuvenating comfort it brings!
Gold Buckle® Full Spectrum CBD Tincture 
Pair our 4000mg lost range.® Gold Buckle® Tincture with our Gold Buckle CBD Muscle and Joint Rub for optimal relief. This top-of-the-line tincture is formulated with our highest-potency Full-Spectrum CBD. This product is THC-compliant with a content of less than 0.3%. 
See here if you're interested in our handcrafted CBD products.
Swinging into August
As we stride into National Golf Month this August, let's remember that golf is not just a game - it's a lifestyle, an art, and a community. And CBD? Well, it's not just a wellness product; it's an addition to your lifestyle that can support focus, relaxation, and recovery.
Like golf, CBD may not be about achieving perfection but enjoying the journey and process. And what a beautiful journey it is, especially when you're in good company, like lost range.® CBD.
Here's to birdies, eagles, and (hopefully not too many) bogeys! If you have any questions or want to learn more about our brand and products, our dedicated team is always here to assist you. Say goodbye to muscle soreness and anxiety hindering your performance on the course – experience the transformative power of lost rang. CBD today and unleash your best game yet!
Contact us today to learn more and browse our collection of premium CBD Products here today.
---
Disclaimer:
These products are not for use by or sale to persons under the age of 18.
These statements have not been evaluated by the Food and Drug Administration. These products are not intended to diagnose, treat, cure, or prevent any disease. The efficacy of these products has not been confirmed by FDA-approved research. The information presented here is not meant as a substitute for or alternative to information from healthcare practitioners. Please consult your healthcare professional about potential interactions or other possible complications before using any products.
Lost Range assumes no responsibility for the improper use of these products. We recommend consulting with a qualified medical doctor or physician when preparing a treatment plan for any and all diseases or ailments. Lost Range does not make any health claims about our products and recommends consulting with a qualified medical doctor or physician prior to consuming our products or preparing a treatment plan. It is especially important for those who are pregnant, nursing, chronically ill, elderly or under the age of 18 to discuss the use of these products with a physician prior to consuming.  You must be 18 years or older to visit this website and/or purchase Lost Range products. The information on our website is intended to provide general information regarding our products and is not to be construed as medical advice or instruction.
Neither the Company nor its representatives is providing any medical advice, and none should be inferred, from any ideas, suggestions, testimonials or other information set forth on this website or in other Company materials or provided over the phone, in the mail, in product packaging, or in email correspondence. This website may contain links to third-party websites. The Company provides these links as a convenience only and does not endorse any of these sites. The Company is not responsible for the content of, and does not make any representations regarding the materials on, such linked third-party websites. If you decide to access or rely on information at linked third-party website, you do so at our own risk.
Our terms and conditions, including disclaimers, are more fully set forth in our
 

Terms of Use,

 

Privacy Policy

 

and Terms of Online Sales